Painting Kitchen Cabinets the Easy Way
So did you all understand my pain last week? The kitchen was a mess, right? I mean thanks to painting the cabinets 3 years ago, it helped…but the organization and that pointless desk for sure had this design perfectionist goin' nut-so!So, as I had mentioned last week, we were very fortunate to be able to receive some hand-my-down cabinets. My parents had updated their new home's kitchen and we got the 1990's old cabinets. The color was the same as our original cabinets (that yellow-y oak) and the size would work out perfectly. The hubby and my dad brought them over to our place and, you know like two days later I was ready to tackle this big project. Since I had already painted kitchen cabinets before, I knew I wanted to take this on as easy as possible. The process can be quite stressful especially with priming, sanding, painting, and painting, and painting. So I cut some of those details out and here's how I made Painting Kitchen Cabinets the Easy Way.
This post contains affiliate links, that I make a small commission from with no added cost to your purchase. Thanks for your support!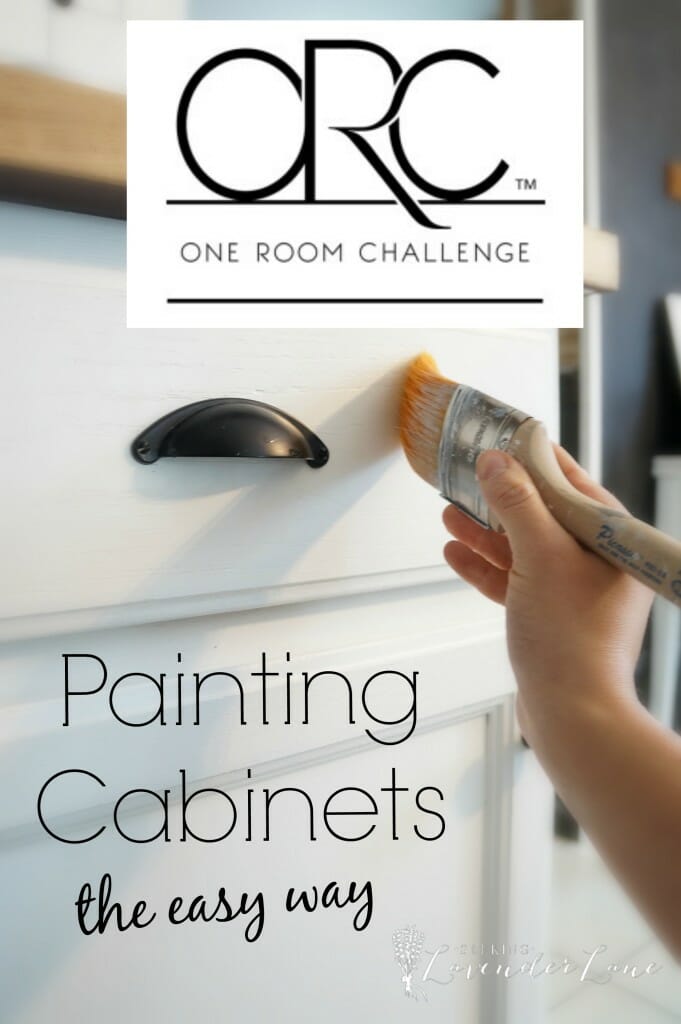 One more time, the before pic of the old cabinets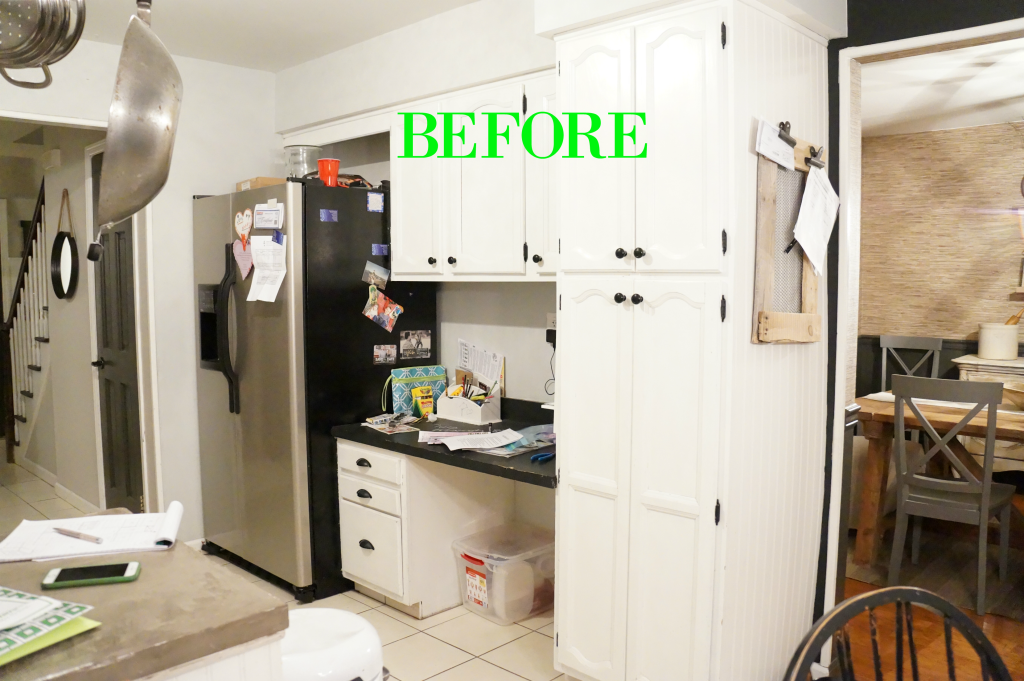 FIRST: We decided how we were going to set the cabinets up. Taking measurements of the cabinets and the space that we had. We knew we were going to work the refrigerator into the center  (make it easier to once again open our refrigerator), and then we would just need to decide how much space on each side of the refrigerator we needed to work with. Okay, so I won't bore you with measurements, because that's just pointless…but we were pretty darn close with what we had on hand and we were for sure going to make this work.
SECOND: Did I mention that I didn't waste no time…the night I said lets tackle this, my hubby looked at me like…"now?" you mean those cabinets are not going to sit in our garage for a few months until we decide when to finally approach this demo and design job? Yep, that's how I work! I don't waste no time…as soon as the thought comes to my head I want to get the project done like in ten minutes lol.
So we demo'ed out our existing cabinets, taking out all the food and items out of the cabinets, and then we went for it!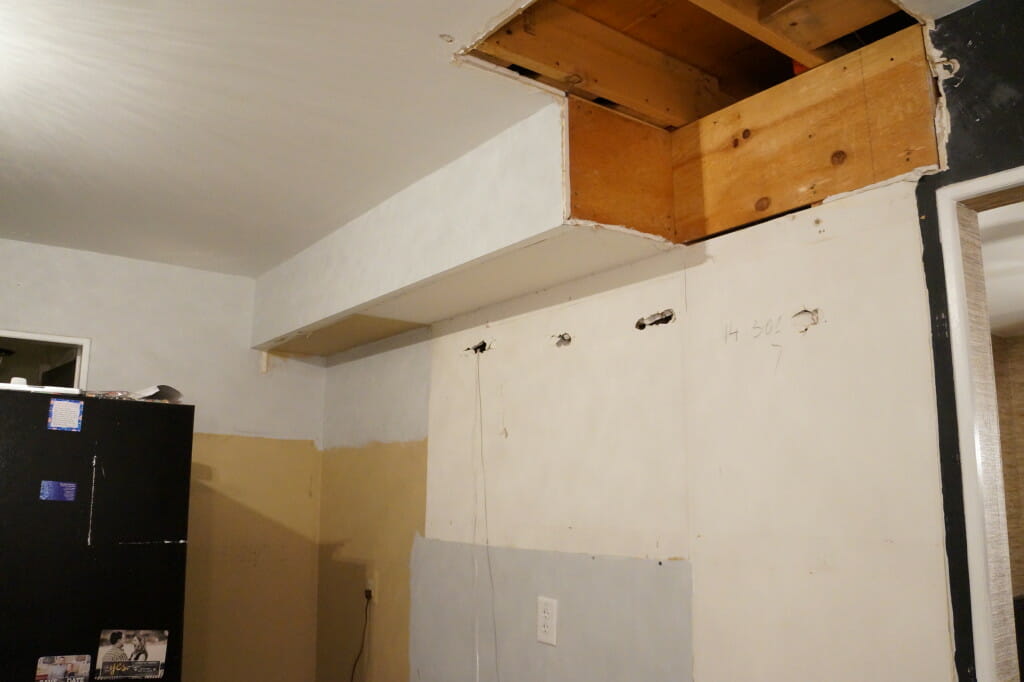 Okay, should I have prepared you, for a not-so-pretty post? So yea, see the multiple wall colors going on behind all this? How about that nasty beige-y color that when we moved in was on the wall. We left that part since it was behind the refrigerator (I know who paints around a fridge?)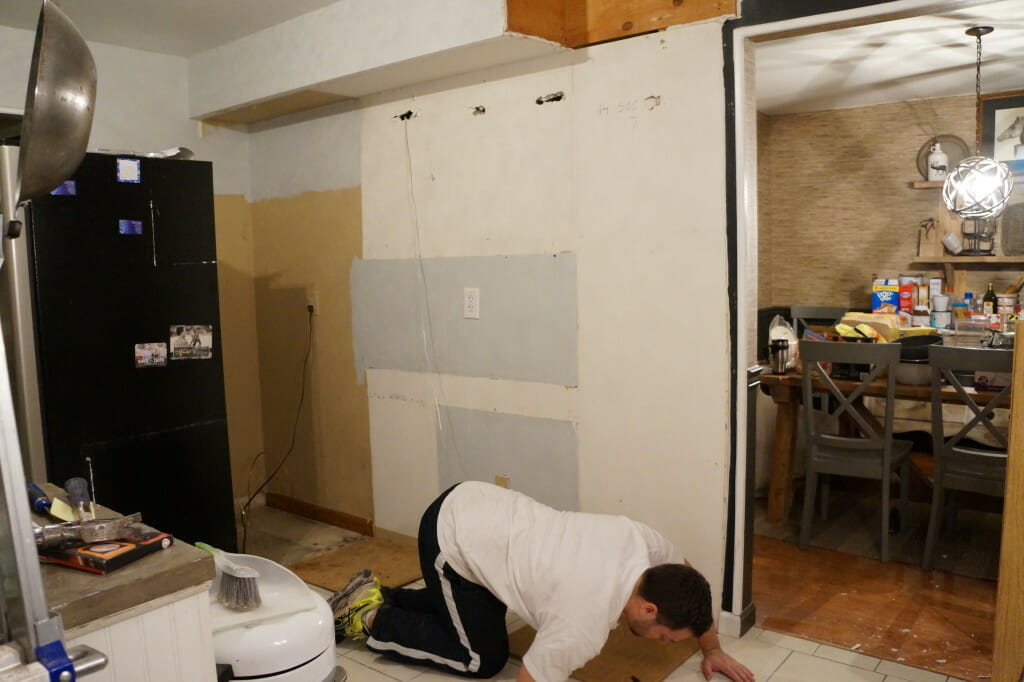 Can you see the chaos in the background? WAR ZONE!!!
The hubs had to add the shelves from our old cabinets to the floor, to fill in the parts where the cabinets lay. The original owners must have tiled around them so we had to be sure to level that all out.  Also, the soffit that bulged out with the pantry had to be removed HALLELUJAH!!!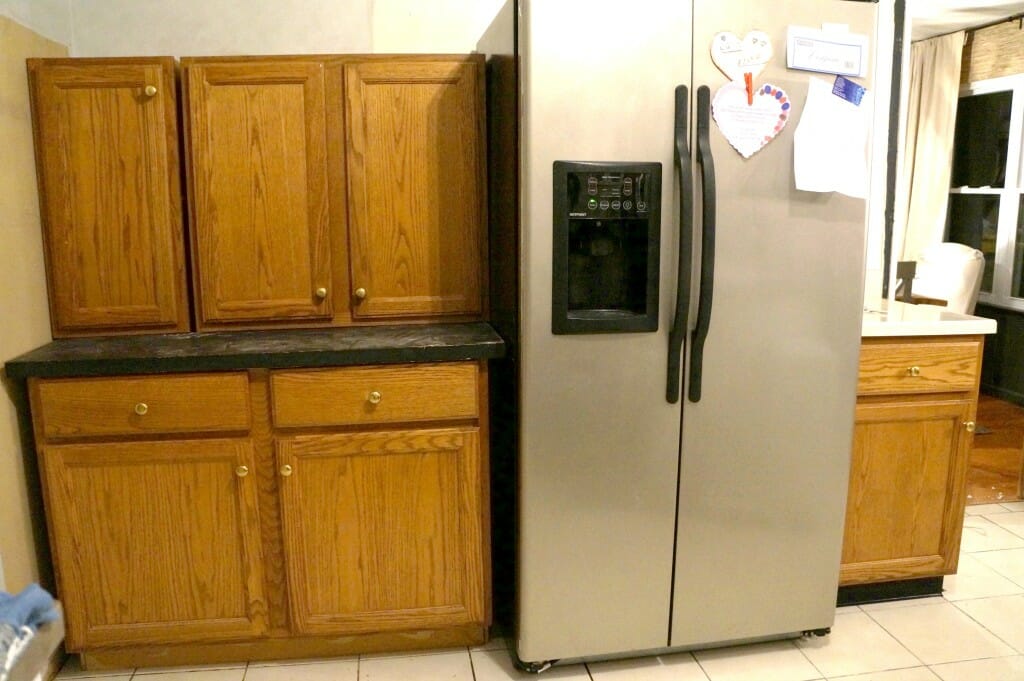 Another bad pic, but this is what the cabinets looked like when we put them in, before we installed the uppers.
And then the after of the cabinets all put into place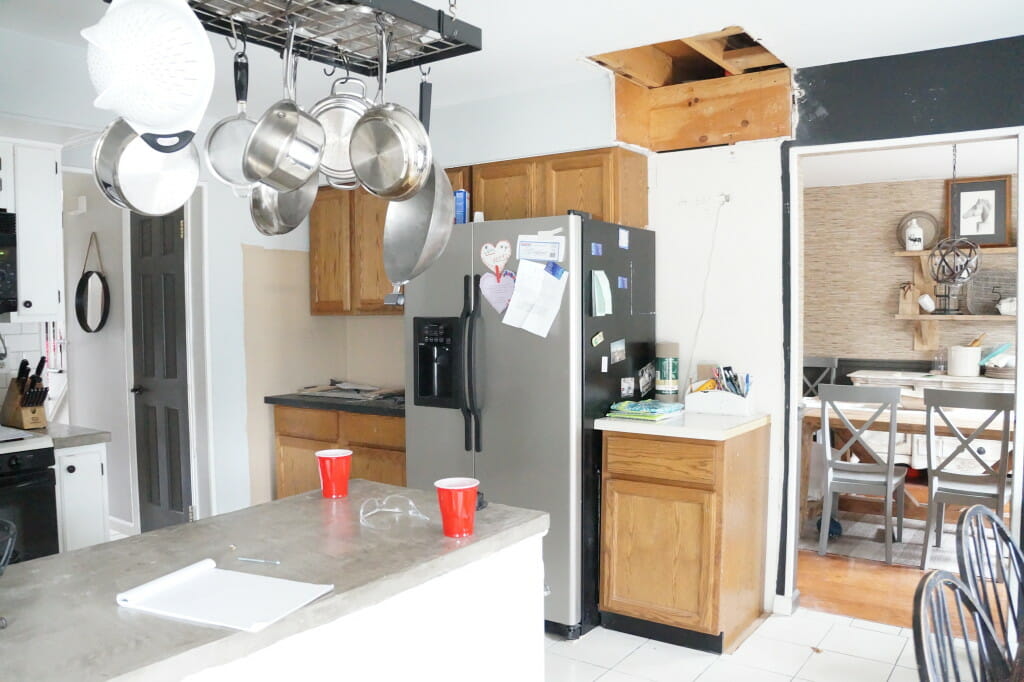 Wow a world of a difference, already right? I mean the daytime photo helps too! and the cleaned up dining room makes it better!
So then came the painting
Painting Kitchen Cabinets the Easy Way
SUPPLIES:
Advance Paint (Benjamin Moore): Simply White-satin finish
Proform Technologies Paint Brush
Frog Tape
Acetone
Hardware
So now why do I say the easy way? simple, because there is no sanding, no priming, and no fancy equipment when I paint my cabinets. I've had a little experience now with painting furniture and cabinets and after some practice I knew exactly how I wanted to take this one on.
first: I did not want any priming or sanding or removing cabinets
second: I wanted a great paint brush to make this easy (no brush strokes)
third: limit my amount of coats and time spent on this.
So since I knew what I wanted, I had to really make sure I was going to do it the right way. I went with the same paint that I had gone with when I painted the original cabinets. Of course I wanted the same color and I wanted the same paint. So I chose my very dependable best paint for Kitchen Cabinets, Benjamin Moore (simply white, satin finish) and in the Advance paint. This is the paint that they recommend for kitchen cabinets. I chose the satin finish this time around instead of the semi-gloss. I originally did NOT want semi-gloss on my cabinets, but my husband and the guy at the Benjamin Moore store convinced me it was the best to clean up. Which they are right, but it's too glossy for my taste…I mean you're talking to a girl who would love everything in a flat finish. So I asked the man at the counter if the satin would still be easy to clean (with a little less sheen) and he said absolutely! So I was thrilled. I have to admit it's wayyy better then the semi-gloss.
So of course the paint was right, now for that paint brush. I usually buy cheap paint brushes because I hate thinking of spending so much money on a silly paint brush. Not to mention that most of my paint brushes end up getting ruined if I don't clean them right or they end up sitting on top of the paint can too long while I am running around in the midst of a project. So this time around I knew how important it would be to invest a little more in a paint brush to make this a flawless project.
Proform technologies
 : is the way to go!
This brush changed my life when painting. I will be forever sad the day that I ruin this brush, because it not only made my life easy when painting these cabinets, but it has made every project thus far since painting the cabinets easy. Now, it is for sure a little pricier then most of the paint brushes I use ($2 paint brushes lol), but when I talked with the guy at the store I asked for something in the middle with price pt, but still extremely effective, and that is 100% what this is!
STEP 1: So, be sure to clean your cabinets real well. I chose just some acetone to wipe down the cabinets with, but then immediately went to painting. Don't be shy with this go for it!
No, sand, no prime, just great paint that you can count on. I chose to do this since the cabinets I sanded and primed last time still needed 3 coats of paint which felt ridiculous if you counted the time I spent sanding and another coat of primer. Why waste more money on a primer when this paint sticks well and you know you have to do a few coats at least. I feel if the sanding and the primer allowed for one coat of paint then it would have been worth it, but I knew that would not be the case after already having practice on the previous cabinets.
STEP 2: Paint each cabinet starting with drawers keeping them open and then work around the frame. Move to opened cabinets and Repeat and return to dry cabinets for remaining coats. As long as you stay neat, tape where you need to tape, and take the time to let each coat dry, this is a SIMPLE process.
DON't Complicate it!
Now, it took about 3 coats of paint and in some larger sections (like side of cabinets and some doors) it took about 4 coats. Though that seems like a lot, it really is not when you think about all the work you would have done if you removed the cabinets and had to sand, and then prime, and then paint. This simplifies this process! Remember you're painting cabinets, it's time consuming, just keep it simple that's all.
And that's it! add your hardware and you're good.
I am so thankful mostly to having great paint and a great paint brush to rely on. I dealt with less drips this time around and a much smoother surface then I had when I originally painted the cabinets. This will most likely take you about two days to paint completely, but you could for sure get this done in a day.
More Kitchen Updates
Next, the added subway tile as our backsplash to tie in to the other side of the kitchen.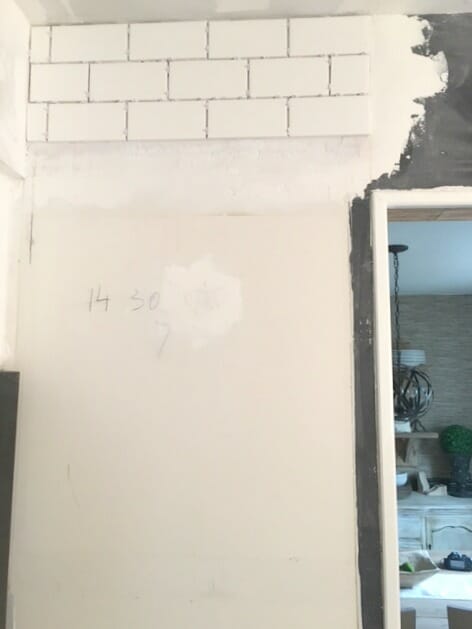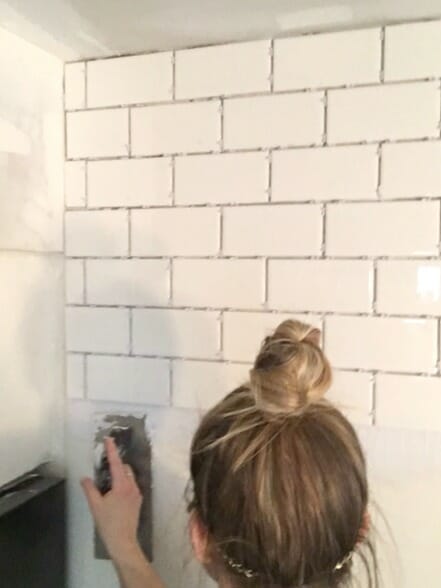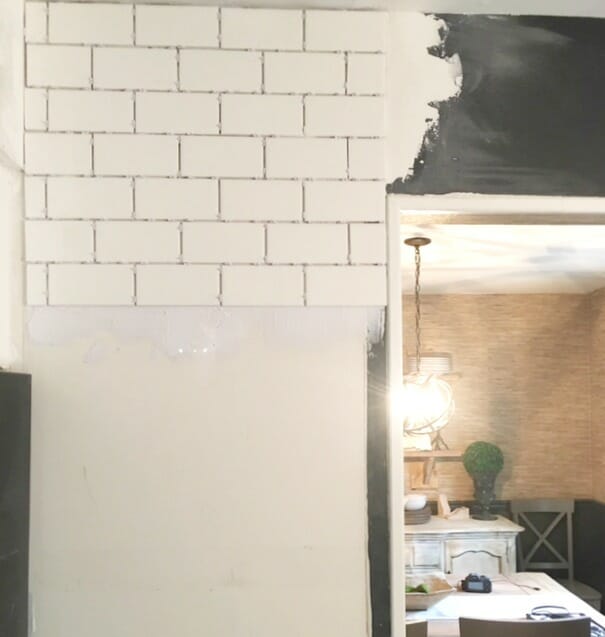 follow along with some of the reno photos on Instagram: #SLLKichenReno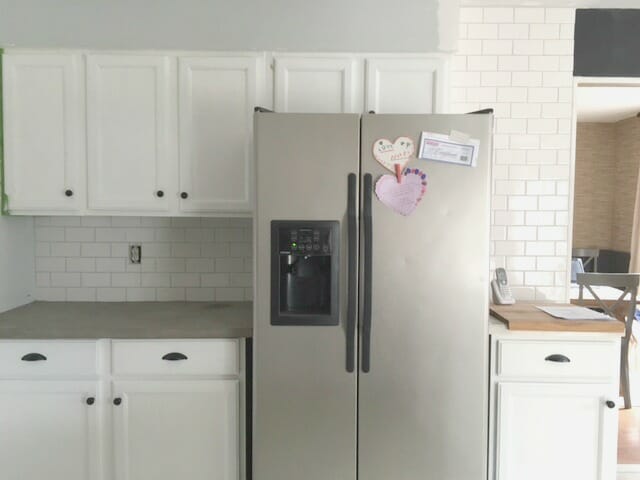 Once, the subway tiles were complete!
and we painted the walls as well with Sherwin Williams HGTV Home: Pure White.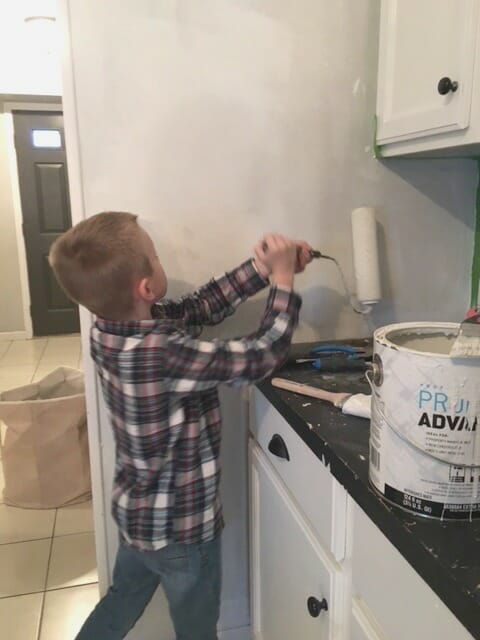 little helpers!
We tied in this side of the kitchen to the other side with the Ardex Feather Finish Counters. See here for pictures of the other side of the kitchen.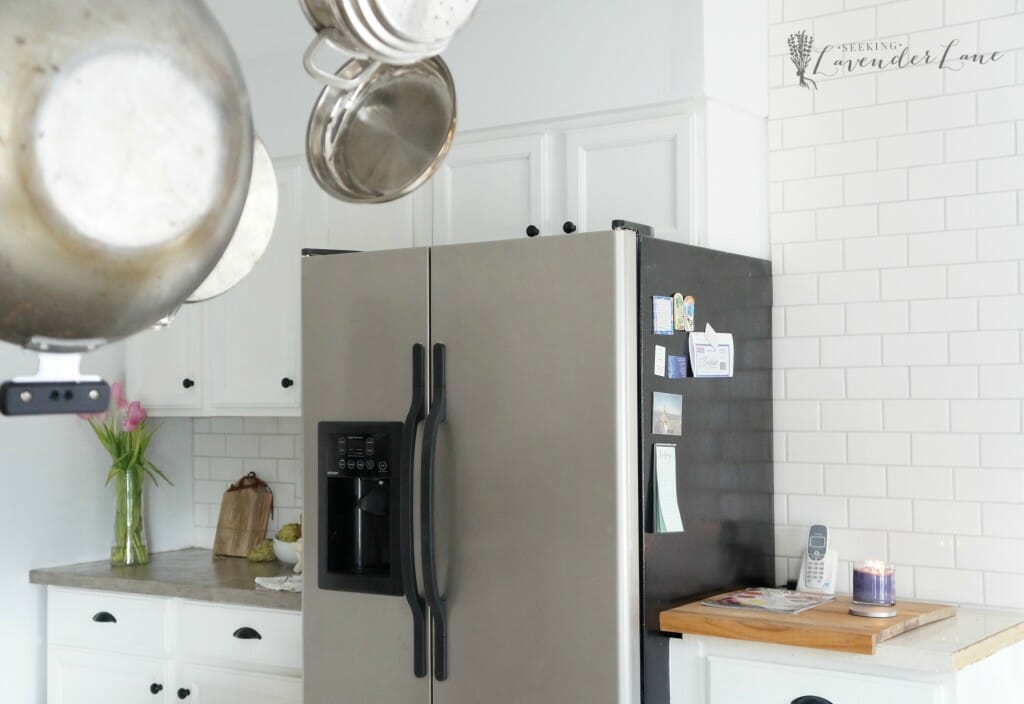 More to come with changes, I can't give it all away, quite yet! But gosh this side of the kitchen is coming along so, so nicely! I love the subway all the way up the wall, don't you? I have plans to add some beautiful marble shelves here and below a touch of warmth with a butcher block counter.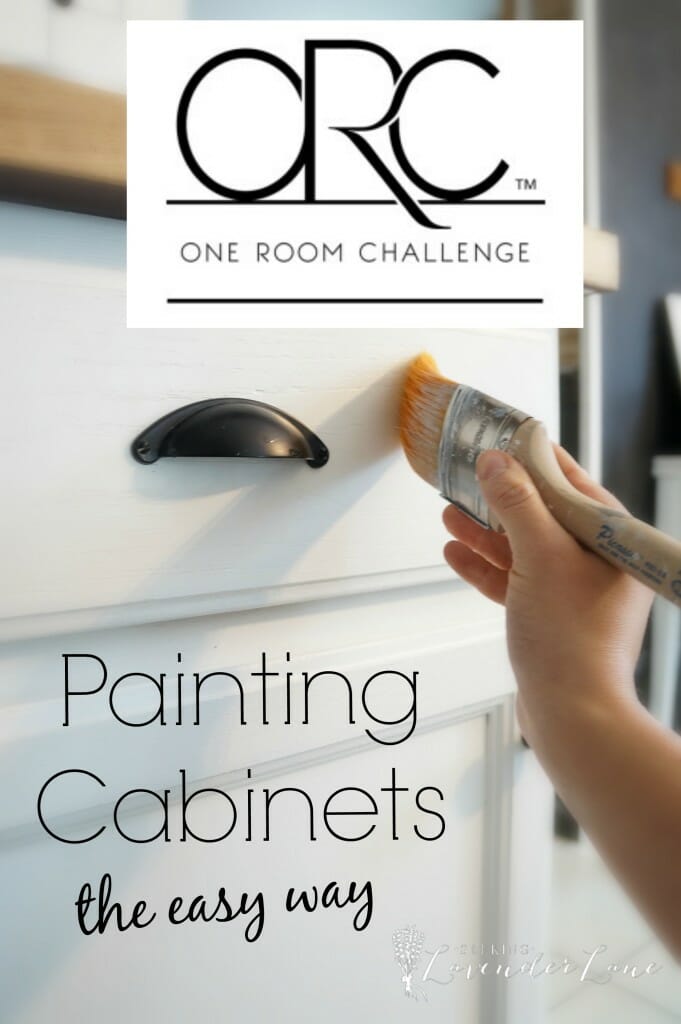 Please Share!  To see my post and others at the ORC link up, click here! 
sharing with: remodelaholic.com
PLEASE STAY A WHILE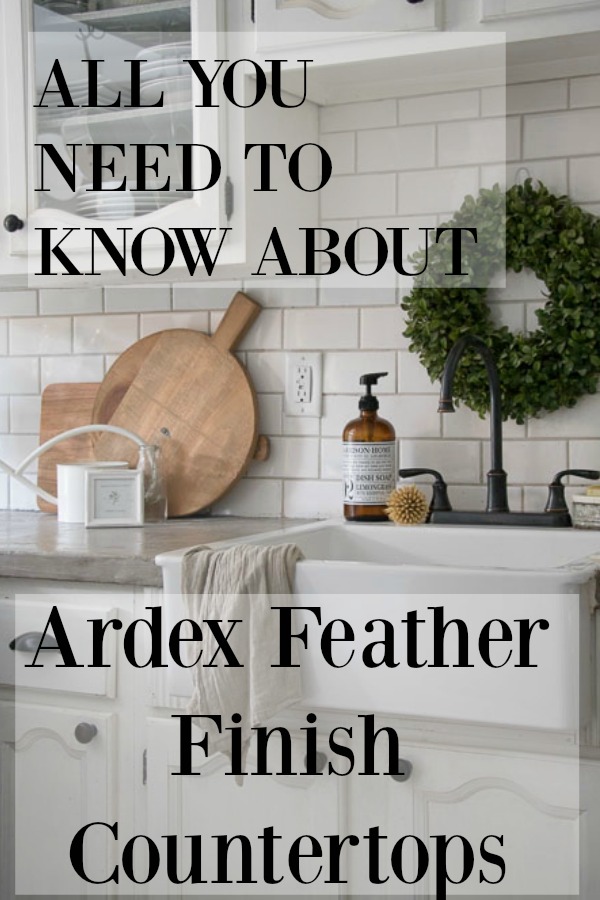 Concrete Countertops: All you Need to Know About Ardex Feather Finish Countertops