Living in our House has been the greatest opportunity our family has had! We are so grateful to be in this home and still pinch ourselves from time to time when realizing that we have such a wonderful house that we can raise our kids in. It is not the largest house and as any New Jersey resident would know, you do not get much for your money up here. We Could probably double the size of this house if we lived in I don't know maybe the Carolina's (MY DREAM!), but it is still a great house and in such a wonderful neighborhood and it has just about the right amount of space for our family of four.
The one little complaint I have is the fact that we do not have any space for a playroom for the kids. Having a basement or an extra bedroom would have been great for making use of one, but within our budget that was hard to find. We have found ways to store the kids toys in cabinets and closets without the house looking like a total mess. I am pretty strict on this and really like to keep those toys hidden for the most part.
In our last apartment we were fortunate enough to have a little space that we put together for Anthony and created a nice little playroom that he absolutely LOVED playing in! I believe the room had once been a back deck that they had closed in and since it was such an awkward space we had no other purpose for it. It was also a great space since it was connected to the laundry closet and I could easily fold clothes while the kids would play. My son still talks about this playroom 10 months later and I feel awful we were not able to dedicate a space like this for them here.
Thought I would share some photos of this playroom to inspire others that do have the space for one. It is such an easy and affordable space to create and mostly everything was purchased at Ikea.
Just keep in mind these photos were taken with my iphone just before I had stated to pack last summer.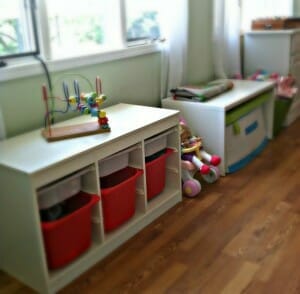 Ikea Bins and Toy Box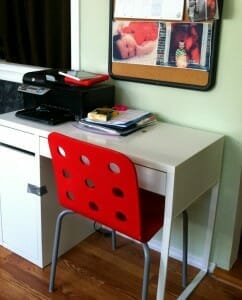 Ikea Desk and Red Chair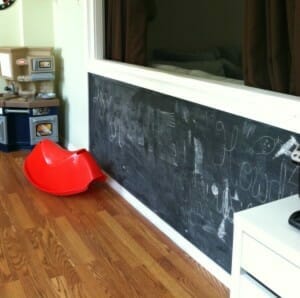 Chalkboard Wall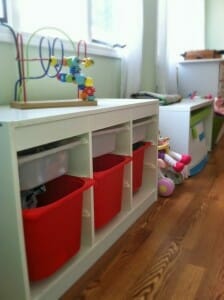 Another convenience this room had, was the large opening to the living room. We had curtains that we would close from time to time, but if we needed to watch the kids play we would just open them up.
The best part to the playroom was the chalkboard! We added chalkboard paint and then framed it out with some molding. Such a bitter sweet feeling looking at these photo. The house was so tiny for us and had definitely out grown it once Gemma was born, but really loved having this playroom for the kids.
I will be back more this week with hopefully some before and after photos of our yard and house exterior.
Enjoy your Sunday Night!