Faux Flower Market just in time for Spring!
I have been obsessed with Flowers lately. The more flowers the better…and I am loving faux! I honestly wish I had a green thumb and maybe one day I will actually have the space and patience to have one, but for now bring on all the faux florals and plants. I love how faux flowers have become "what's in" again and they are better than your mom's 1980's silk plant that you despised as a child. Faux florals are now more realistic than ever and thanks to big names like Joanna Gaines, we are appreciating all that extra greenery in our homes. Well, this spring I feel like I got a floral explosion! I want to just keep surrounding myself with as much greenery as possible. It may have something to do with this trending again or maybe because the color "green" is trending so having green in an accent color with your houseplants is a great way to incorporate the new beloved color without painting an entire room. So, I've been on the hunt for ones that catch my eye and of course affordable and realistic looking. I was more than excited when I heard about The New Kirkland's  Flower Market that they opened this spring. It's like an adorable shelf and display of all the flowers you want that won't die on you. They even have it displayed in such a cute way like your own Farmer's Market at your local Kirklands.
SEE WHAT I MEAN!
This is a collaborative post with Kirklands but all opinions are 100% mine.
I have to say I am always at Kirklands and this just gave me more of a reason to stop in. I just love that relaxed feeling that the store brings and to see the variety of their Farmhouse style collection. The new flower market will change with each season and always share trending looks. I love that I was able to pull together some of my favorite stems and flowers to create something unique for my home. You can grab your loose stems of choice and a favorite vase or pick up one of their already arranged bouquets.
If you're not as much of a Spring and Summer decorator then just think what one easy arrangement of your favorite florals and vase can be. I am especially loving the galvanized holder that I picked up. I definitely go a little extra farmhouse-y in my warmer months.
So let me go through a step by step easy process to create an arrangement from the loose florals that I picked up. I go for a more natural feel. I want my arrangement to feel like I just ran through a field of flowers picked them and brought them home to bring that outside in. Think Farmer's Market here! Also, I wanted something neutral (surprise, surprise). I decided to stick with greens and whites (my favorite look).
MATERIALS
Galvanized Holder
(3) greenery stems
(3) Babies'-breath stems
Craft paper
Steps to arrange a natural looking faux floral arrangement.
Step 1: place all florals out and try bending some of the branches (not too much) to loosen for a more natural look.
Step 2: Cut some butcher paper/craft paper/ or even paper towels will do the trick.
Step 3: Crumble your paper and place at bottom of the galvanized holder. (this will give the branches something to stand on and also create height among some of the stems).
Step 4: Grab your greenery and start to place on the outside. Using the paper to help keep placement. Don't forget to bend your branches a bit here too, to loosen them and make them appear even more so realistic.
Step 5: Continue with remainder of greens (3 bunches total).
Step 6: Now gather your flowers. I chose babies'- breath for mine and kept it simple. Bend your stems a bit and place on the inner side of the arrangement. You can have some sticking through. Be creative and don't think too hard.
That simple…and then display with other florals, on top of the cabinet, on a stool, mantel, kitchen table, wherever you feel will bring a smile to your face.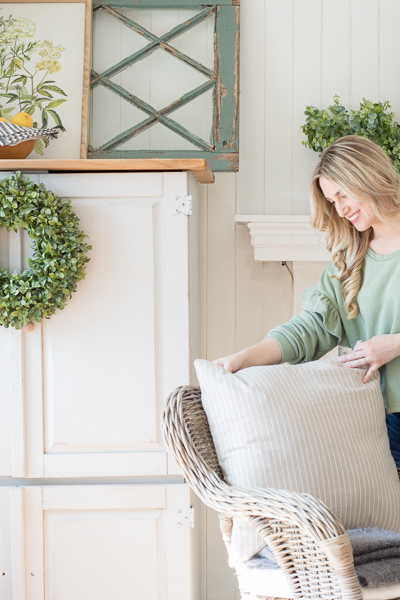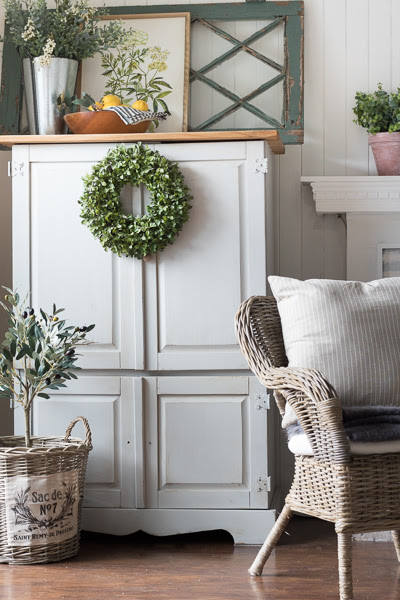 I am just loving this corner now, it feels so lively for Spring. The green, white, and yellow combo are bringing in so much sunshine to this space. Be sure to check out the Flower Market at your Kirklands you are going to love it! The florals are so realistic and I love their options. Thinking more colorful they have so many different types of flowers and colors. Share with Kirklands and tag me in your post so I can check it out on your IG @seekinglavenerlane and tag Kirklands, @kirklands #KirklandsFlowerMarket.
Shop your own Flower Market at your local Kirklands, which you can locate by clicking here.
Please Pin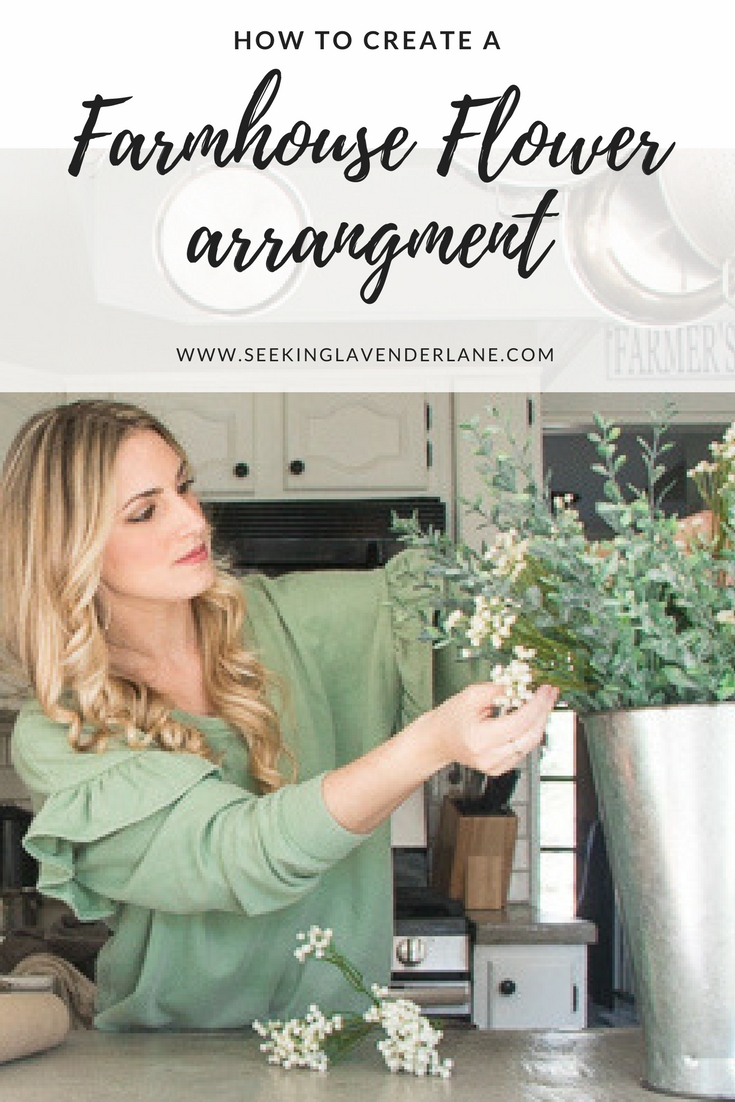 (Visited 145 times, 1 visits today)