Hi All! Happy Sunday! Can you believe we are half way through October. I know I decorated for Fall in August around here…but I can't believe how quickly it's already flying. I am already thinking Christmas around (life of a blogger) and before I let this Halloween and October slip away from me, I decided to officially do something Halloween related this year. Anyone else's kids beg them for Halloween decor every year? I know, I always feel like the  bad mom when I tell them no. My thoughts on Halloween is that it's not the most Godly holiday, and since I also absolutely hate anything horror related…it just kind of freaks me out. I love Fall decor and thanksgiving and pumpkins, etc…but Halloween ehhh not so much! So, I try to always get away from it…but I knew I owed it to my kids this year since they are not looking at Halloween through my eyes, but eyes of a child. They see it as an exciting holiday and when the rest of the neighbors are decorating for Halloween they feel like the ones left out. So, I decided there was a way I could pull this off without being too creepy and still fun and adorable all at the same time. Not to mention keeping a low budget here. So, I thought of ways to pull of a classy Halloween porch.
What I consider classy Halloween decor:
This post contains affiliate links for your convenience. 
Maybe a skeleton
pumpkins
mums
So, I think if you bring fall and Halloween together with your decor, you are certain to pull of a classy halloween style porch.
Start with your Fall decor pumpkins mums etc. Decide on the colors! This year I chose the "purply" mums paired with some orange pumpkins. Though I generally go for the neutral colored pumpkins, this year I wanted to do something that pops. Orange pumpkins I thought you would see better from the road, and with my white house they certainly stand out more then white pumpkins.
I would stick with symmetry. I think when you are looking at a door keeping with a symmetrical style will keep everything looking neat and appropriately placed.
Add in some Halloween decor but with style in mind. For instance I chose to hang some bats…but I hung my bats up in a way that had thought behind it. Instead of just hanging all around the porch I chose just over the door in a "flying" motion. This way the bats all look like they are flying over the door. I chose one centerpiece spider web for our porch railing which I thought would bring balance to the porch. Now, the spider web did not want to 100% cooperate with me, but it worked and I felt bad bringing it down after getting it up…since I knew my kids would think it wasn't enough decor with the bats alone. Then I decided on that "witches" broom idea. Instead of bringing an entire witch out you can hint to the fact that it's a witches broom. This keeps it classier and less shall I say gawd-y. Sometimes hinting at an entire is better then going all out. It resembles the idea that your porch is Halloween retlated without having flashy signs on your front porch that ready "H-A-P-P-Y H-A-L-L-O-W-E-E-N" Not that there is anything wrong with a cute sign that says Happy Halloween…but keeping a conservative and simplistic look to it will pull off way better.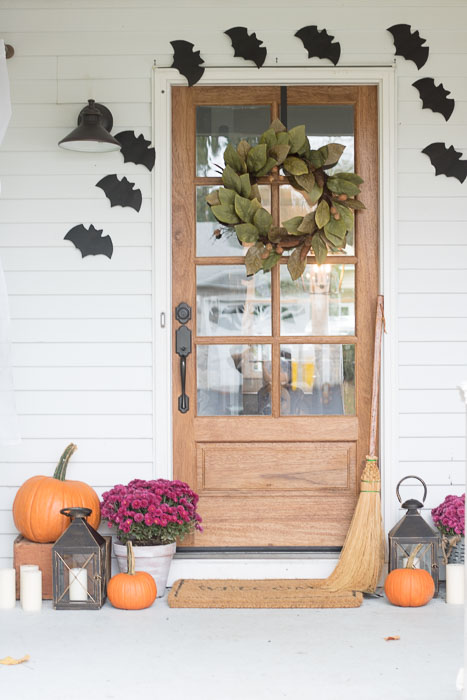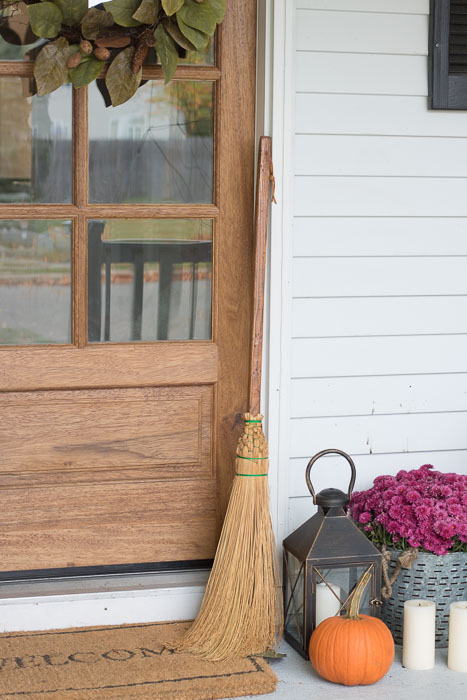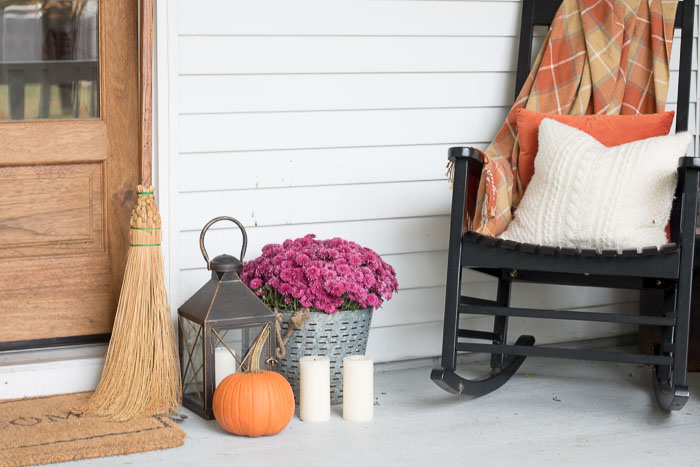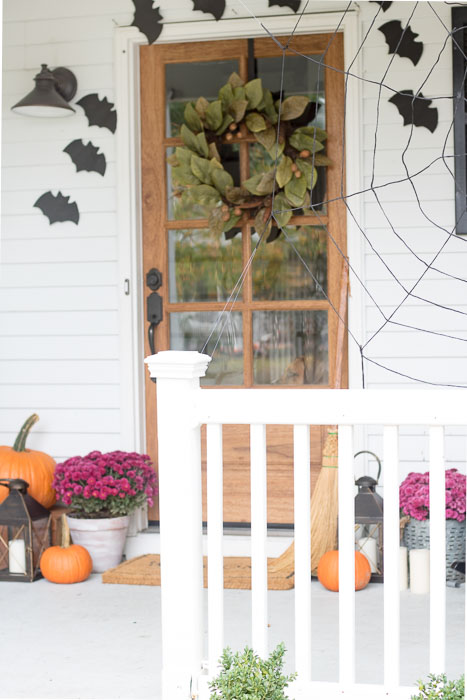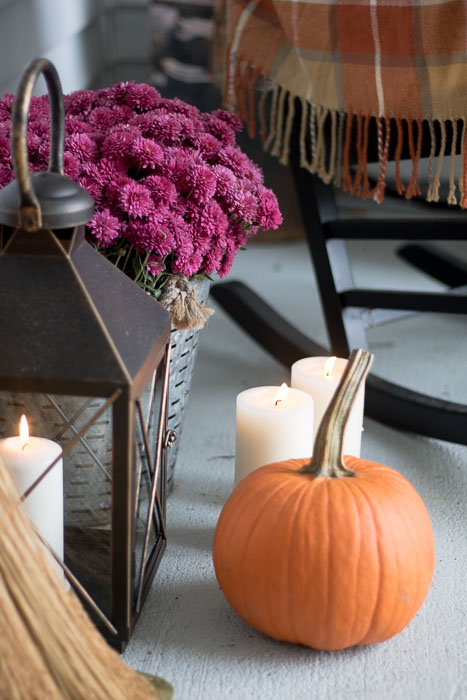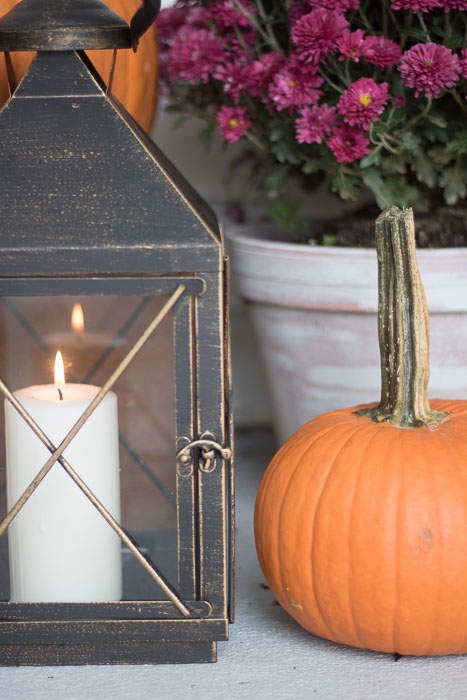 I LOVE these Lanterns, I just bought them, and plan to use them on my Christmas porch too.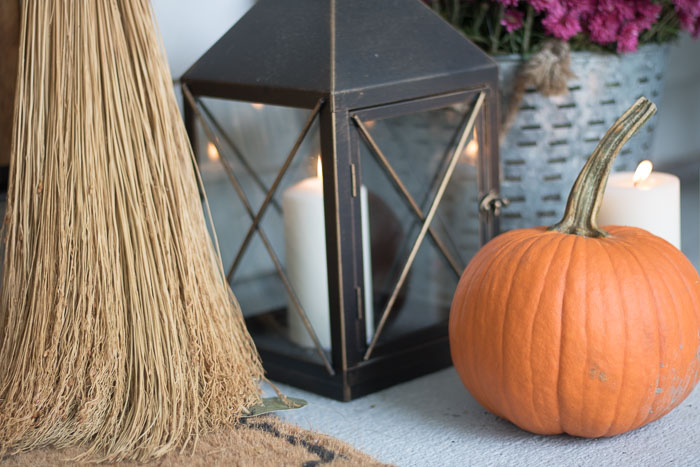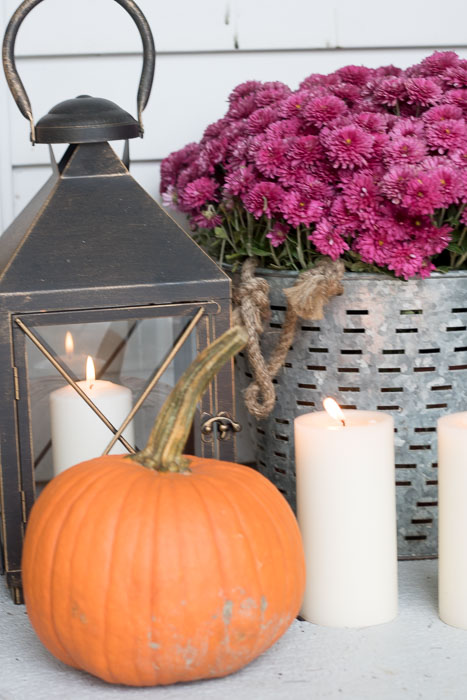 Now listen, this post is not going to be for everyone. This is only for the lady or guy that is looking to decorate their porch with a classy style in mind. You may LOVE Halloween, and enjoy the gore and all that comes along with it. Have fun with it, it's your home, your family, and your traditions. For me, I try to keep the idea of "evil" away from my home for this Halloween…and since I'm obsessed with design of course everything has to have some style to it even more so when decorating for the Holidays. Though my house may be more simple in style for the holiday I've already noticed some neighbors walking by taking a second look. So I know it's still catching attention.
More Fall Decor