The winter days may be long, but at least there's one good thing that comes from that, a cozy fire! We try to enjoy the days as much as we can per season and our winters always are about cozying up to a fire. I shared recently that our fireplace started to fall a part. Something to do with using the wrong glue on our marble and honestly, I wasn't too mad about it. We had already planned for a future fireplace makeover it was just a matter of when. So, with the fireplace falling a part we decided might as well just go for it! So that's where the plans for our European Modern Fireplace began.
This post is a collaborative post with Polycor Designs
I knew this time around that we wanted something that was permanent and that would be timeless. Of course it had to be European inspired yet very casual too. I love a beautiful carved marble fireplace, but I didn't feel our family room space would fit that look (maybe the master down the road but something that gave our home texture and a look of Old World charm. So that's where we began the stone search. I shared some of my inspiration for European stone here, and then I went on my way to shop stone at some local stone yards.
I learned so much in those few days that I had not considered before. I mean there's a difference between a mosaic looking stone and one that appears stacked. I would see the difference in photos but not know exactly what I wanted and that's where I got a little stuck. My inspiration photo had a mosaic pattern and mosaic happens to be on trend from many high end designers. So, I thought def mosaic…but then I had a message from a woman on my Instagram account that shared an article with me (I wish I had saved it) and it was from another blogger who talks about old homes and how authentic stone would be stacked for structure. Mosaic would used for garden floors, so if you see a house that has a mosaic pattern you know its for aesthetic purposes only. That got me thinking…well that's not what I want my fireplace to feel like. I want it to look like it's always been here! Like I ripped part of our wall off and exposed this stone that's been here for centuries. Okay maybe a bit dramatic and a little impossible with an entirely new project, but at least the stone needed to resemble something that's been around forever.
That's when I decided to move forward with Indiana Limestone from Polycor. Not only did I get the stacked look from their Rockford Estate Blend, Thin Veneer Indiana Limestone. The color was the perfect warm gray which compliments the grays and warm tones in our house. I mean it's almost exact color gray at my cabinets are. It has a subtle color variation, but not too much. I was on the fence about wanting something with more color and variation but honestly I couldn't have picked something better. The simplicity of the stone keeps it from being too busy in our house.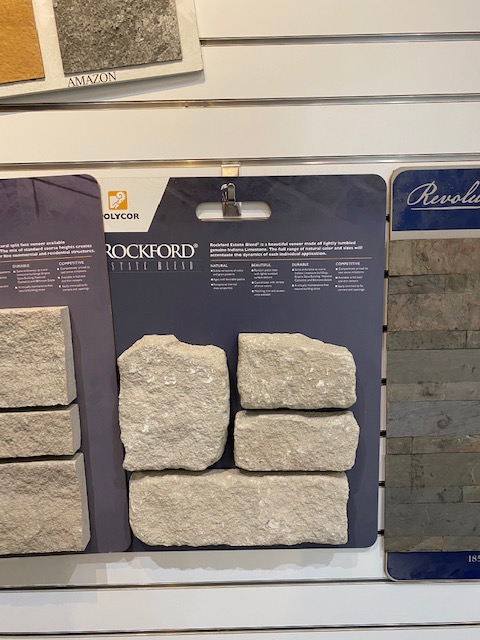 Next, was getting the stone installed. We knew this was a project a little over our head and really we wanted it done the right way. I think that's when you have to decide when to DIY and when to not. We love to DIY and then again there's times when choosing not to DIY saves our marriage and money too. Remember hubby is not a contractor…I try to always make this known because I don't want everyone to think we have all the answers and are always the experts…we are just trying to figure it out like any homeowner that has a little DIY under their belt, some knowledge. and a few extra tools in the garage.
We found a guy that has done a few of our projects in the past and he gave us a great price to build out the fireplace, add the stone, roman clay the top half of the wall, and pour the concrete for the hearth. I'll break down pricing in a little bit…
The style I wanted something very different!!!! That's where a touch of modern came in. I wanted a sleek looking top to the fireplace and def did not want stone all the way up. I kept thinking Lake cabin if i did stone to the ceiling and I think most new builds today are doing that and I just did not want our house to feel like everyone elses. I know sometimes I get a little obsessed with this idea of trying to be different, but truly I like trend but I also like to find an answer to design solution that feel different then what you see everywhere else. Could be because I dive into design wayyy more then what is healthy for me. I look at too many photos a day, magazines, books, and pins. So the unhealthy part of over doing design inspo is that you get bored and "use to" the norm. So here I went for something a little different but had a fabulous inpo pic that inspired it all.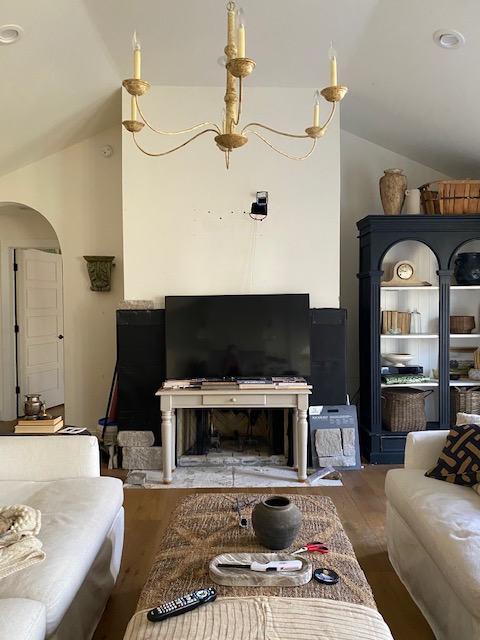 I wanted to give our fireplace little more dimension so he built out our base and kept the top sleek and tall.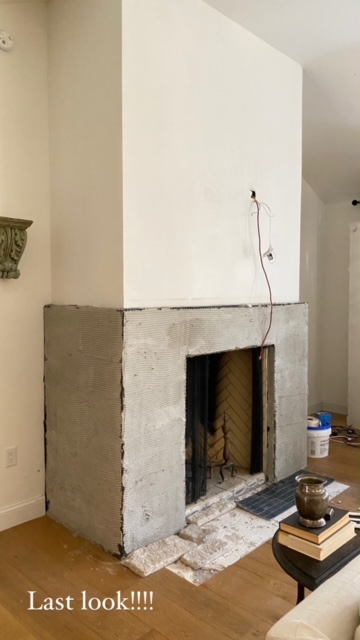 He applied our polycore limestone one by one and I was there selecting each of the pieces, making sure it felt random and right. I'm not sure any contractor has ever had a homeowner literally running outside picking up more pieces and bringing them in. I'm that person! Then I decided to break a few of the pieces for a little less perfect edge. What is most important about the design we did is that we kept large gaps so make sure to have an overgrout feel. If we stacked the stone with little grout space it could instantly change the feel of the stone to something more coastal then Old World.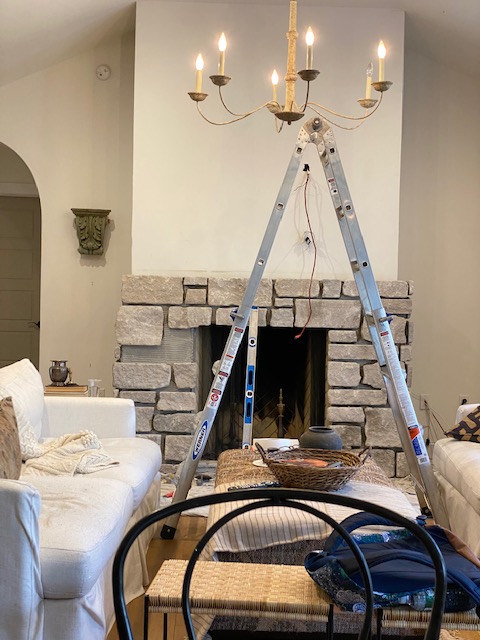 Then came time for the "grouting" which is just mortar. This is where it got a little complicated. I went to the local stone shop and requested a white concrete. (I lost the info on the concrete so I apologize for not having a better source). Then it was time to apply the "white" concrete t our stone. In the photo it looked like it would be a warm white which I thought would be perfect. I did not want stark white. Well, then he applied using a piping bag to create that over-grout look.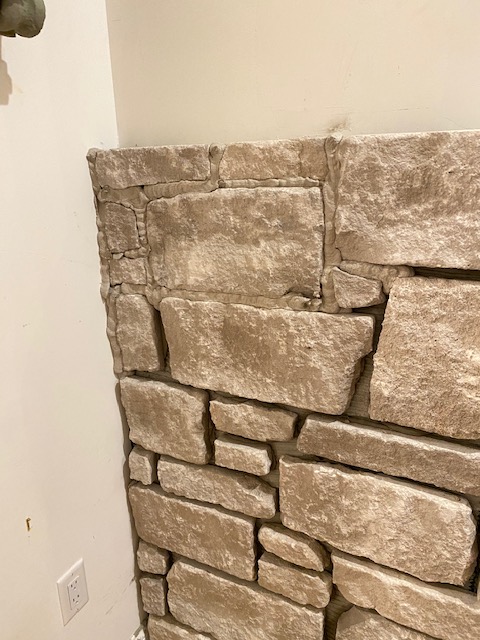 That's when I had a major design panick attack!!!! It wasn't white….WTH!!! I was in full panick mode all those weeks of getting our stone perfect, our design perfect, hiring someone, and taking the time to select just the right stone…now lead to a BIGGGGG mistake with our last finishing touch the grout! It started to "dry" and as it dried it became darker. I was looking at a medieval castle in my house! Hubby was not happy either so I knew I was not being a drama queen with this one…I was right, this was a disaster!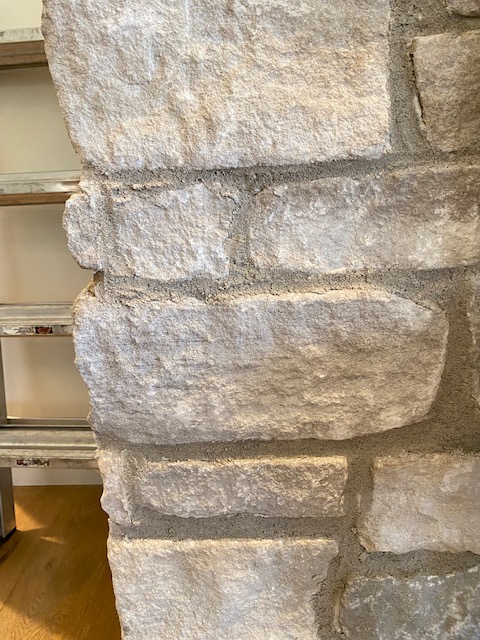 So we began to think about plan B and C because you know our plan B is always in our back pocket…and we thought about painting the grout, re-grouting with a white concrete…and just feeling a bit defeated. Then 9 more hours went by and our concrete really did start to dry, we had a light gray concrete (not white) but it ended up being PERFECT!
OHH the fireplace Drama lol! I think I've learned my lesson this year in design to give things time.
We added Pure & Orginal Roman clay in table linen to the top, got a new frame from DecoTV frame and even added a few found treasrues for a European feel to our mantel. Oh and added a concrete to our hearth…that's another story but I'm giving that time. Lets just say our contractor said this special $50 a bag concrete would work for our hearth and we already have 3 cracks, but I'm sure we will figure out a solution and I've decided not to stress about it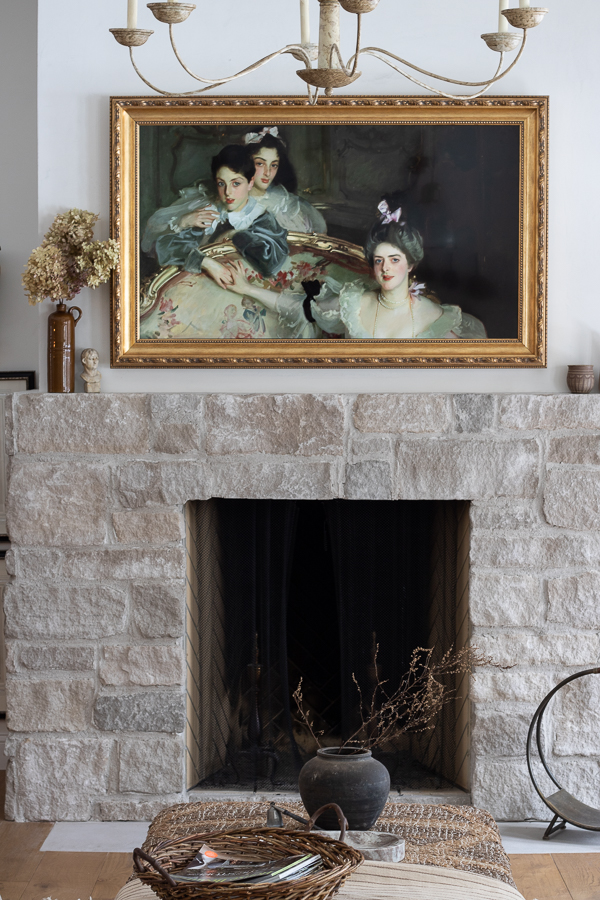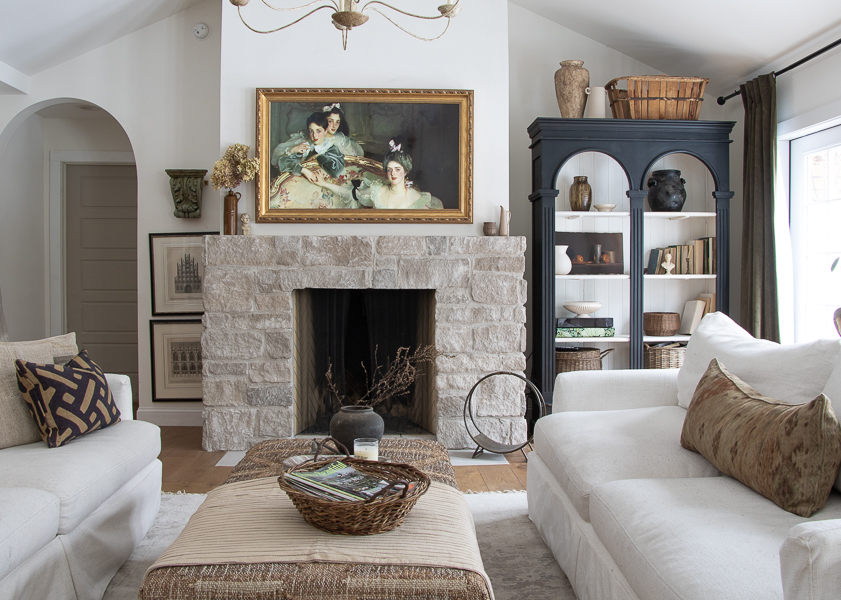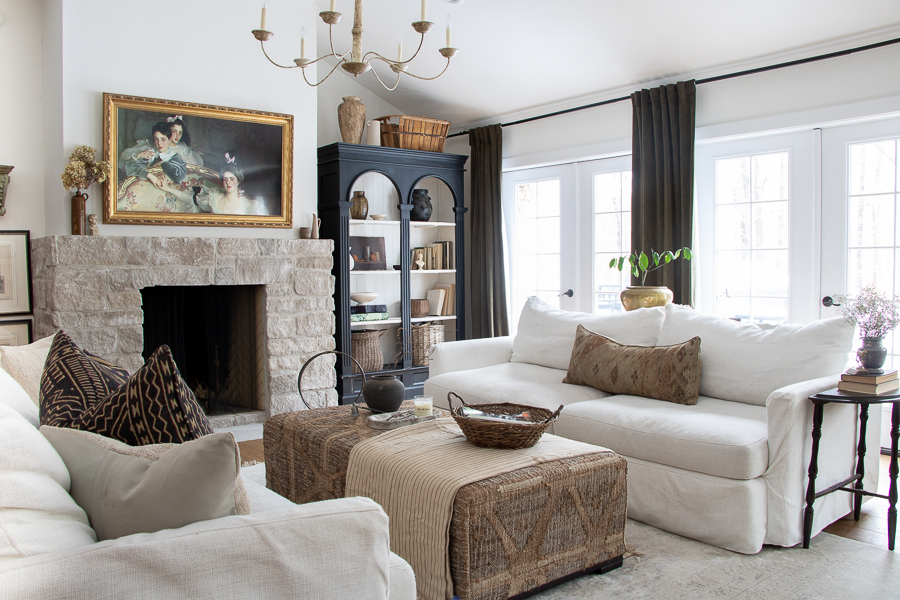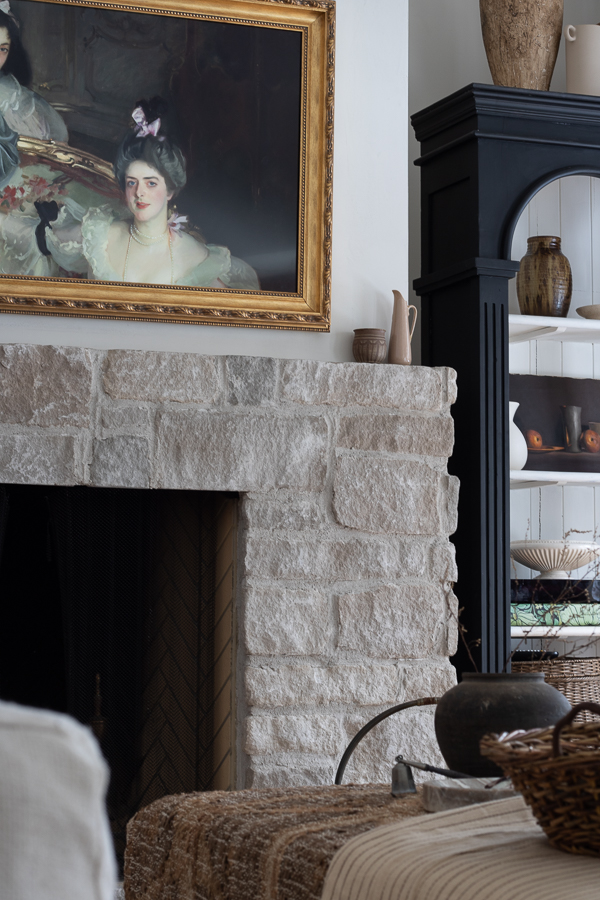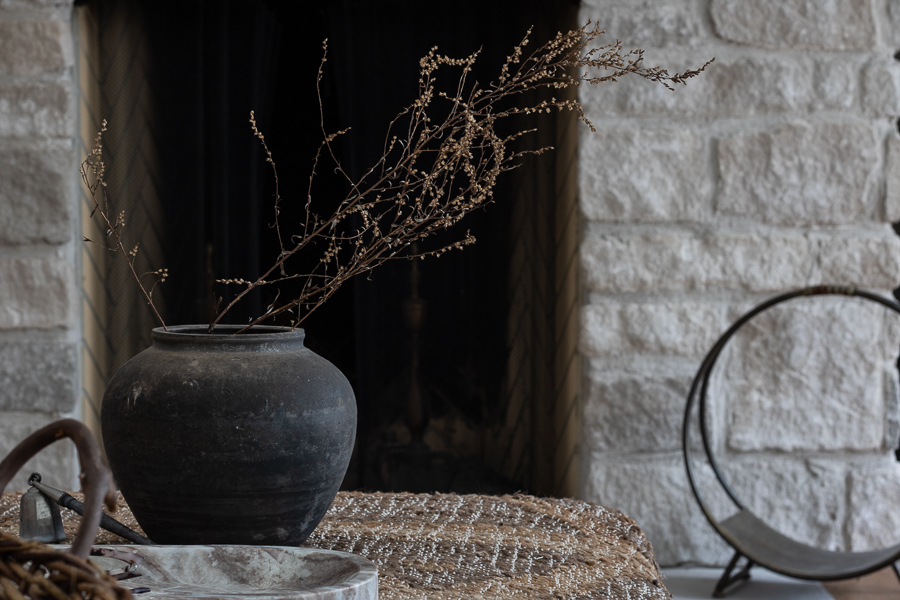 One last thing….we did not add a "mantel" I've had this questions come up so often on my instagram feed and I think it's def your own preference if you like the look of a mantel and even my dad asked me the same…but I love the look of how the stone just drops off. Again feels "different"
Our fireplace price break down:
Stone: $14.94 a sq ft ( thankful for our partnership with polycore for gifting us the stone) – this price was wayyy better then some of the other stones we had priced out
Grout: 2 bags ($50 each)
Concrete slab $50 a bag, compared to $700 limestone hearth
Pure & Original paint $140 for 100 sq ft of product & shipping
Labor $2,000 our guy gave us a break since he has worked with us in the past he said it would normally cost about $3500
Source List:
Now to another month of cozy fires here before we welcome spring! Hope you all enjoyed this post, I would love it if you can pin!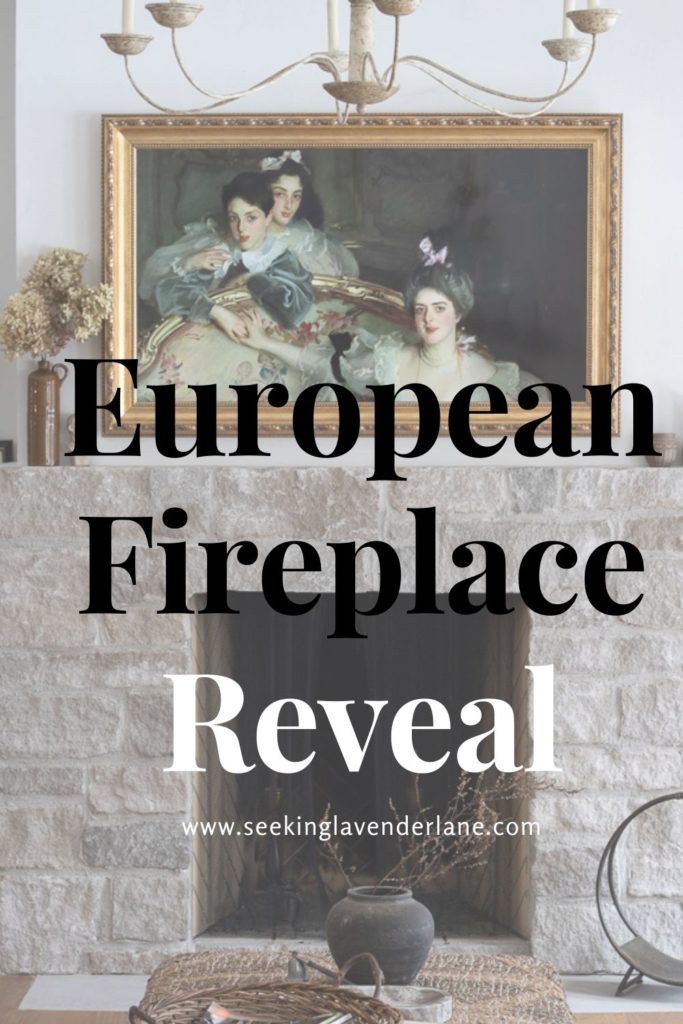 GET THE LOOK!

(Visited 4,956 times, 3 visits today)