A Room  Makeover  without Painting the Walls
So, after thinking a while about what I'd call this post, I thought about naming it a Little Girl's Room Makeover, A Vintage Girl's Room, Maddeline the Bedroom (so many people thought the hats reminded them of Maddeline), but I thought it would do best by sharing that this room was made over without doing one important thing that most makeovers start with…painting the walls. I guess it wasn't something I thought about considering much of the  makeover started with painting, but not painting the walls. I painted a bed and end table, a barn door (that I made look vintage), and a storage wicker basket. So, there was a  lot of painting that happened, but the wall color stayed the same from the beginning. I guess all along I always wanted a white room so when I had our painters spray the entire house one color…I'm glad that color worked out for this room too. I'm glad my daughter didn't fight me too hard on wanting a pink or purple room with glitter on the ceiling. She trusted mommy on  this one and honestly the best part of this makeover…is that she loves it!
This post contains affiliate links that I make a small commission from without any added cost to your purchase.
One more look at the BEFORE!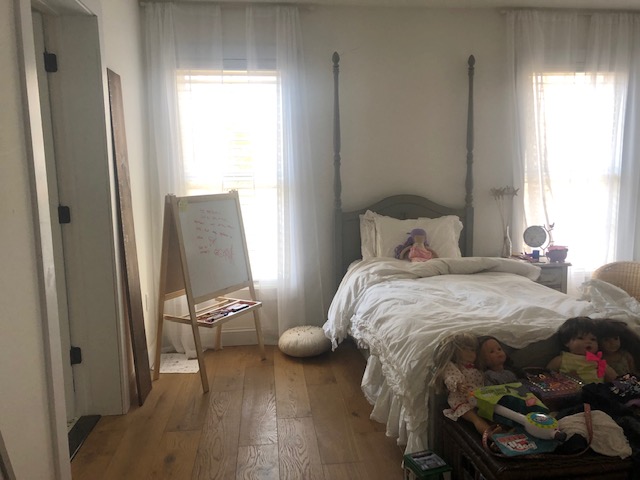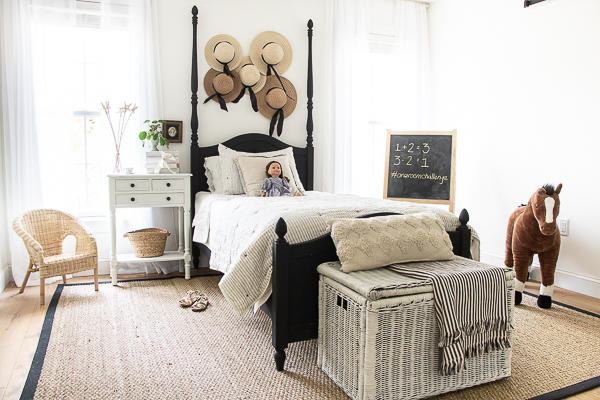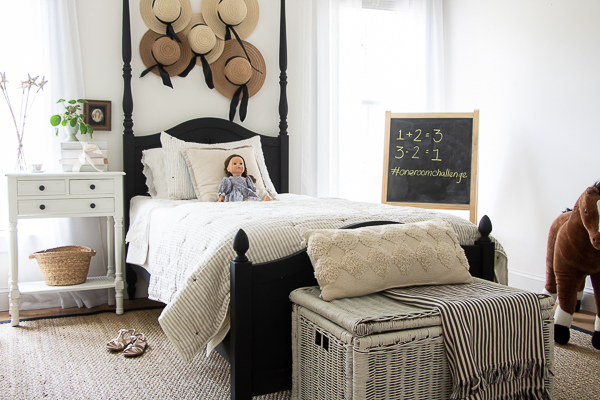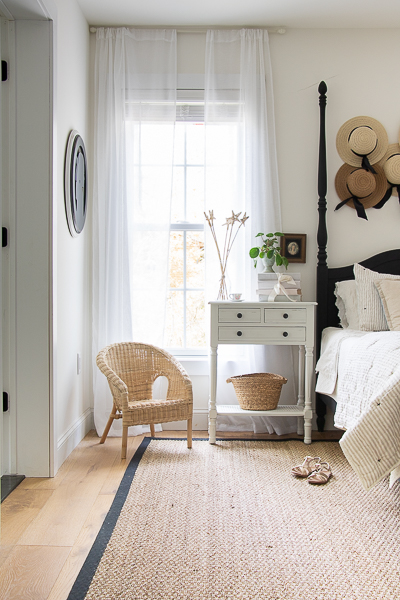 So, if you're all caught up on the last 5 weeks of what we did to this room..today's post is not very different. It's just the look pulled together in one…except one problem…I didn't finish! Now, I've got a lot of other projects going  on  and really  one of my sponsors couldn't provide the largest product I needed for this space and that kind of stalled the process and I couldn't find a dresser that I liked in  time. I'm totally fine with it though because the main space is done. Just keepin' my eyes peeled for a dresser to show up in my Facebook Marketplace search sometime soon so we can can call this room done until  my daughter is at least 12.
j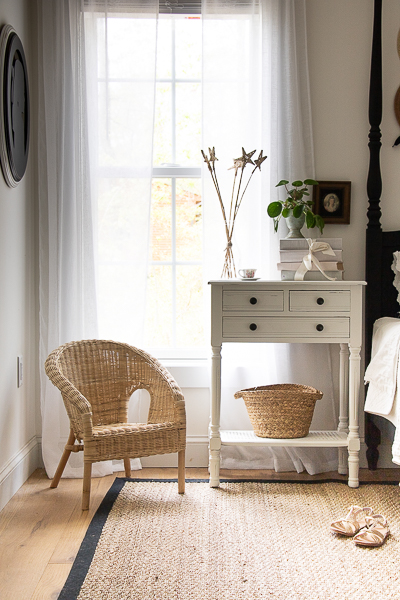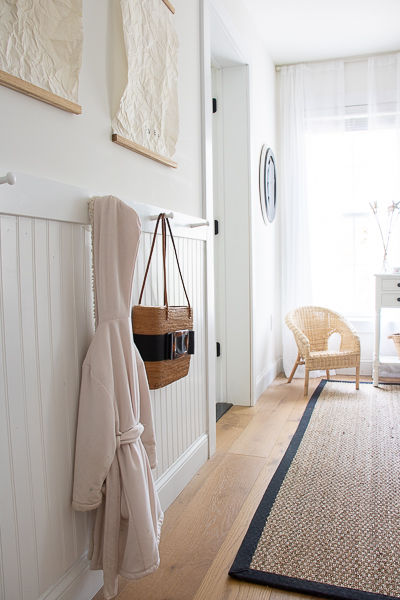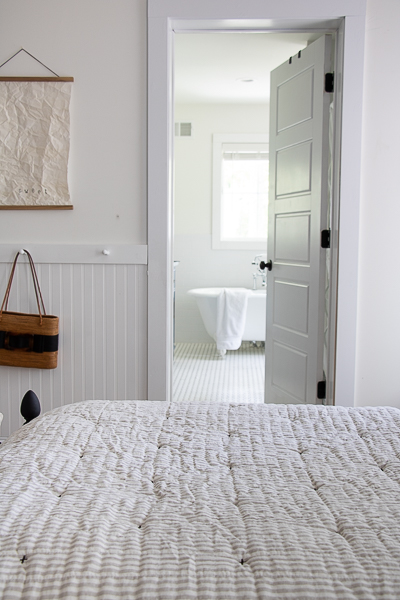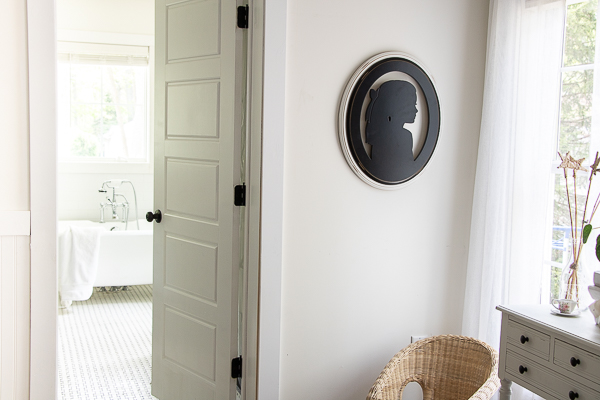 I have to say what I am most proud of is that this room stayed simple. I kept thinking maybe I'm going to simple every time I walked into the space. I've been craving simple design lately but it hasn't been easy since I'm use to a lot more stuff. Well, I stuck to it and I couldn't be happier! The simplicity is what makes this room.
j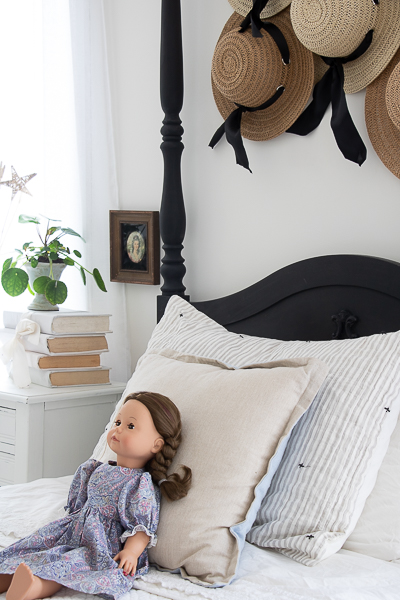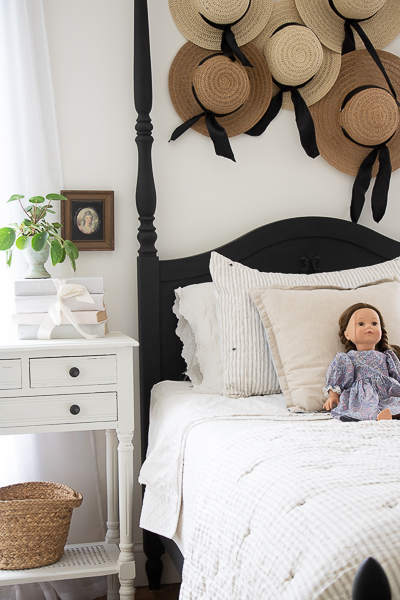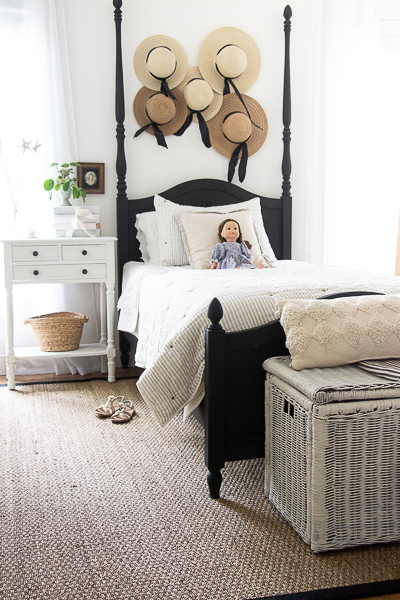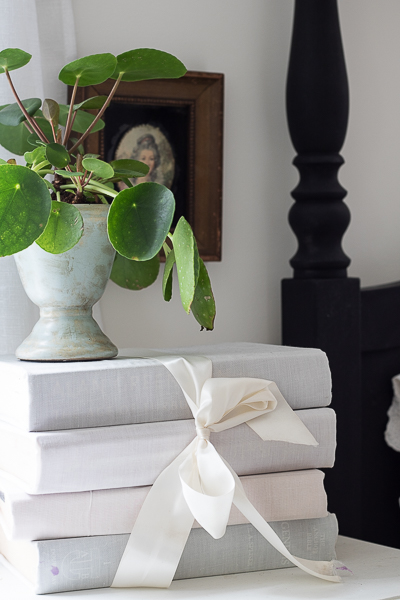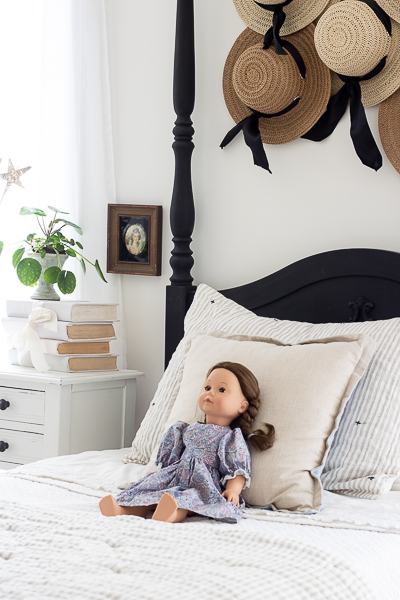 What kind of helpful tips can I give you if you're looking to makeover a room without touching the paint?
#1 Paint your furniture! -Coordinate your unmatching furniture, FB marketplace finds, and hand me downs. This will make for a cohesive room and save you a ton of money on buying all  new furniture.
#2 Buy a New Area rug!- Finding a  great area rug like the one  I chose from this room from RugsUSA, was the perfect way to bring the room together. Though  it's neutral, the colors go with all the warm texture and wood, and that black border pulls into all the black furniture and accessories.
#3 Accessorize!- Find new and old accessories that  bring life to the space. Decorate a sweet end table or bookshelf. Even layering a bed or sofa with new throw pillows  and blankets will help to bring texture and life to a space.
#4 New Lighting!- So I did  not update the lighting in Gemma's room because I did not want to steal from the hat wall above her bed. I wanted that to  be the focal point. Though, I stuck to my simple lighting, this is a great way to update your space by adding a dramatic fixture.
I hope these tips help be sure to coordinate everything with your existing paint color and neutrals like what are always a good option as a clean pallet.
Now, this girl is all about enjoying her room..and never making messes ever again-JK!
That Afternoon Glow photos, (after school) my favorite time of day in this room…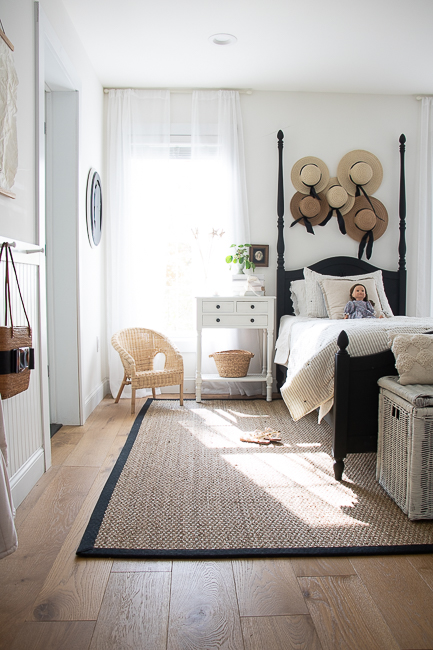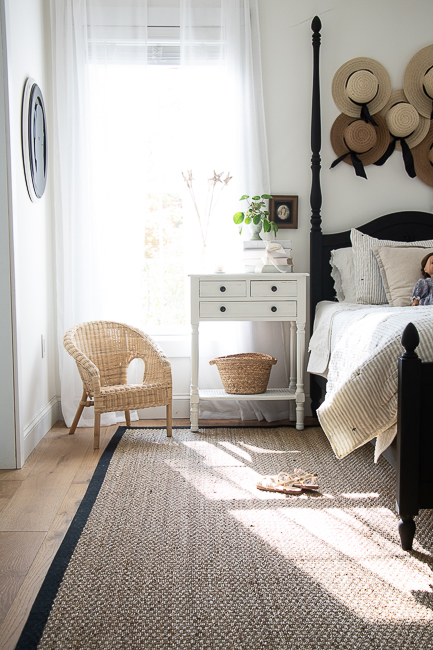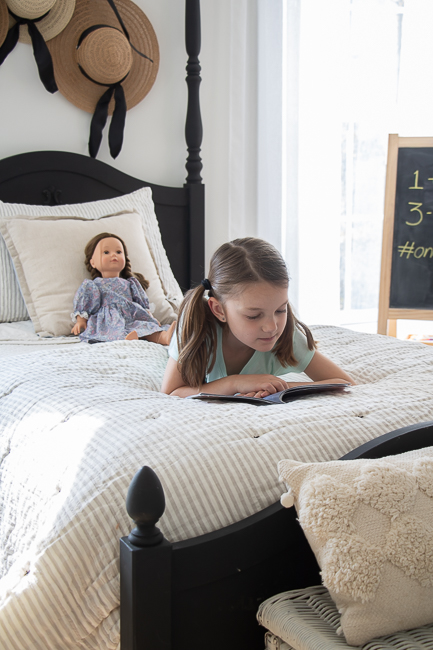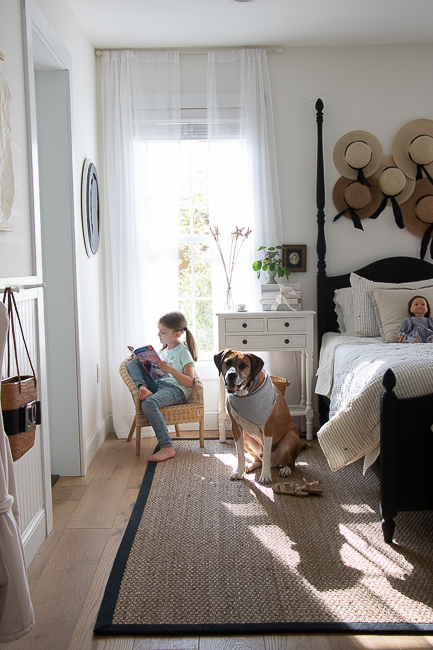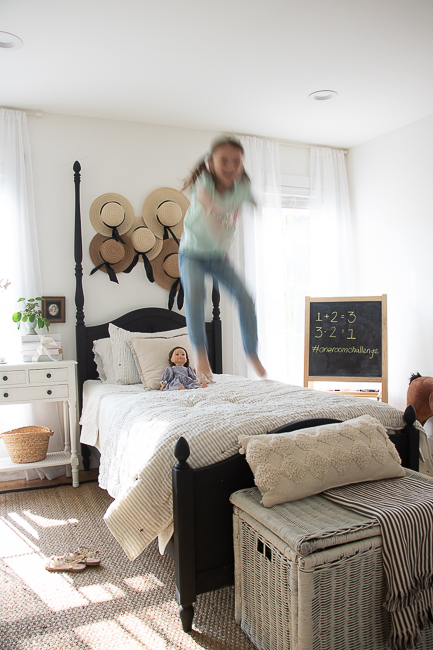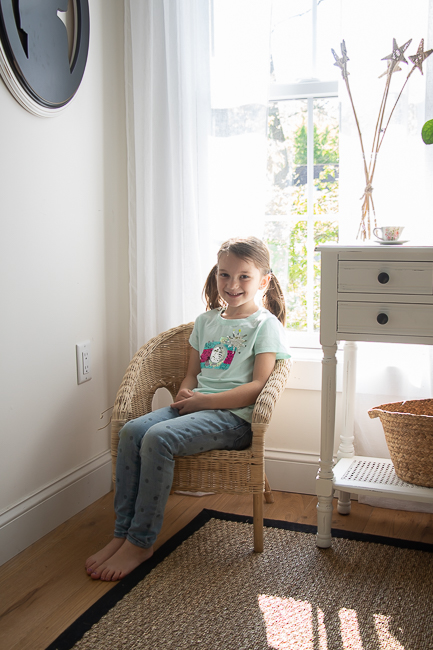 Be sure  to check out all the other posts here! That a wrap another successful One Room Challenge Makeover and I only spent around $200 on this entire makeover!
Thank you so much to my sponsors, if it weren't for you this room makeover wouldn't be possible! VonJet
and RugsUSA!
Source List:
Bed: We had this for a few years now and painted black
Hats- Target dollar spot
Curtains: Homegoods
Paint: Benjamin Moore White Dove, (beadboard) Simply White
Silhouette: VonJet
Rug: RugsUSA
Chair: IKEA
Easel: IKEA
Basket: Target dollar spot
Side Table: Facebook Marketplace Makeover
Books: post on how I covered these with fabric (warning from my early days  of blogging).
PLEASE PIN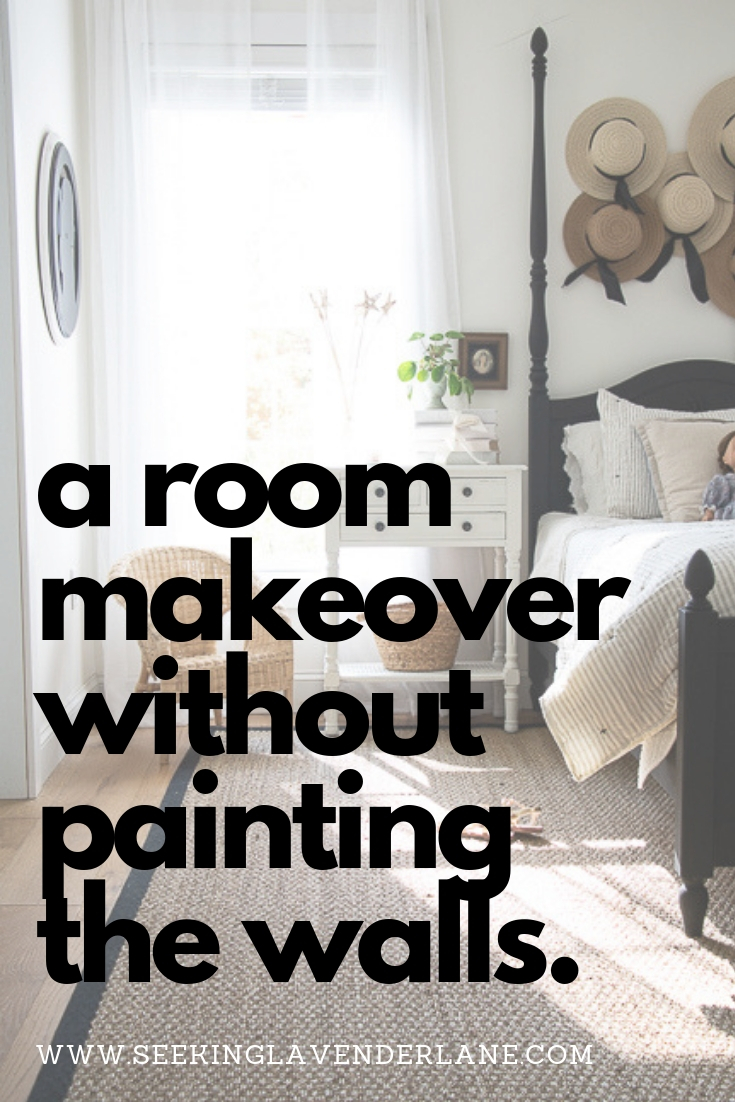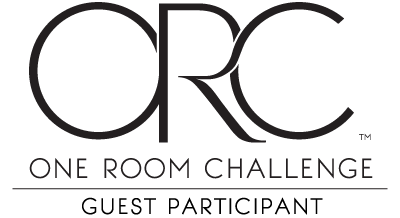 (Visited 7,229 times, 1 visits today)