Board and Batten Accent Wall in our Living Room
Do you ever have a room or a wall that you just can not figure out what to do with it? No matter what you put up on the wall, it just seems wrong! And then the Spackle and nail holes keep piling up? Well, I've got the easiest solution that I wish I thought of sooner. A board and batten accent wall. It is super easy to install that this girl accomplished this all by myself (since hubby was battling a migraine). Well, I did have a little helper…my 5 year old helped me hold things like the measuring tape and the end of the wood while cutting. So I couldn't have done it without her : )
I should say I am getting better at DIY, the more I do it the easier it becomes. I mean four years later same house more projects…it better get easier. They are definitely getting less and less too which the hubby is happy about.
So where to begin…
MATERIALS
this post contains affiliate links for your convenience
3″ w moulding (home depot) 8 ft long. (1/8″ thick to work with existing bottom moulding)
Measuring tape
Decorative moulding or moulding of choice (12 ft)
BEFORE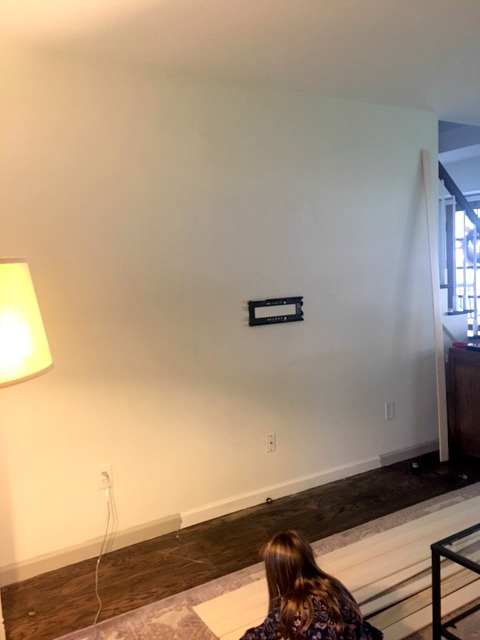 Sorry terrible lighting! See my little helper below : )
and yes, I did originally paint around the TV console, but it's all painted now!
So, I began the process by measuring how far up the wall I wanted the moulding to stop at. Keep in mind bottom moulding (existing) and the top moulding. Then cut to size!
Next, start moulding on each side of the wall. I cut the tape to the size of the 3″ width. This way when meausring I can place tape onto the wall where the moulding would be. Now I wasn't 100% exact with measurments…but that's me! You can measure and be precise or like I did I made sure the end pieces were the exact distance from the next piece and then I did a give or take with the ones in between. You can't even tell when finished. If you are doing an entire room then I would say being precise is a definite. Jeez guys I am a DIY blogger and I am telling you how to do things the wrong way lol. Just being honest!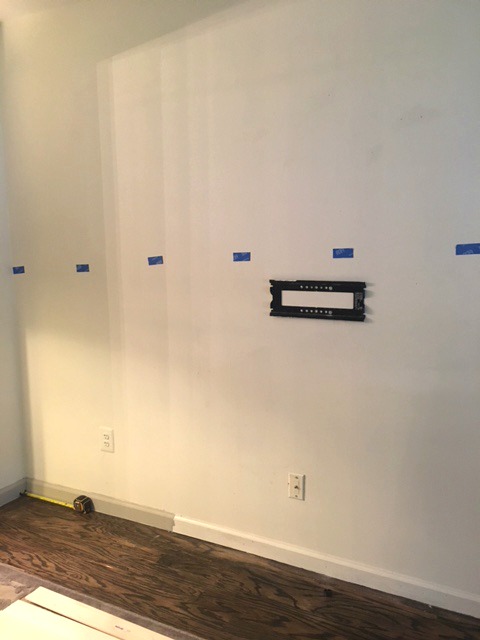 Using painters tape to mark out where moulding planks will go.
Once you have the placement (most difficult part) then work your way from the ends. Put one or two nails in boards to keep in place. I wait until everything is up before putting a few extra nails in.
Last step before painting is putting top moulding on. Same thing, put a few nails in, step back and then when perfect add a few more.
After that, paint it! This took me I would say about 3 hours total. This was only for one wall. I just think getting the precise measurements is the hardest part…other then that if you have a nail gun this will be super easy. Also, a tip from me…invest in a nail gun if you are planning to do multiple projects around your house. We did not get one until a few months ago and it has made a HUGE difference in our projects. We keep kicking ourselves for not investing sooner.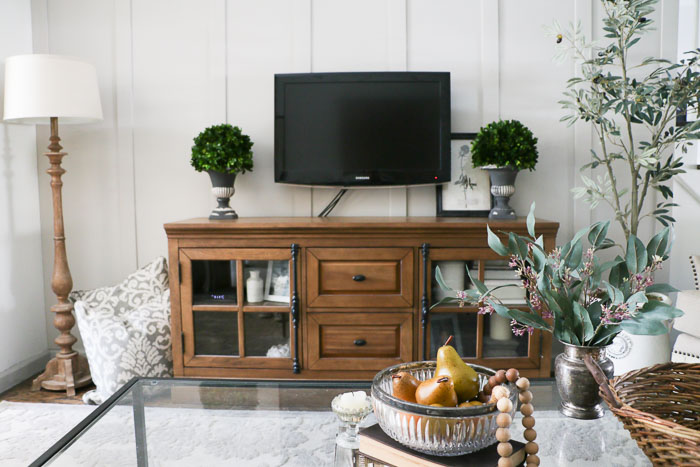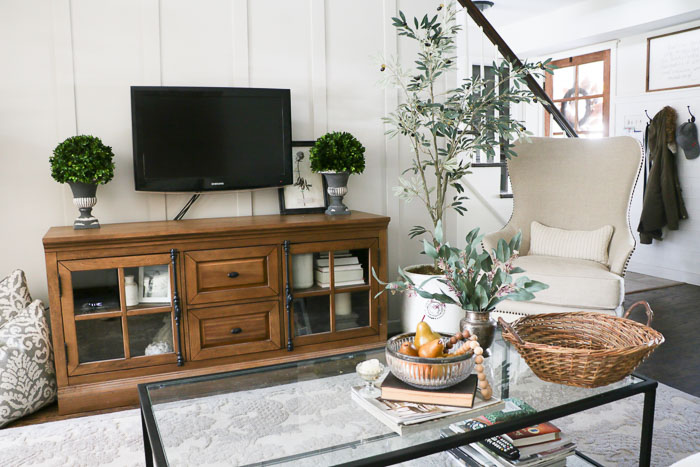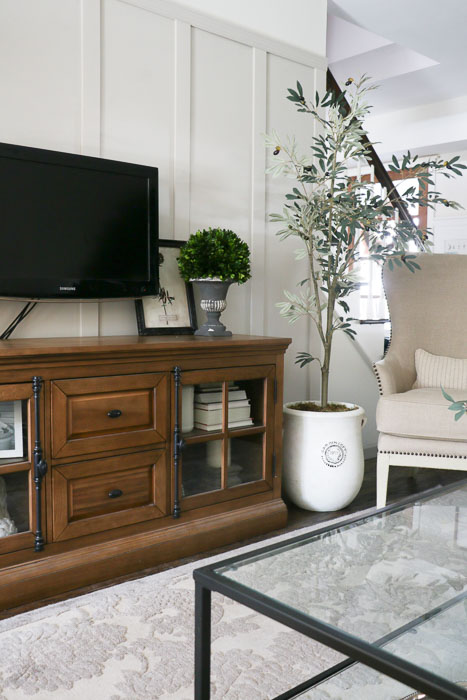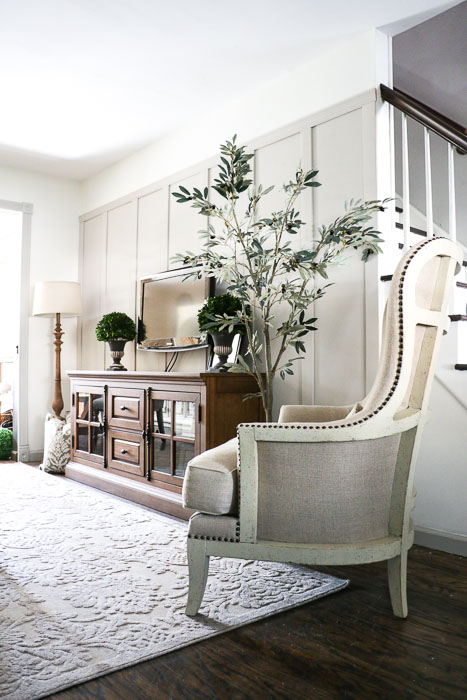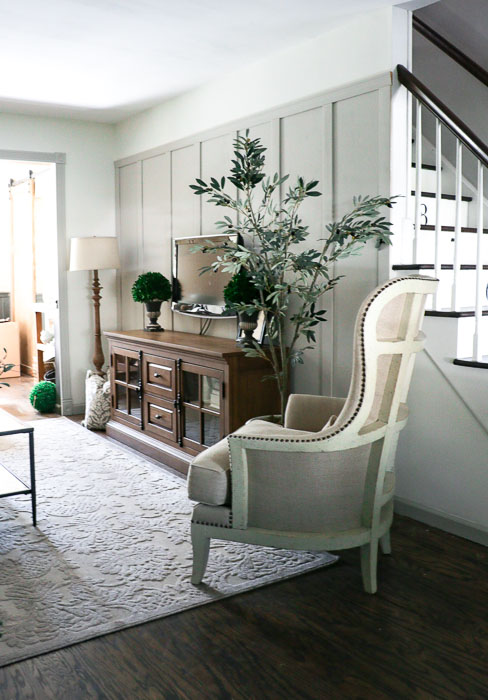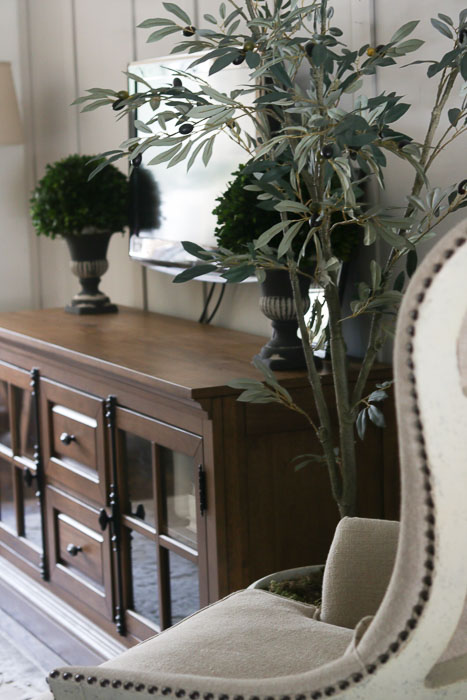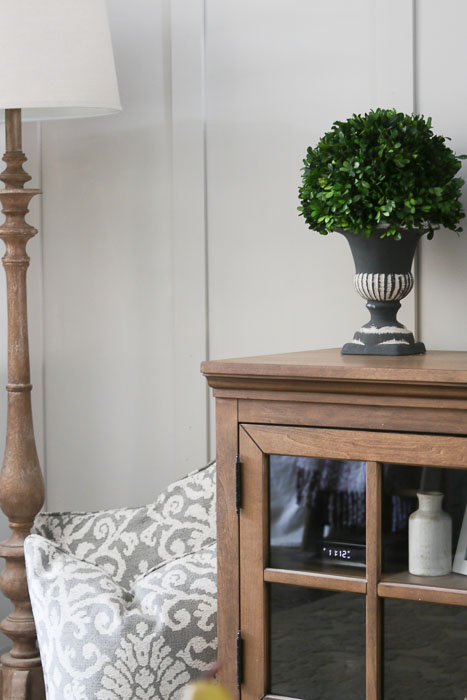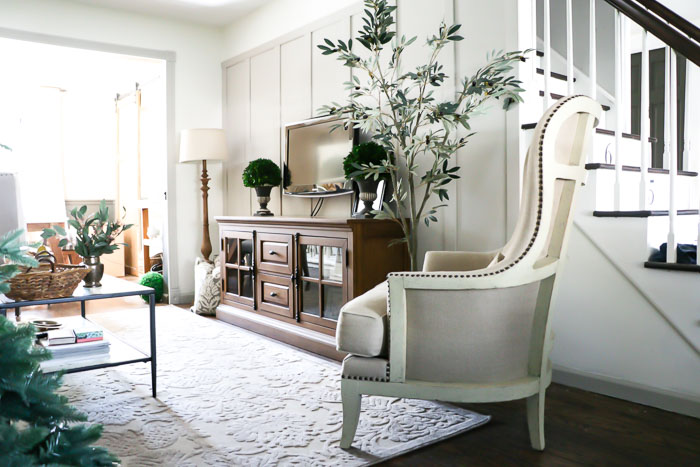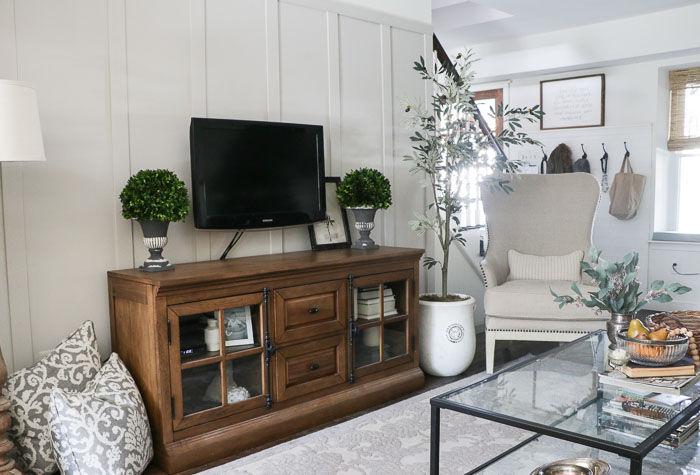 A few more things that need to get done…I have to convince the hubby to run that cable wire in the wall (he's been fighting me on it). I have sconces I plan to hang on the wall, and possibly a silver plate gallery wall ; )
Source List:
Wall Color: Swiss Coffee (benjamin moore)
Board and Batten Color: London Fog (benjamin moore)
Chair: Mine is from Raymour but no longer listed on their site, this is the same chair from Wayfair.
TV Console: Raymour
Olive Tree: Homegoods

Please Pin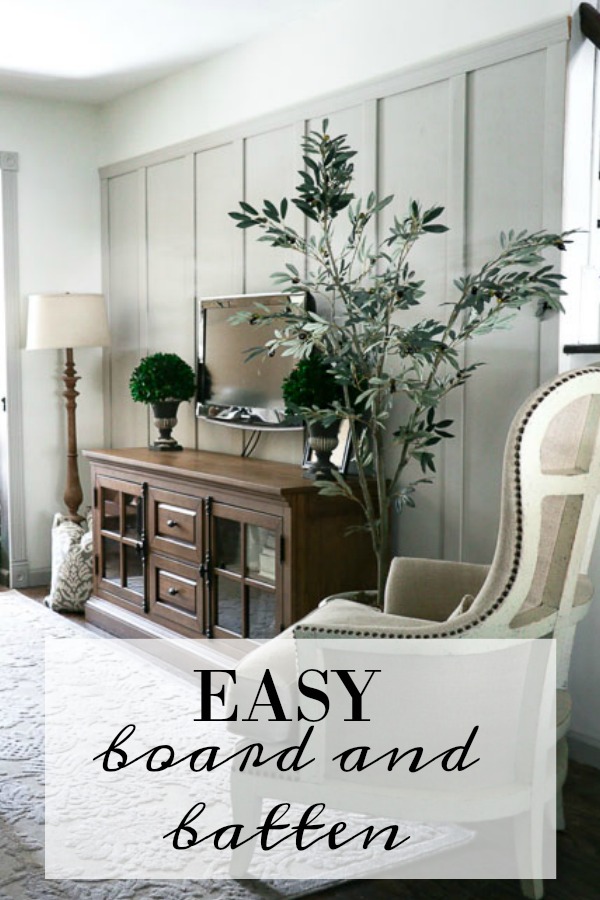 Please Stay a While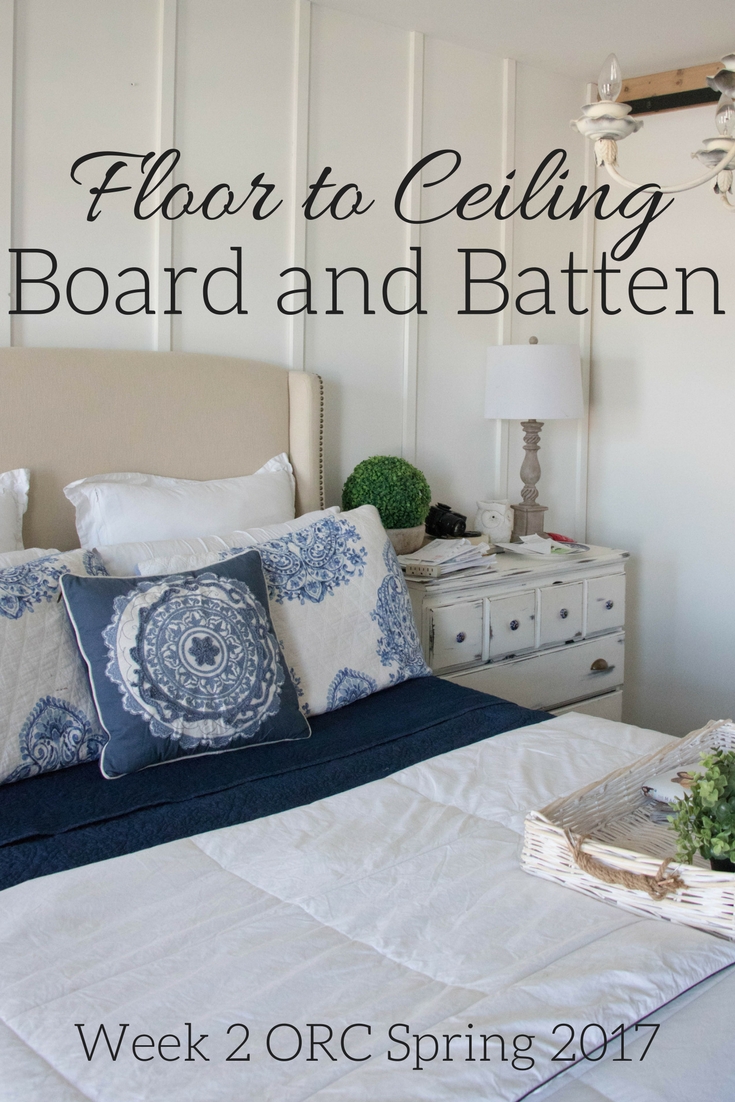 Floor to Ceiling Board and Batten

European Farmhouse Living Room
(Visited 6,933 times, 1 visits today)