Thank you Lord for this Snow Day! I needed some time with my family, organizing, and of course DIYing!
After the roads were all plowed away we could not help but head over to our favorite store Lowes (of course) and pick up some wood for our next project. I believe most people were over there picking up salt, shovels, etc…to clean up after this mess we got here in  NJ, but us…yep just some wood. I do believe we are the only crazy people thinking about buying wood on a day like today. Oh-well I look at it as a perfect opportunity to be home to get another lovely project checked off.
This past week I shared a post all about Adding Character to a Home. I rounded up some of my favorite ways other bloggers have added character in their homes and linking back to their pages, where they share their tutorials. It was a perfect opportunity to open up to today's post, about adding Character to our Master Bedroom with a Faux Brick Chimney and Fireplace.
Step 1 in Adding Character to our Master Bedroom
Why Step 1? Well because this is going to be a work in progress. This is going to be a multi-step process and posts sharing how we are adding character to our room with a faux fireplace and more!
I have been dreaming since we moved in about adding a gorgeous Fireplace to our room. Something I have always wanted since I was a little girl, and our room is just big enough to add one. Of course…it can't just be any fireplace…I wanted  something Vintage!
Step 1: Finding a vintage mantel….wayyy to expensive!
Okay…I know sounds a little strange right? I still think it sounds a bit out there…but that's my favorite kind of projects…ones that no one have done yet…original…daring…and all in my (non-stop creating) head lol.
So today I am sharing all about how we created our Reclaimed Exposed Chimney…and of course with a white chippy finish. The wood we picked up today from Lowes, is for Step 2 (our mantle) and I should be sharing that hopefully some time in the next week. So this means…if this does not work out…you will all know just as soon as I do. I do have faith in it working though. The idea behind it all is to create a faux look and not create a fireplace that looks like it works. I want it to seem as though we purchased one from a  vintage store and added it to our reclaimed chimney…make sense?
So back to the "Exposed Chimney" and how we created this look….
Lucky for us Lowes has Brick paneled boards…something I have been seeing all around blog land and it really is a great secret for a price of $25 a piece to create a wall of character. Lowes cut the brick into 3 separate pieces for us to create the "box" that would create our chimney.
After buying and traveling home with the piece…see below picture (yep that's the drive home) I'm in the passenger seat haha…Now, it was time to install!
MATERIALS
(2) 2×2 Board 7ft each
(1) 2×2 board
(1) Large board of Brick Paneling
Liquid Nails
Once home, hubby had to build a frame for the brick to rest on. Lucky for us he just bought a new Stud Finder which helped to locate the studs to easily screw the wood into the wall.
Sorry for the poor picture quality…these are done with my camera phone.
next…
Creating the Frame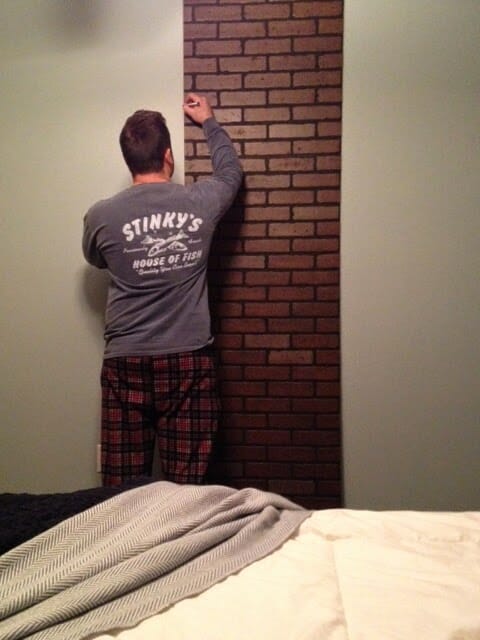 My man installing the brick wall.
Glue boards onto wood and complete with finishing nails. Wall should feel complete and secure once nails and glue are in place. On to my favorite part…painting!
MATERIALS for FAUX FINISH
Acrylic Paint: Red, Orange, Brown, Gold, white
Plaster of Paris
Painting Sponge
 As you can see the Brick is pretty U-G-L-Y, with black grout and the deep red color. Not exactly what I was going for when looking through inspiration. I really want the brick to feel chippy, with white paint, red poking through, and texture. This leads me to the next step…
Accomplishing the Brick "Reclaimed" paint affect
PLEASE STAY A WHILE
(Visited 7,332 times, 1 visits today)