If you guys have been around here for a while, then you know about this cookie cutter 1980's home we live in. The one we sold in a day a few months back…but then backed out. Which means this cookie cutter home has to do just a little bit longer. Fortunately, we've done a few upgrades the last few months that have helped me feel more content here. Not to mention all the other changes in the last 4 years of living here that really turned this cookie cutter home into a "farmhouse" that I love…all on a budget!
This post contains affiliate links that I make a small commission from with no added cost to your purchase. 
Now, I can't be the only girl out here loving Farmhouse style yet stuck in a cookie cutter home. After all there are probably more affordable cookie cutter homes then perfectly priced farmhouses and adorable charmy homes out there. We can't all have our dream home, at least not from the start…sometimes we have to make it. Let's talk ways of getting that look on a budget in your cookie cutter home.
PAINT
Paint changes everything….you can have outdated colors, wallpaper, cabinets, furniture, etc…a little bit of paint can go a long way.
Here are some of my favorite paint colors that I've shared before. Neutrals always work in a farmhouse style. Pale blues, grays, and of course whites!!!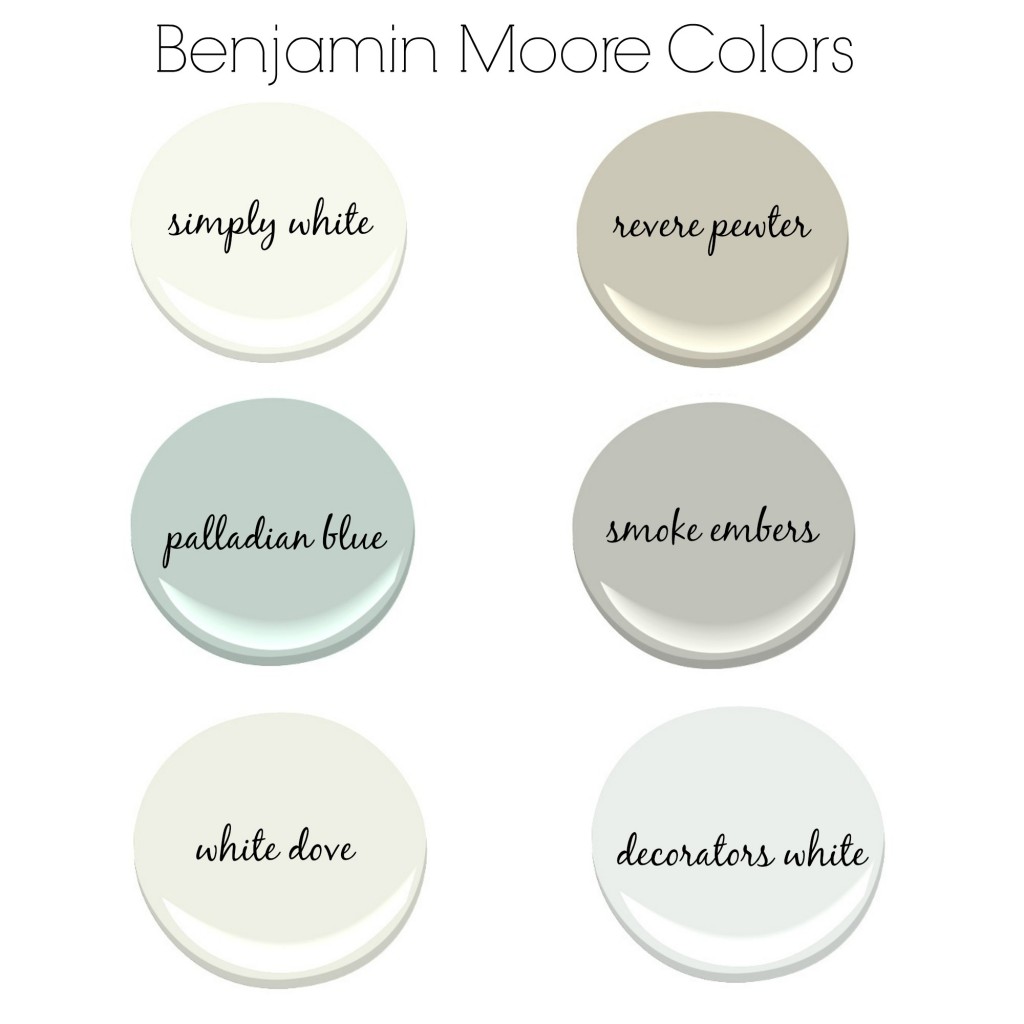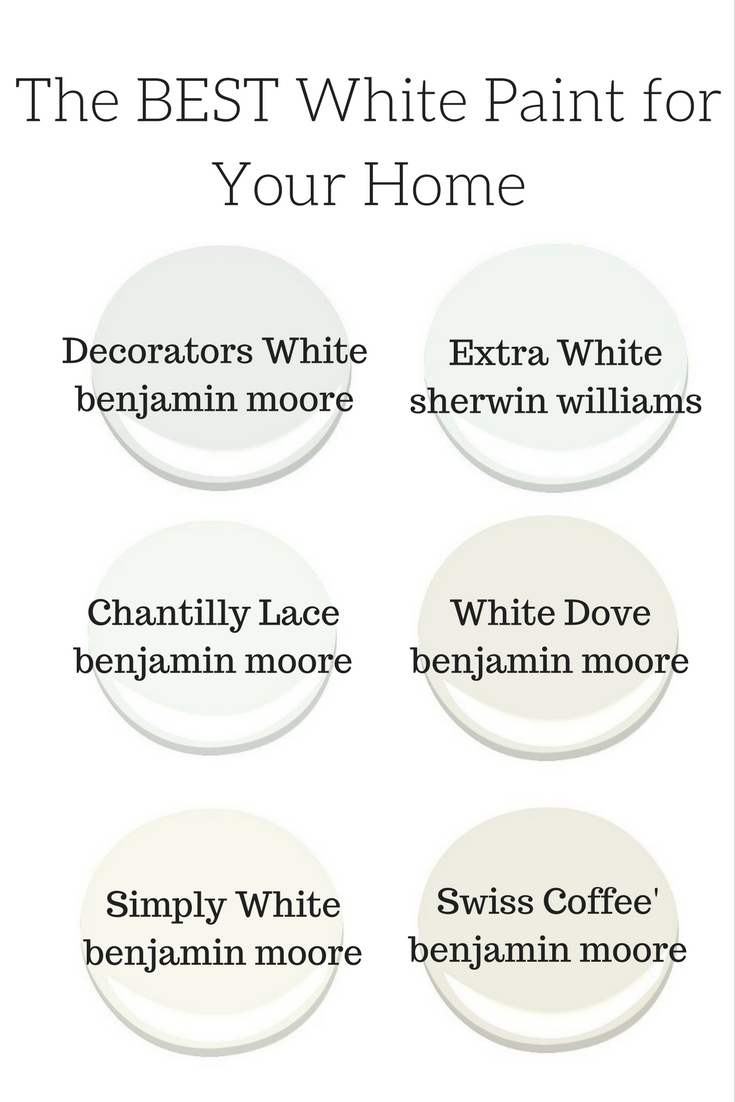 Creating the most special spot in the house with farmhouse flair, for sure will make you feel cozy at home. I think my favorite room in the house is the kitchen (not because I like cooking), but I have an obsession with Kitchen farmhouse decor, accessories, dishes, dishtowels, etc. I love kitchens! Here are easy steps to achieve Farmhouse Kitchen style.
Paint Cabinets (white, grey, neutral)
Backsplash (subway tile or any classic style that works with the Farmhouse look)
New Hardware
Accessories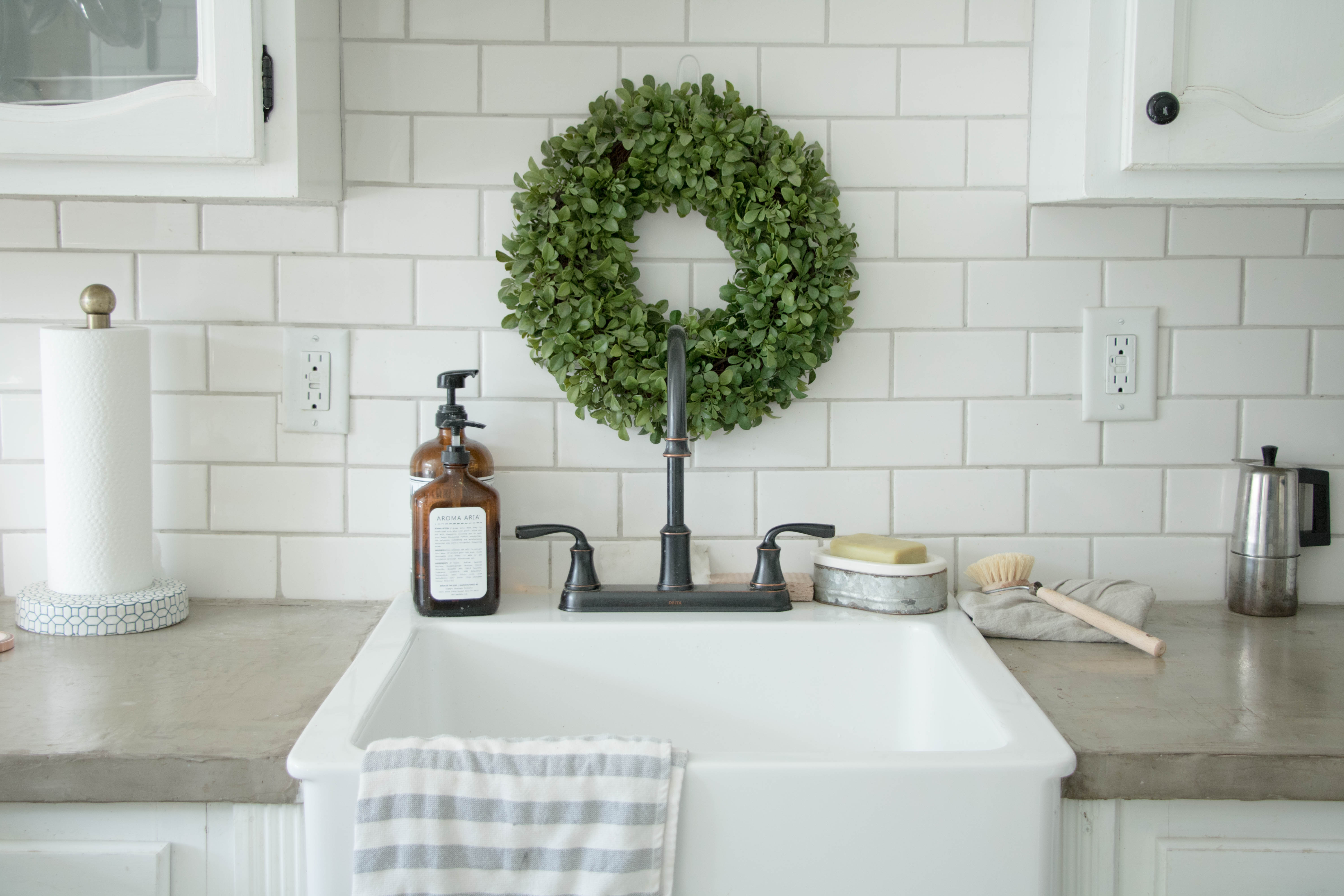 3. Light Fixtures
Light fixtures will make the biggest difference in a home. Update that boring or outdated light fixture and your room with automatically feel fresher. Get some stunning Farmhouse Light Fixtures to really create that farmhouse look.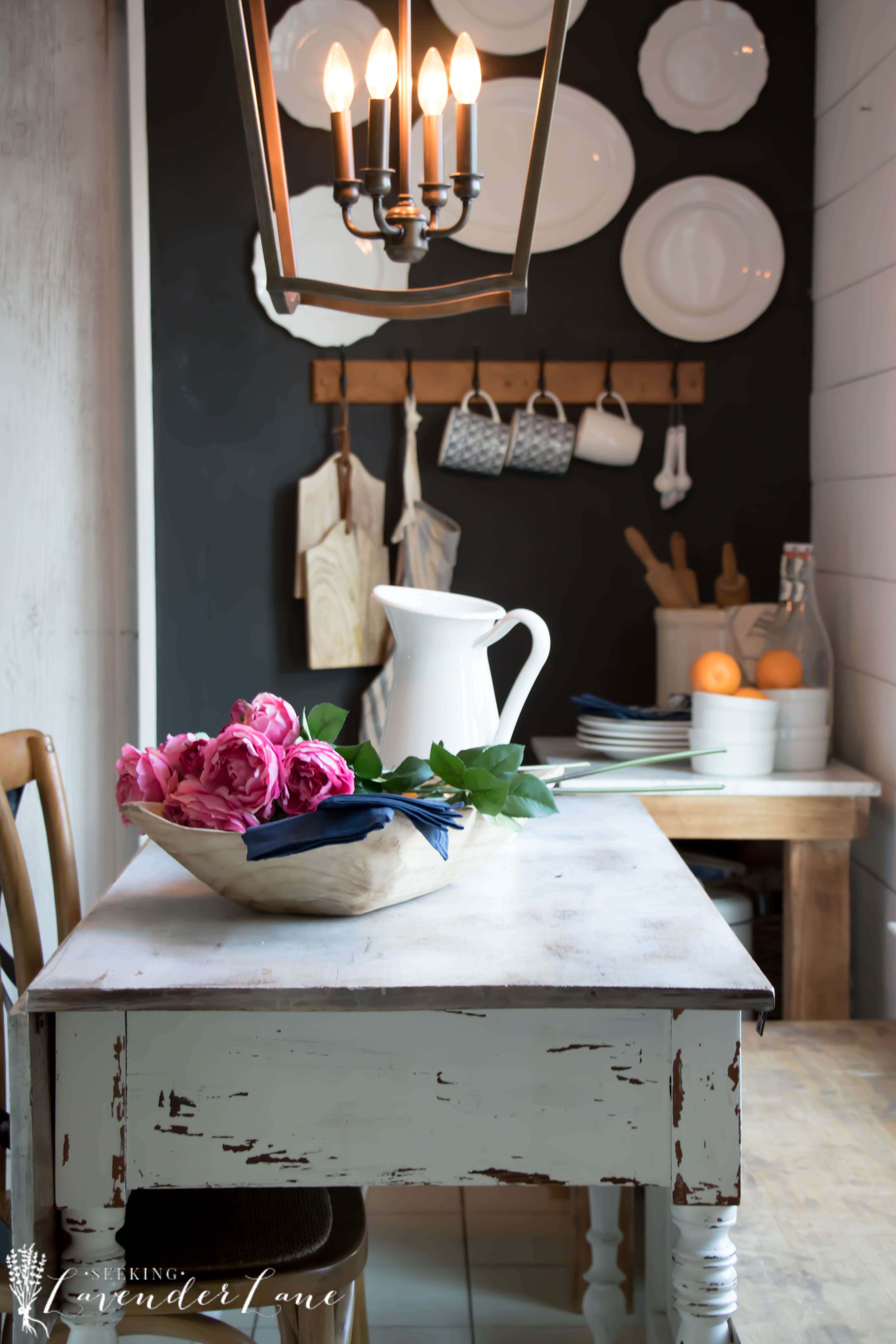 Lantern Style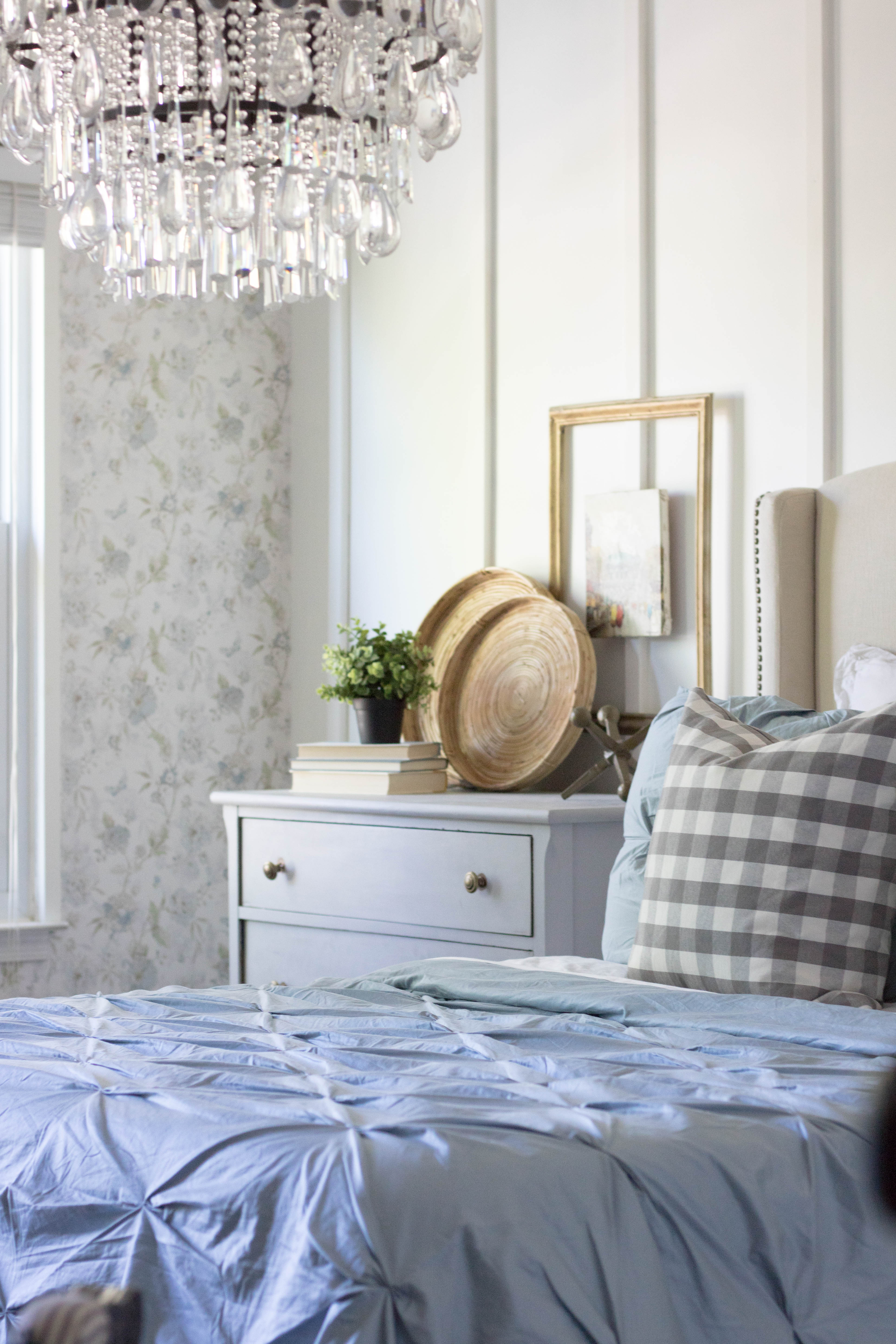 Glamour Farmhouse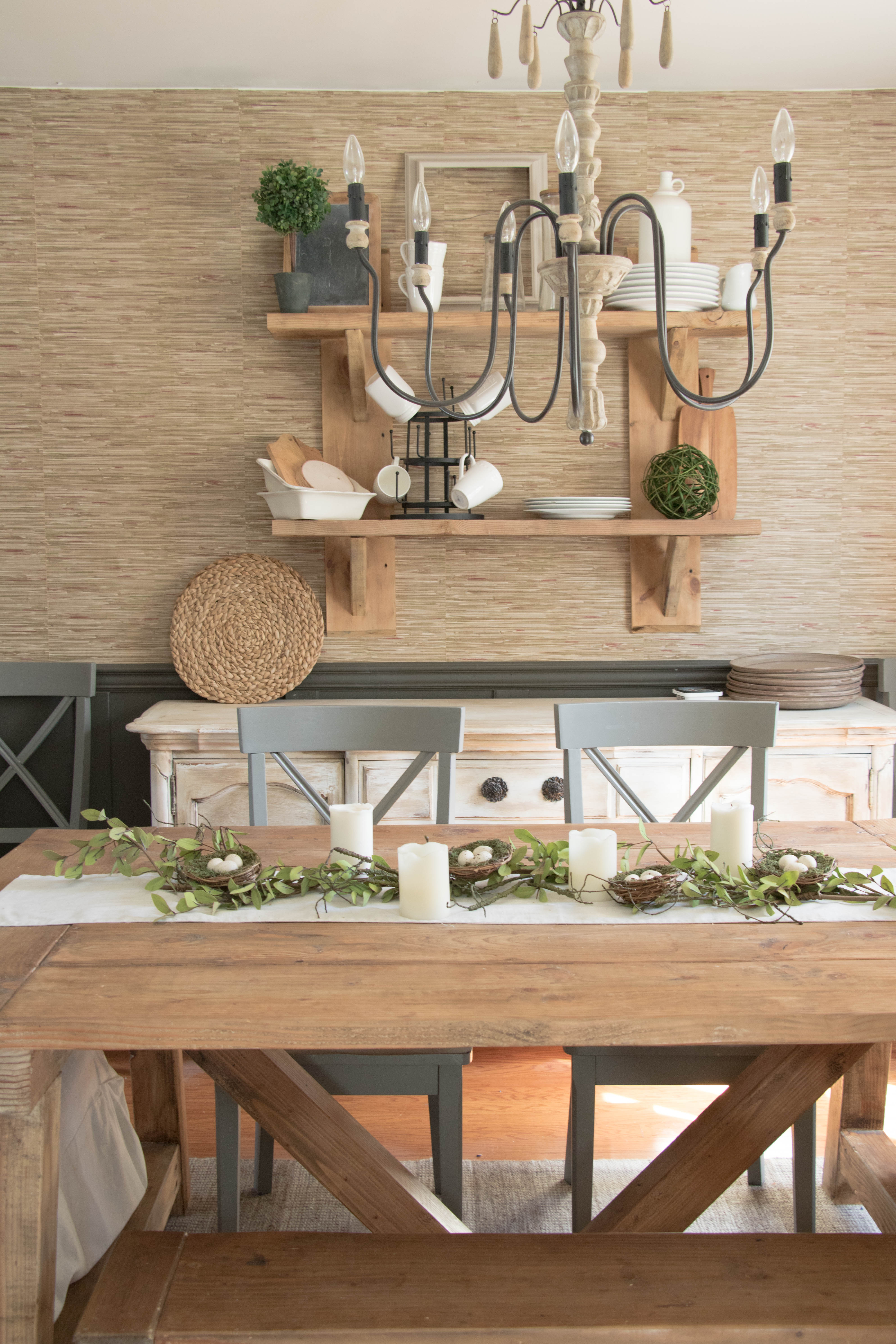 4. Adding Character
There's no secret that Cookie Cutter homes have no character. So adding character will bring that farmhouse vintage style to the home. Below  are all great ways to add character to a home with some DIY help. (Click the links below for the tutorials.)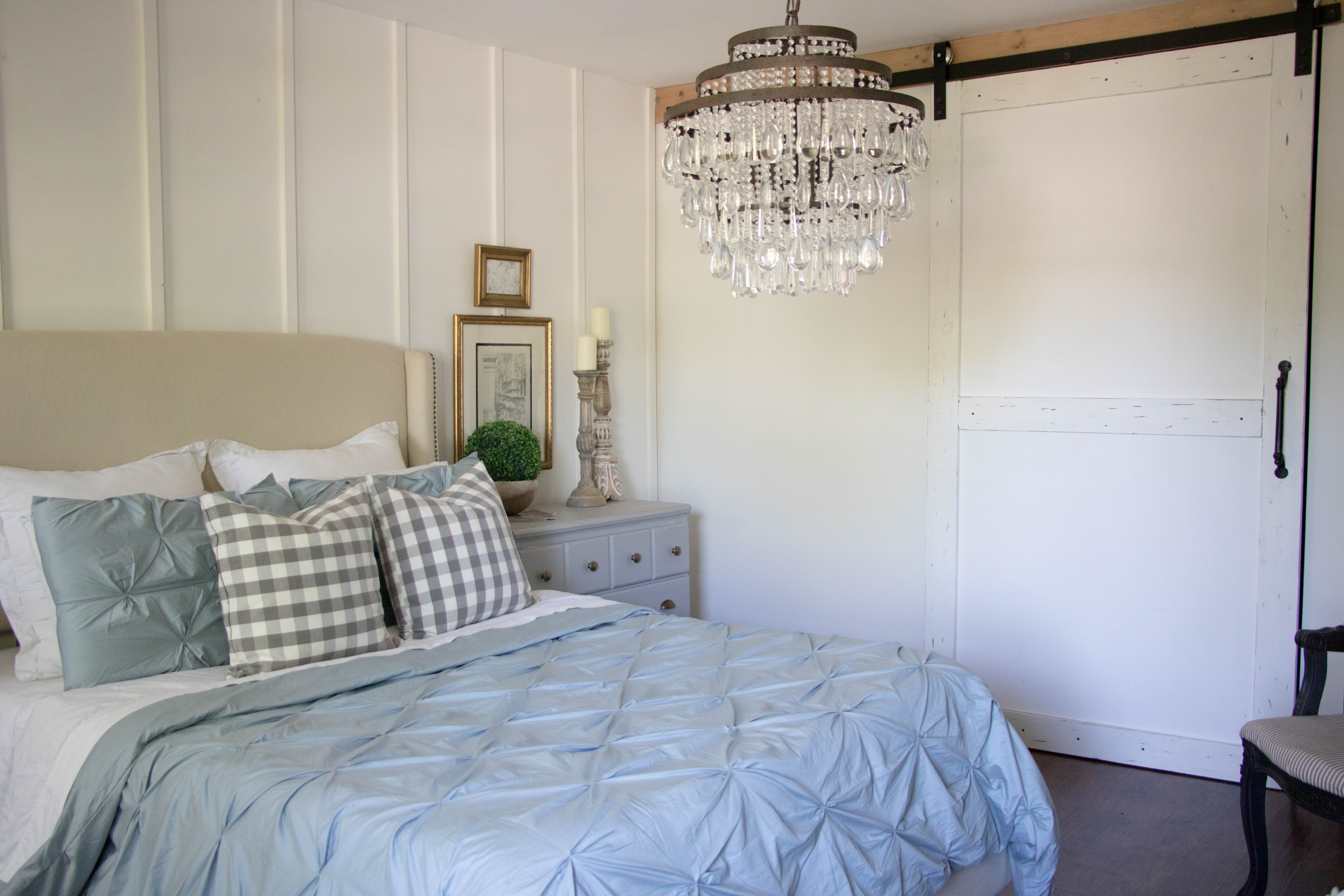 5. Farmhouse Accessories
Add pretty accessories to your home with chippy, vintage, farmhouse goodness! Here are some of my favorite shops to find budget friendly Farmhouse Decor.
[show_lookbook_widget id="362635″]
6. Mixing Vintage with New
Farmhouse decor of course is always great with vintage finds. Nothing like going into a vintage or thrift shop and finding something so rare or one of a kind. Imagining the story behind it or knowing how it's warn look will be perfect in your home. Well I always think mixing vintage pieces with new decor is always the way to go. It keeps things looking fresh and interesting. Sometimes too much chippy is well….too much chippy. And then too much "new" doesn't feel authentic enough either. So try to scope out pieces that mesh well together.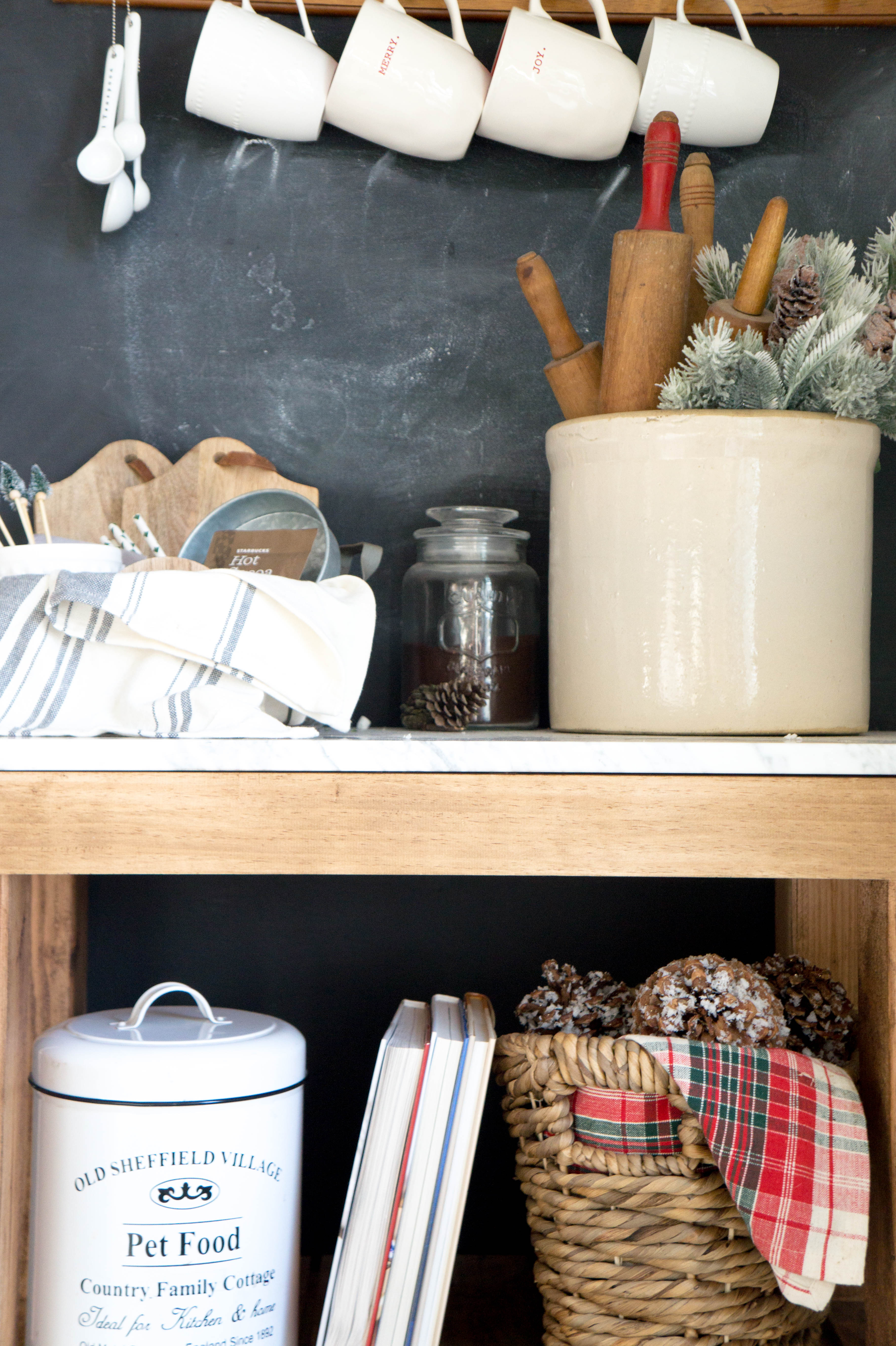 7. DIY Farmhouse Decor
If you're decorating on a budget then that probably means as much as you fell for that beloved sexy piece at the antique shop, doesn't mean you can always afford it. Sometimes those vintage finds are more expensive then the new stuff (for good reason, they are definitely built better then any modern day furniture). So how about find ways to create something that looks vintage or farmhouse. Paint a piece, build it, or refresh it.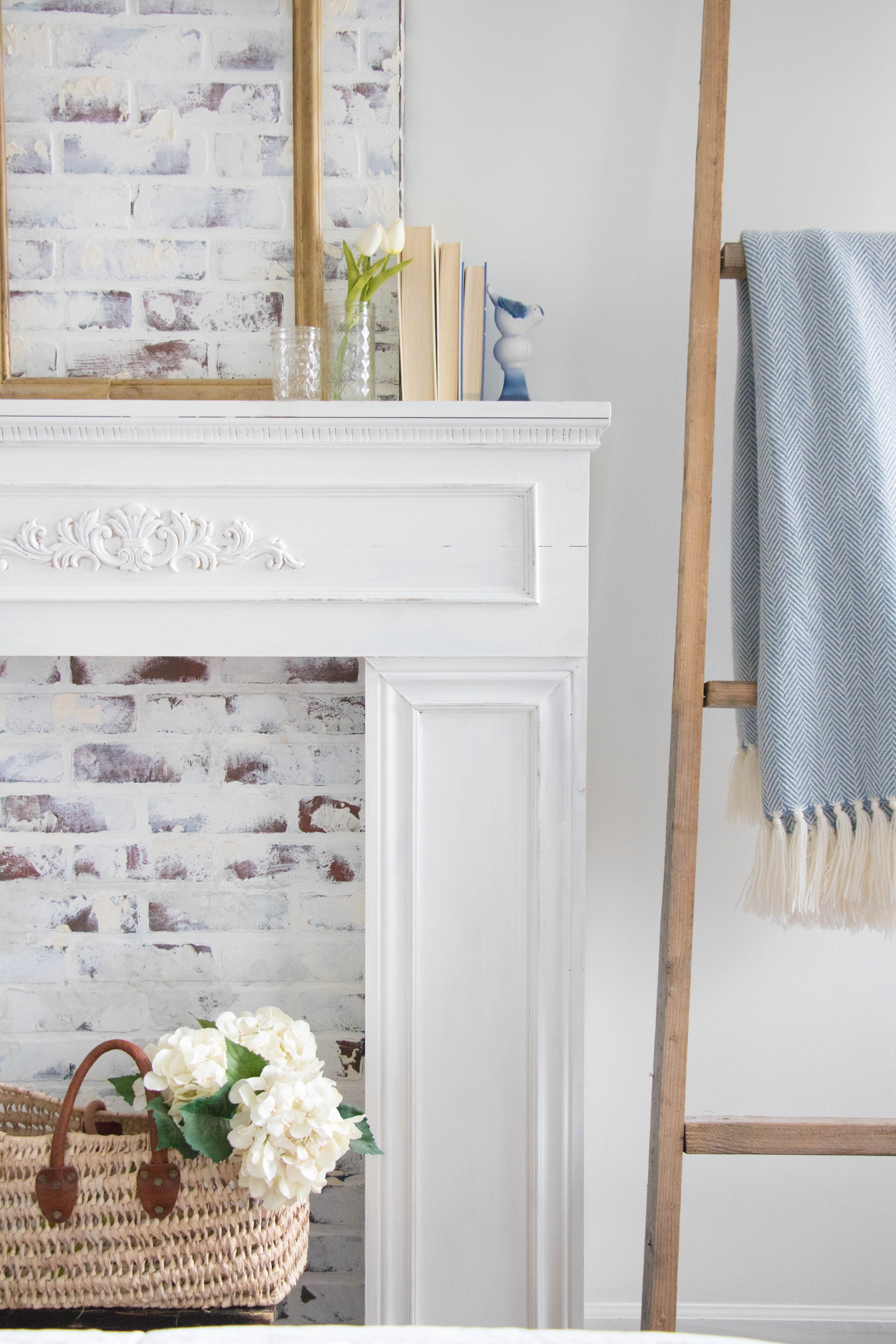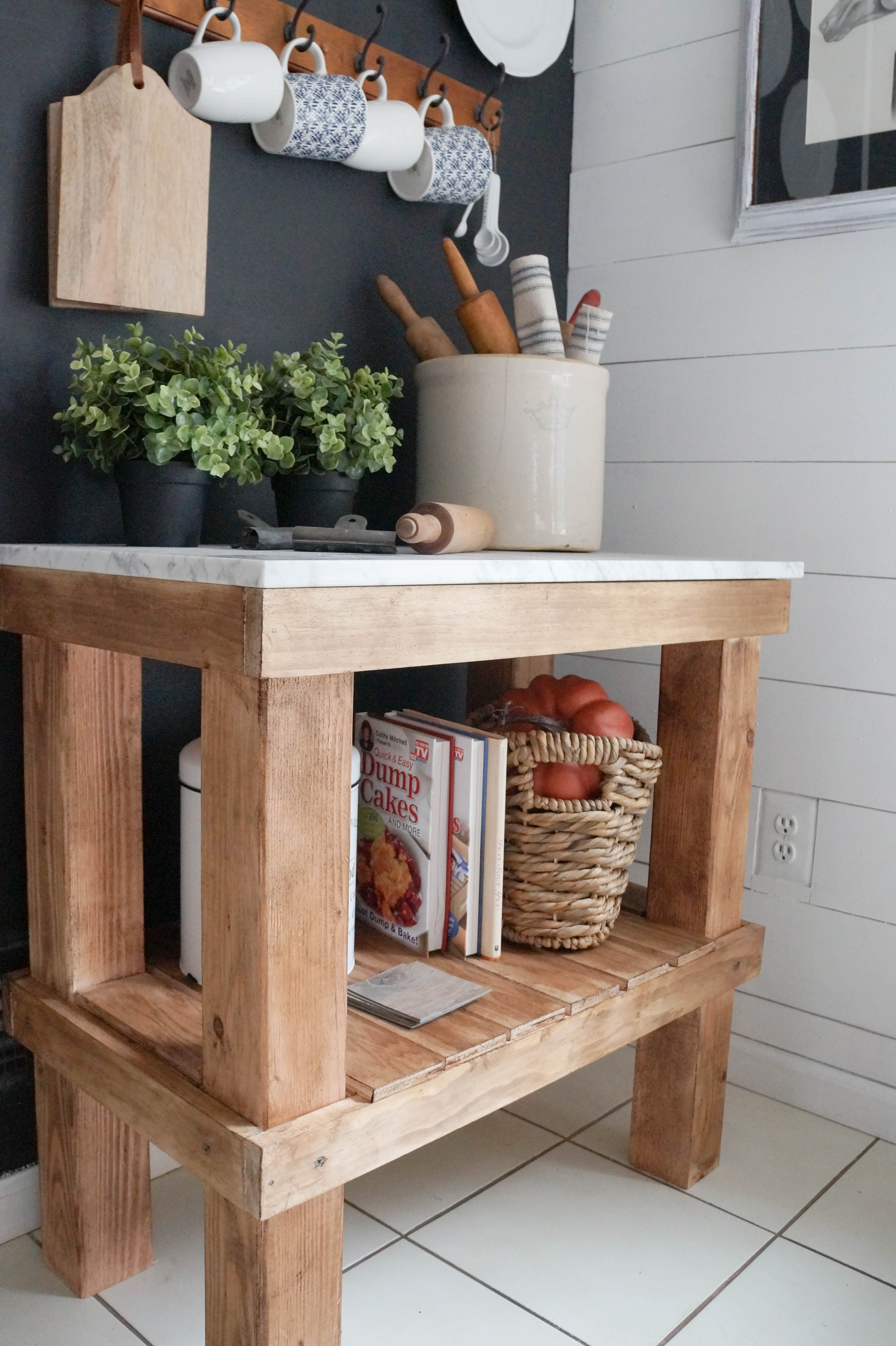 8. Curb Appeal
Once the inside of your home has that cozy farmhouse style, it's time to move to the outside. Impress your neighbors with farmhouse curb appeal.
Garage doors?
Freshen with greenery
Don't forget the mailbox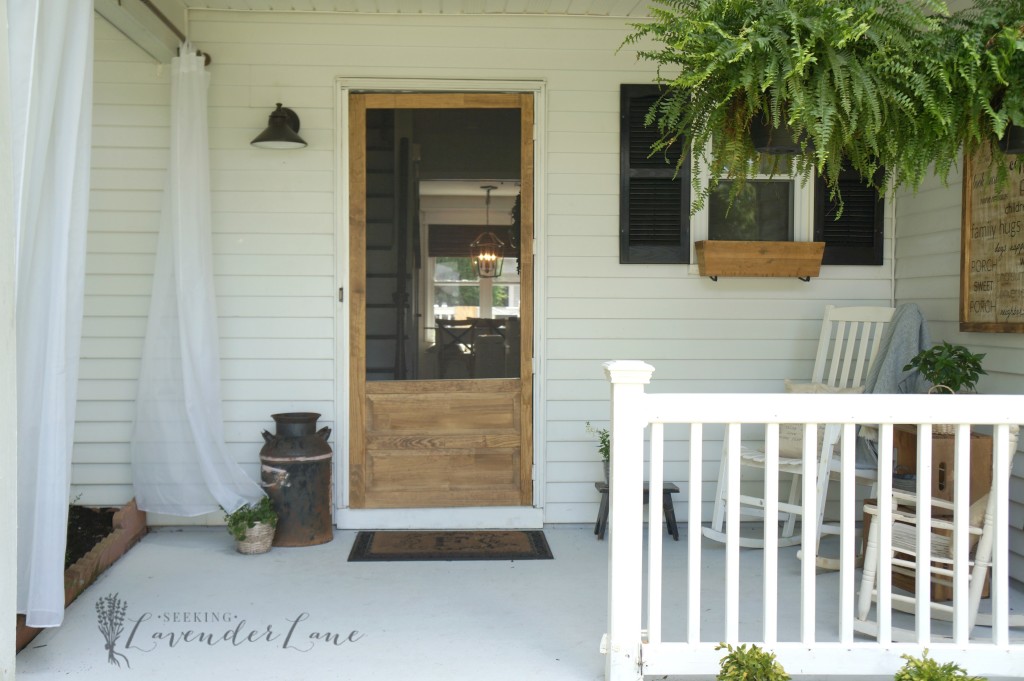 Once you've applied these ideas you're cookie cutter home will be on it's way out of the oven to your Farmhouse dream come true.
All that's missing is the chicken coop, which may not go over well with your close by neighbors.
PLEASE PIN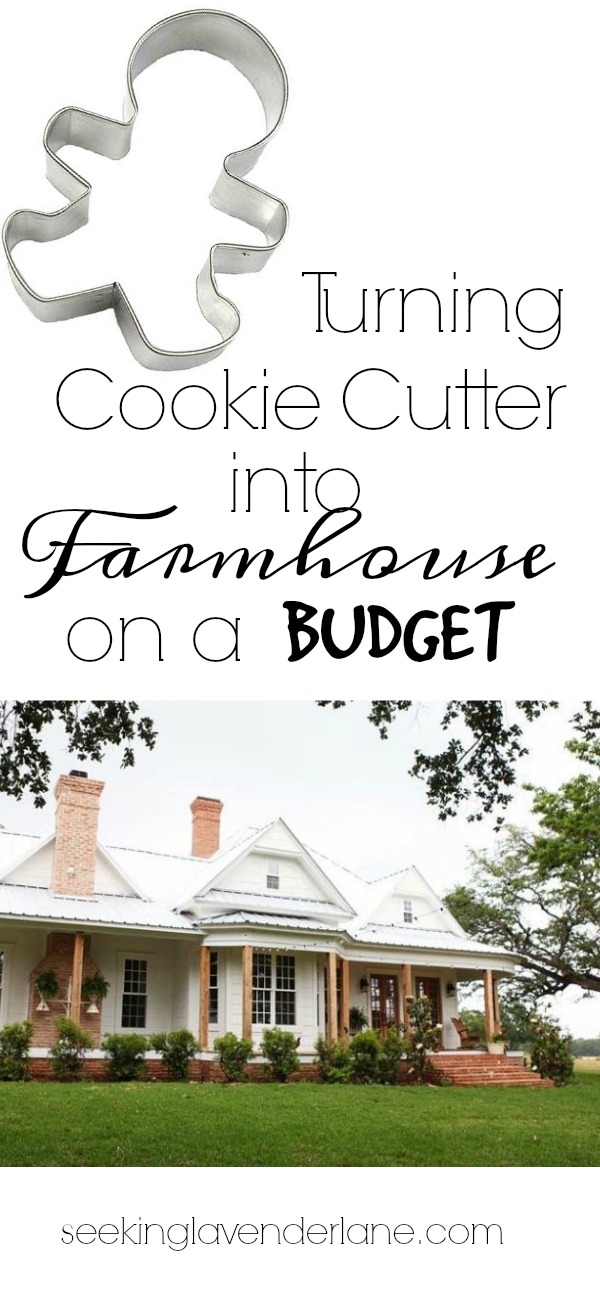 (Visited 4,124 times, 1 visits today)