Decorating for Christmas in the bedrooms is extra magical. I love being able to come upstairs at night time, tuck the kids in, and turn the Christmas tree lights on. To be able to still feel Christmas once upstairs is one of my favorite parts to having my own family and starting new traditions. When I was growing up we only had one Christmas tree, and most of our decor stayed downstairs. I never forget this one year, my dad decided to wrap some garland on the upstairs loft banister, with colored lights. This is one of those special Christmas memories for me, and yet it was so simple. See, even then I loved decorations! That's why I love being able to give my children their own Christmas tree, and for even our room to add a cute little 6′ tree to our room that we can just stare at while cozy in bed. Today I am sharing our Christmas bedroom decor, alongside an amazing blog hop hosted by my friend Jenna from Wife in Progress. If you are coming over from atta girl says welcome..I'm so glad you're here! Did you not just love every detail of Amy's Christmas home? Now, I am only sharing my room and my daughters, because to be honest…I just did not feel like cleaning my son's room. Though his room does look quite adorable if you look past all the mess. We did a rustic tree with big red lights. I strung a banner on his wall and added a fur stocking to his shelves. You'll just have to imagine that one…because today will be the last Christmas tour of the year.
Source list below, that contains affiliate links that I make a small commission from…to support this little blog!
First, stop by daughters room!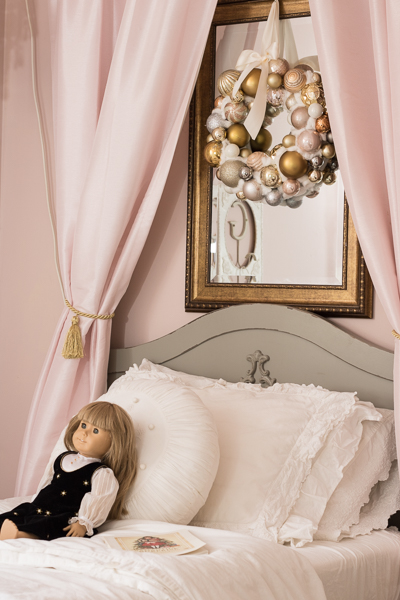 I added this DIY Ornament wreath to her mirror and you can read that tutorial here.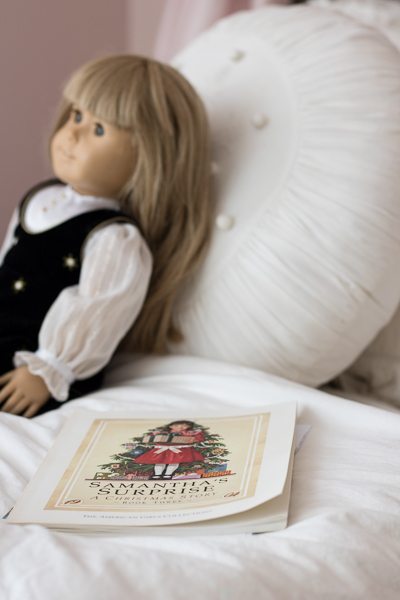 We are currently working our way through my Samantha (American Girl Doll) books and just started the Christmas one. I don't know who enjoys the books more?! My husband caught me reading the other day to her…and was totally making fun of my overly expressive reading.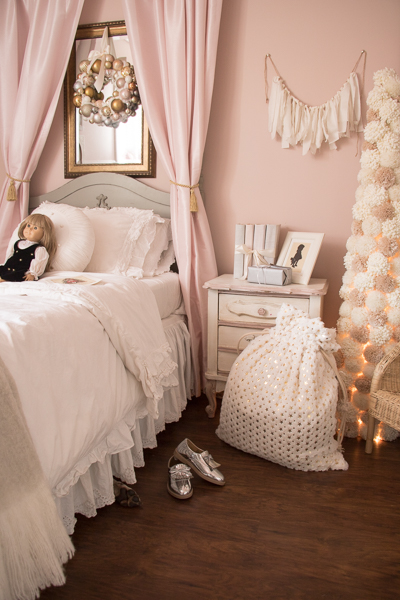 This room just feels so magical, especially after I found this adorable pom-pom tree. I seriously, fought myself in the store because it was for sure a splurge…but I could not help myself. At least it will be something she will have for years to come. The sweet Santa bag with tiny gold metallic stars was another great find this year that I couldn't pass up…this was more of an affordable purchase though.
-Oh and yes that is a dog paw lol-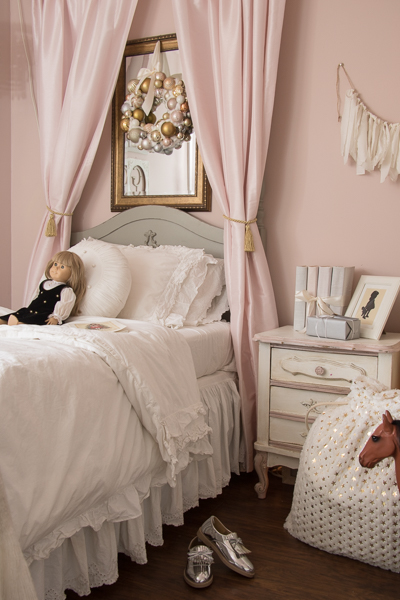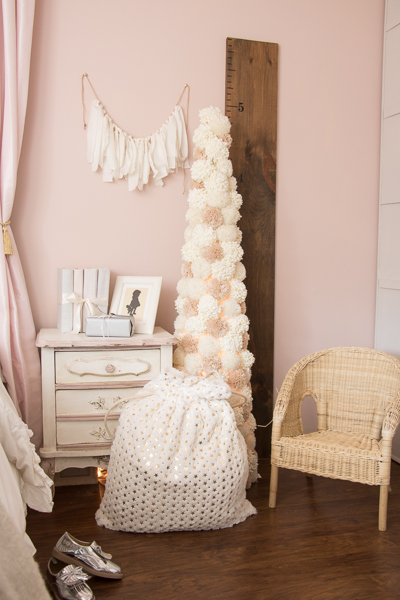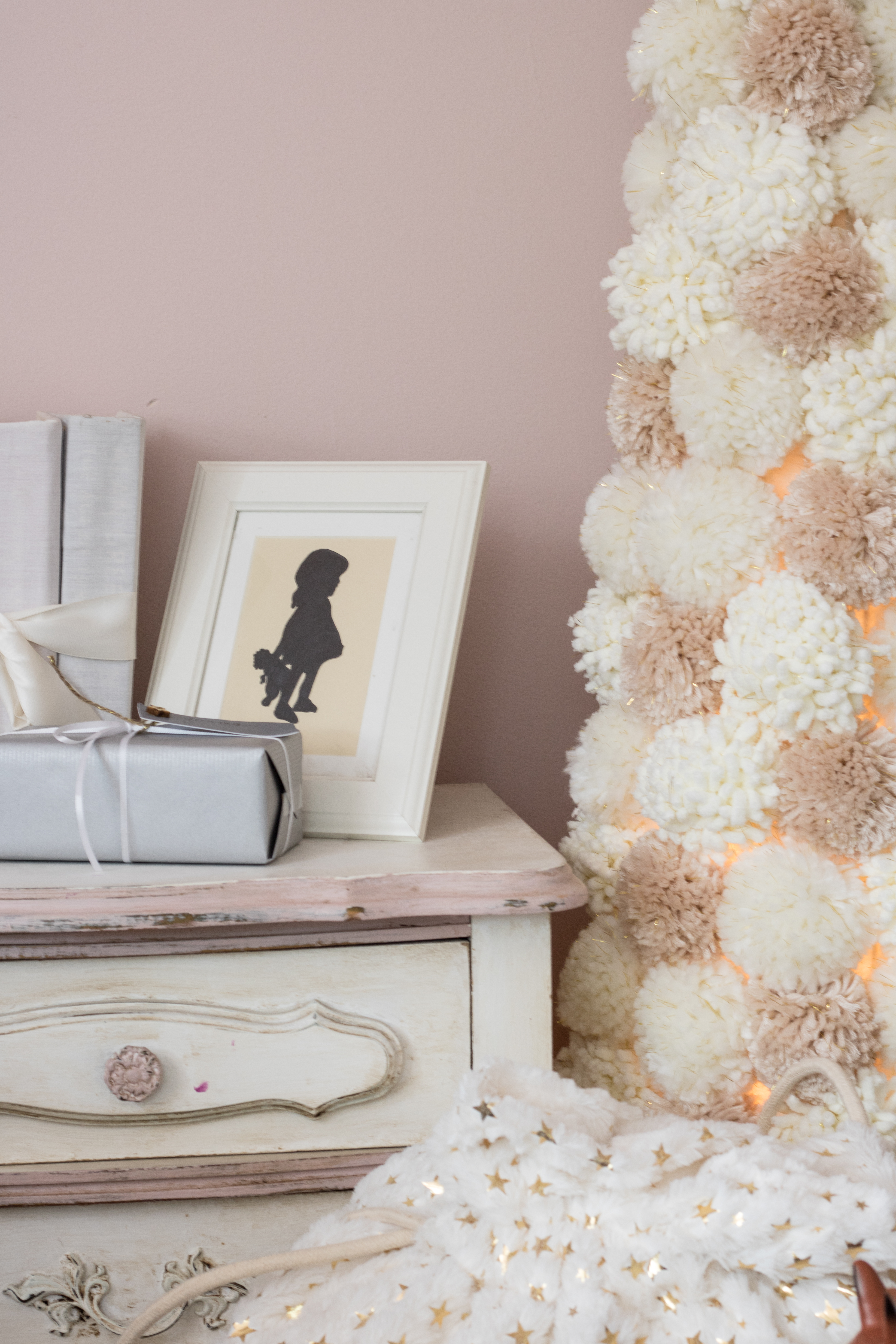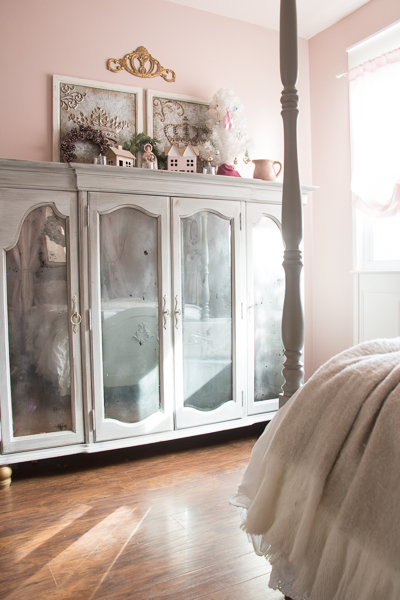 Just as last year I decorated her armoire with some cute village houses that I painted…I added this sweet caroler and some snow to the scene. I look forward to adding more and more each year.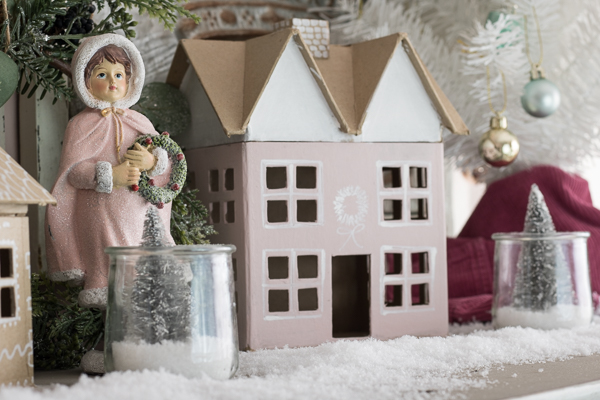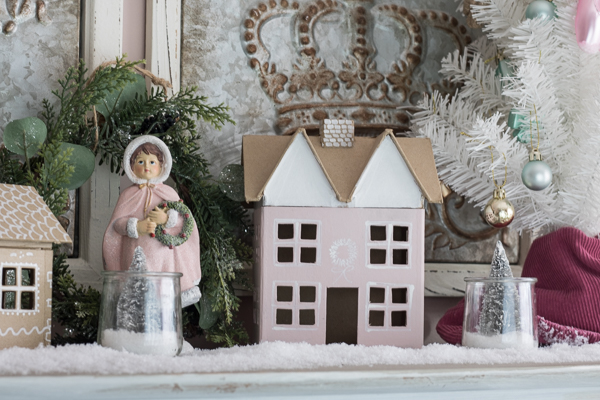 Oh and yes these are oui yogurt jars again. I can't get enough of the endless possibilities with these cute jars. Did you catch my oui yogurt jar votive candle holders?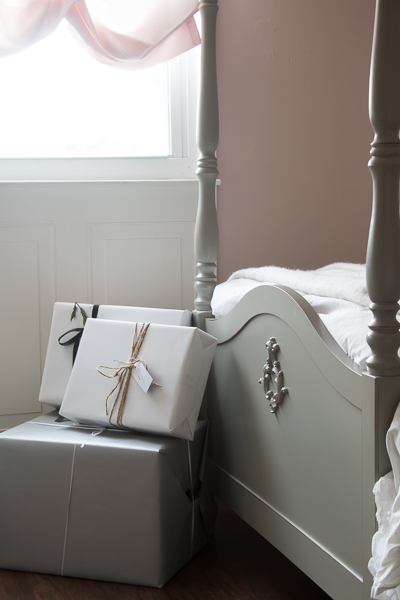 Source List
Pom Pom tree: Homegoods
Ornament Wreath: DIY tutorial
Christmas Sack: TJ Maxx
Caroler: Hobby Lobby
Mirror: Hobby Lobby
Bed: Home Decorators
Chair: IKEA
Now, onto my Master.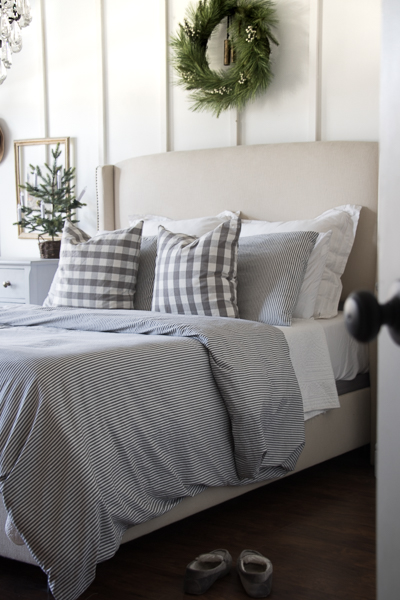 I stuck with my neutral bedding since I just could not find sheets or Christmas bedding that I thought would work in here…though I am liking all the neutral with the greenery.  Those slippers though, are my new fav! I wear them all the time and even run out to the bus with them. If you want a pair, here's the link…the style name of the shoe just so happens to be the same as my daughter's name….and they come in pink too (currently buy one get one 50% off)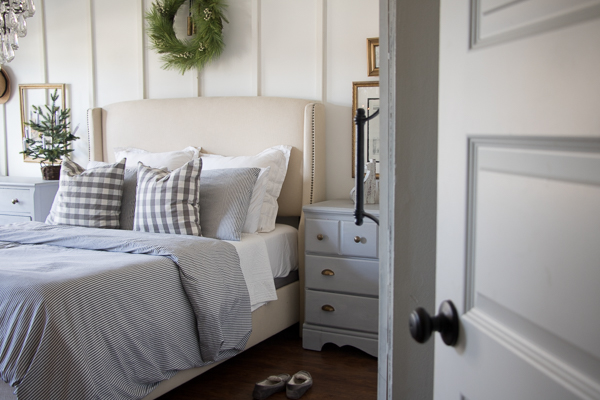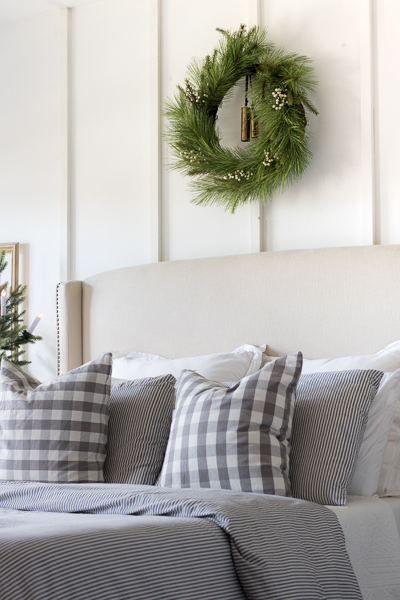 Have I ever mentioned that this room feels the most like me in my house? I feel my style definitely evolves here and there…but the feel of this room just feels like my style the most.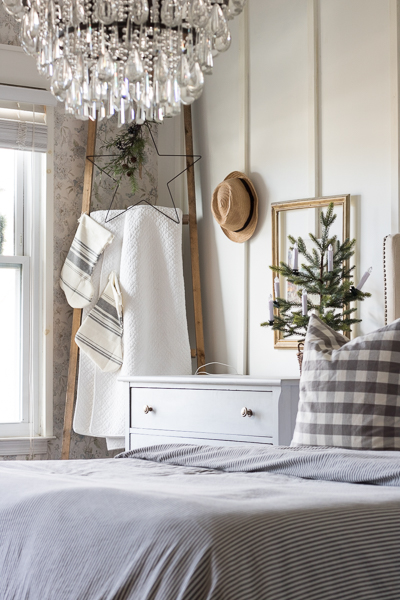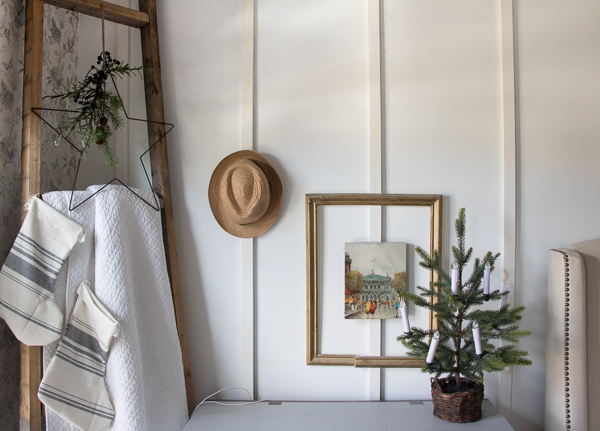 Last year I made these dish towel stockings, you can read the tutorial here.
This cute Threshold tree…I bought this year and LOVE it!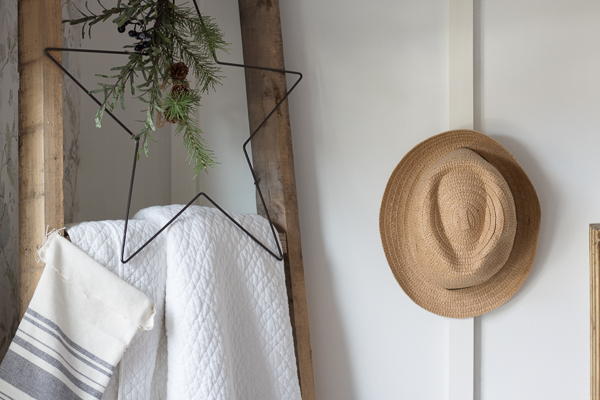 that adorable start is another one of my favorite purchases this Christmas season, I got that from The White Company.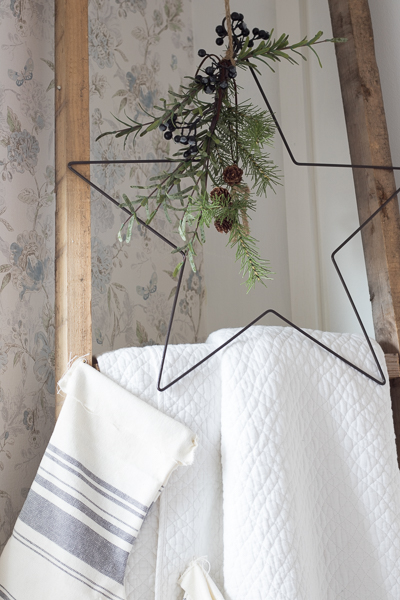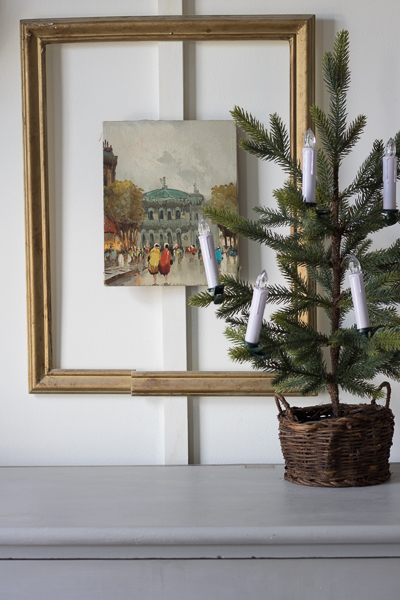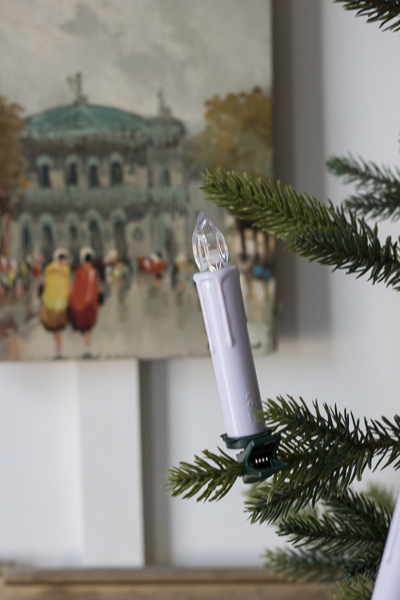 Oh, and if you follow my on Insta stories then you heard all about this purchase! I love these clip-on LED candlesticks that I got from Amazon.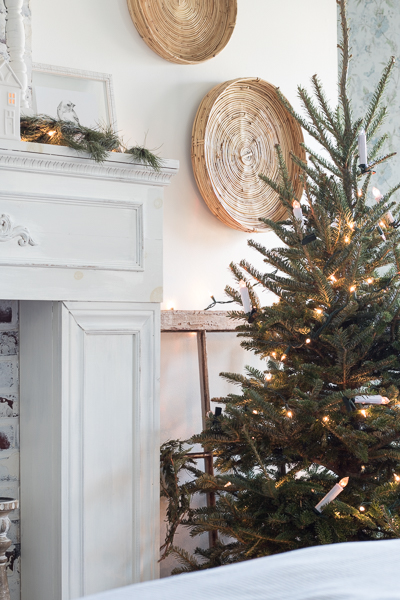 Though we have a faux tree in our Living Room, I love being able to buy a small real tree for our bedroom. It smells wonderful!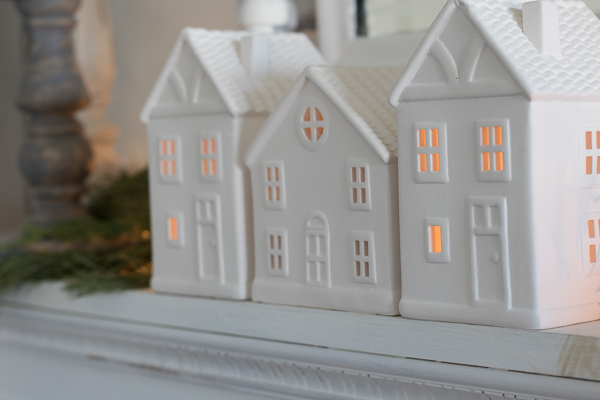 Some jingle bells on our secretary desk/hutch for a simple Christmas touch.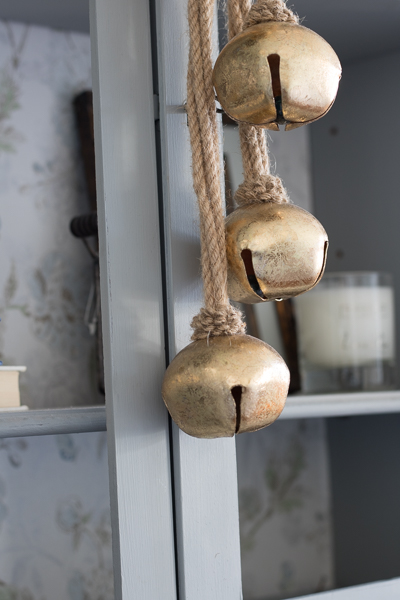 I hope you enjoyed the tour, this was one of my favorites. As I mentioned above, I truly love adding Christmas decor to our rooms, and I totally encourage you to try it this year. You will feel a little more Christmas magic having that added decor. Now, head on over to the next stop on today's blog hop at my friend Lindsay's beautiful and creative home at My Creative Days!
Source List
Bells: Hobby Lobby
Chandelier: Lamps Plus
Pillows: IKEA
Star: The White Company
Stop by the Amazing Tours This Week
Monday
Wife in Progress  Inspiration for Moms Sand Dollar Lane
Saw Nail and Paint Tattered Pew The Fat Hydrangea Worthing Court
Tuesday
A Blue Nest Sincerely Marie Designs Town and Country Living
Farmhouse on Boone Post Card from the Fridge The Frugal Homemaker
Wednesday
Little Glass Jar  North Country Nest  Bluesky at Home  Aratari at Home 
Little House of Four  Twelve on Main  Elizabeth Joan Designs 
Thursday
AKA Design  The Everyday Home  On Sutton Place Joy in Our Home
Noting Grace  Making it in the Mountains  Shabby Fufu
Friday
Seeking Lavender Lane  My Creative Days  Thistledown Domestic Creations
The Honeycomb Home  The Flatcreek Farmhouse  Green with Decor  Atta Girl Says