French Cottage: Farmhouse Master Bedroom Reveal
We Have made it to the final week of the One Room Challenge!!!! You can find more reveals and makeover at Calling it Home. I am so excited to be sharing today my reveal of my  French Cottage,Farmhouse Master Bedroom, the modern day French Country bedroom.This room makeover has become one of my favorites to date. It feels very much like me! and I think it has become what my style has evolved to within the last few years. More vintage, more romantic, and definitely more farmhouse. It's a bedroom of course so I wanted to keep this sophisticated, and I can for sure say that this is my grown-up room. Let's take a walk down memory lane here with the before photo one more time and the weeks that led up to today.
This post contains affiliate links, I make a small commission from your purchase with no additional fee to you.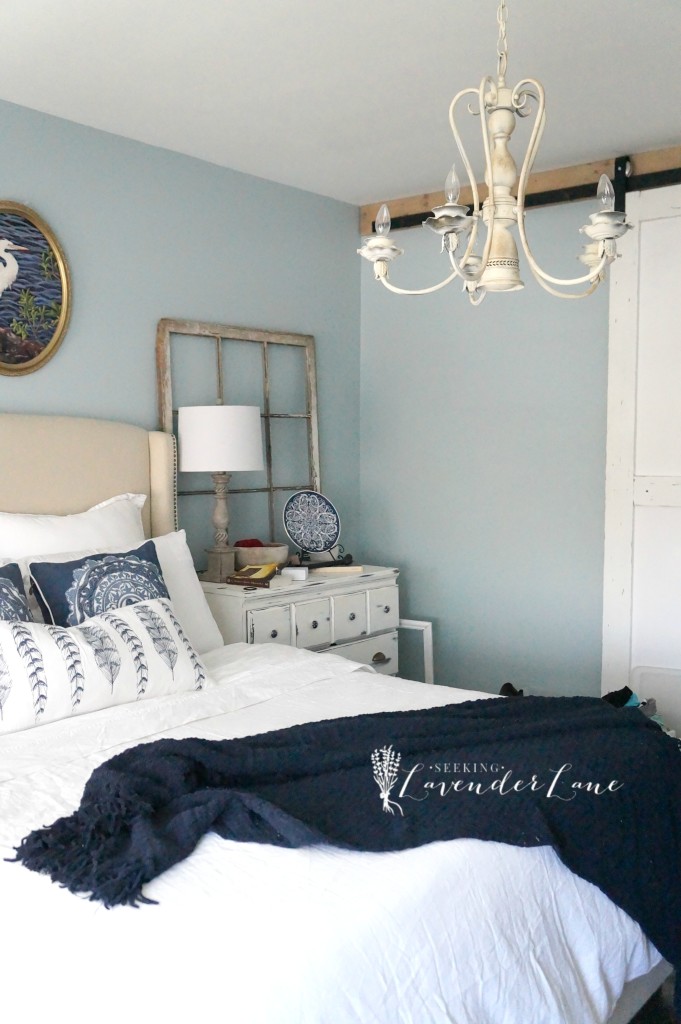 Now you have to remember, that this was an already decorated space, but for me it was lacking something…so the room makeover was more of a refresh and it has come a long way to what I feel is what I was wanting this space to be all along.
Week One: Vintage French Farmhouse Master Bedroom Design Board
Week Two: Floor to Ceiling Board and Batten
Week Three: Blue Pintuck Bedding
Week Five: How to Tea Stain a Lampshade
Alright my friends, come on in to the reveal of our French Farmhouse Master Bedroom….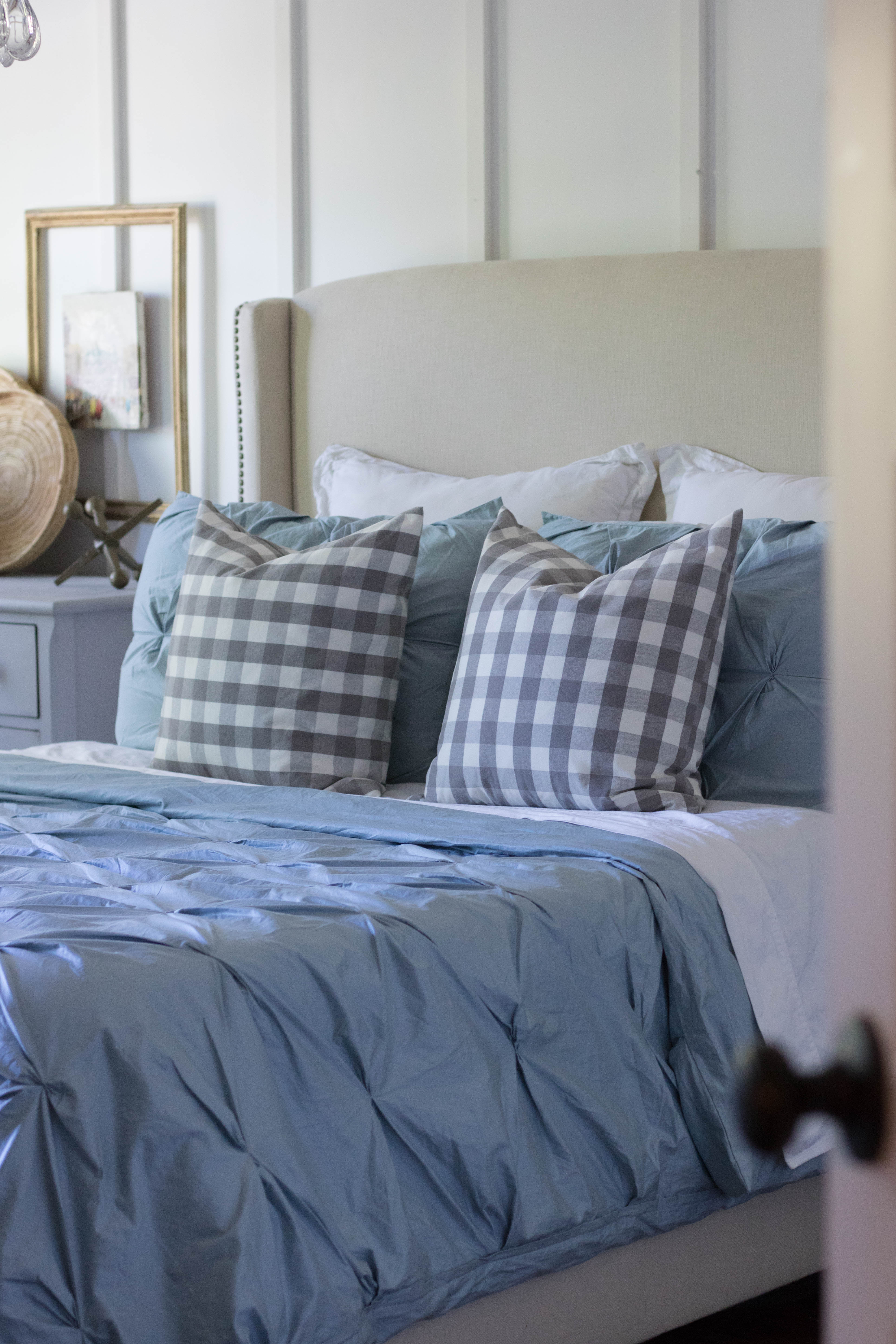 Welcome, to the soothing color palette of blue, white and gray with touches of black and gold for an accent color.
The Board and Batten all white wall and the charming and dramatic chandelier should be the first things that grabs your attention when walking into this space.
The original plan was to add more artwork to the wall here. I am still contemplating adding more, but after not finding the right pieces, and then finding the right pieces and running then out of room in the budget, I decided to use what I had and just enjoy this simplicity of it for a while.
I think the biggest statement in this room has got to be that amazing Chandelier, from Lamps Plus. This piece when I saw it…made all my dreams come true! Ok a little dramatic, but in a decorators world..it made this space have LIFE!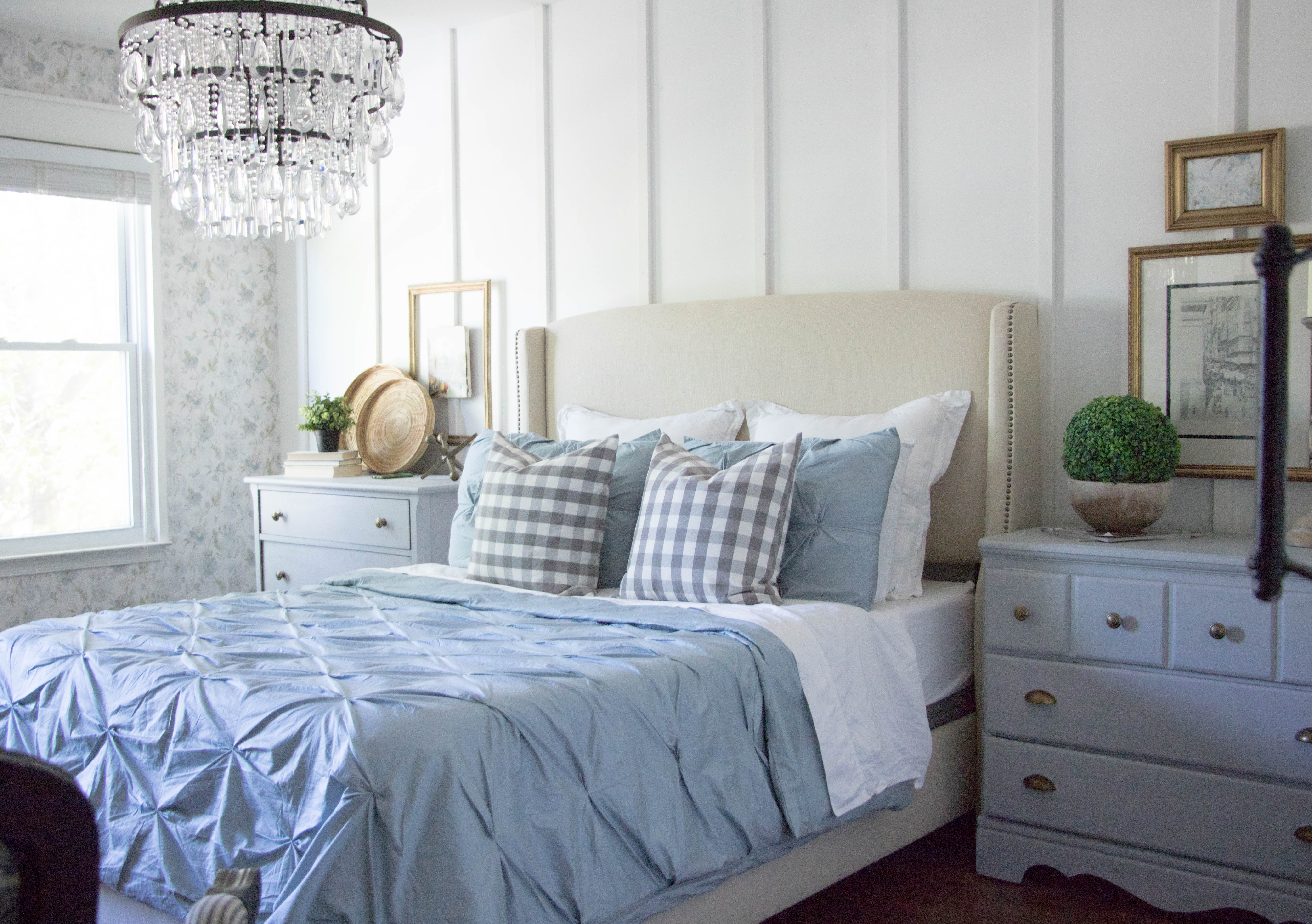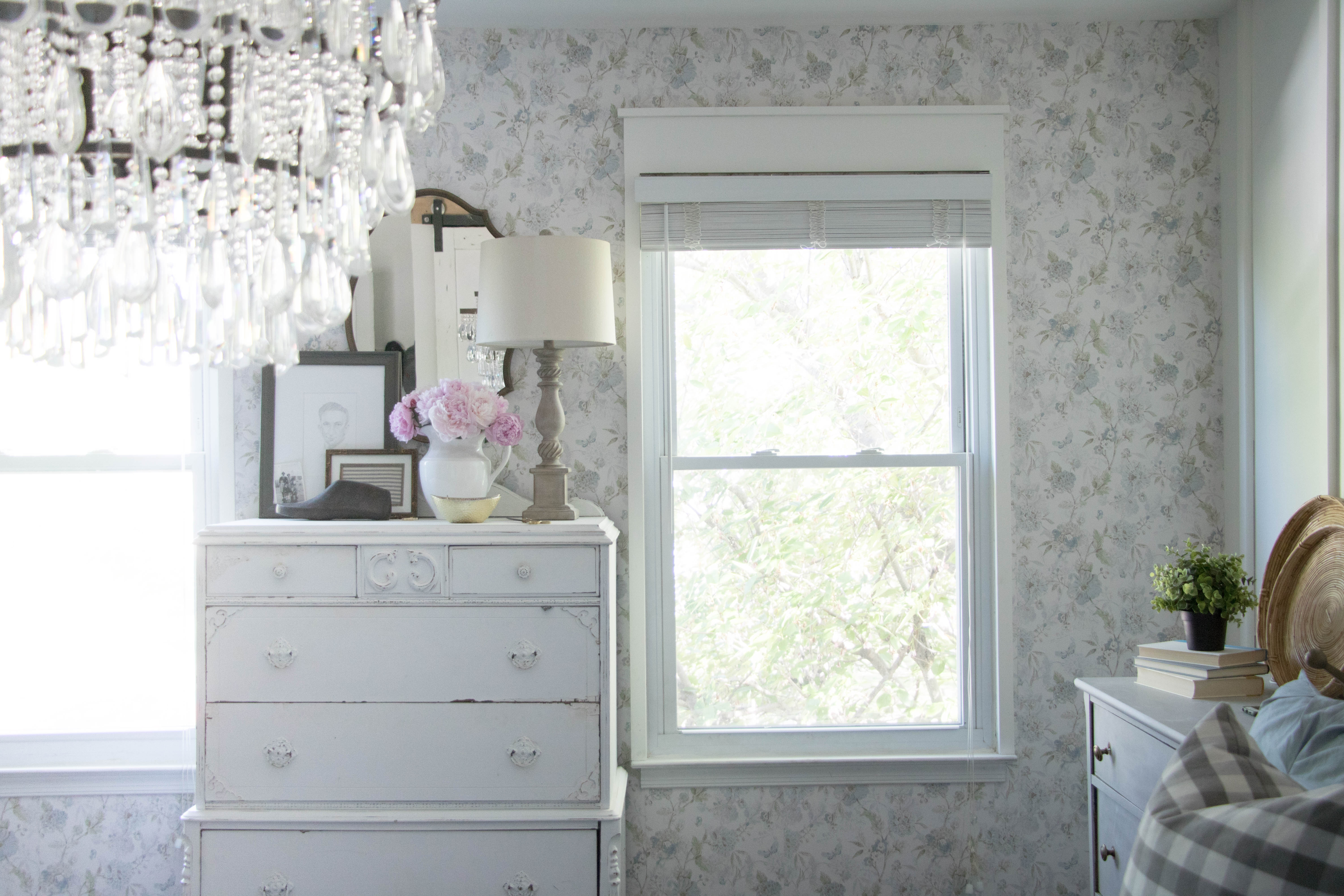 The wallpaper, is so subtle in here, but it gives a nice cozy feeling to the space. It brings that "vintage" vibe out that I had hoped for, but doesn't over power the room with too much vintage either. I love having the combo on the Floor to Ceiling Board and Batten and Wallpaper. Eventually, I plan to get some window panes in here, to give these windows more character. I heard you can buy them separately, so just a matter of convincing the hubby. We did add some "farmhouse" window molding which made a difference to really define the window.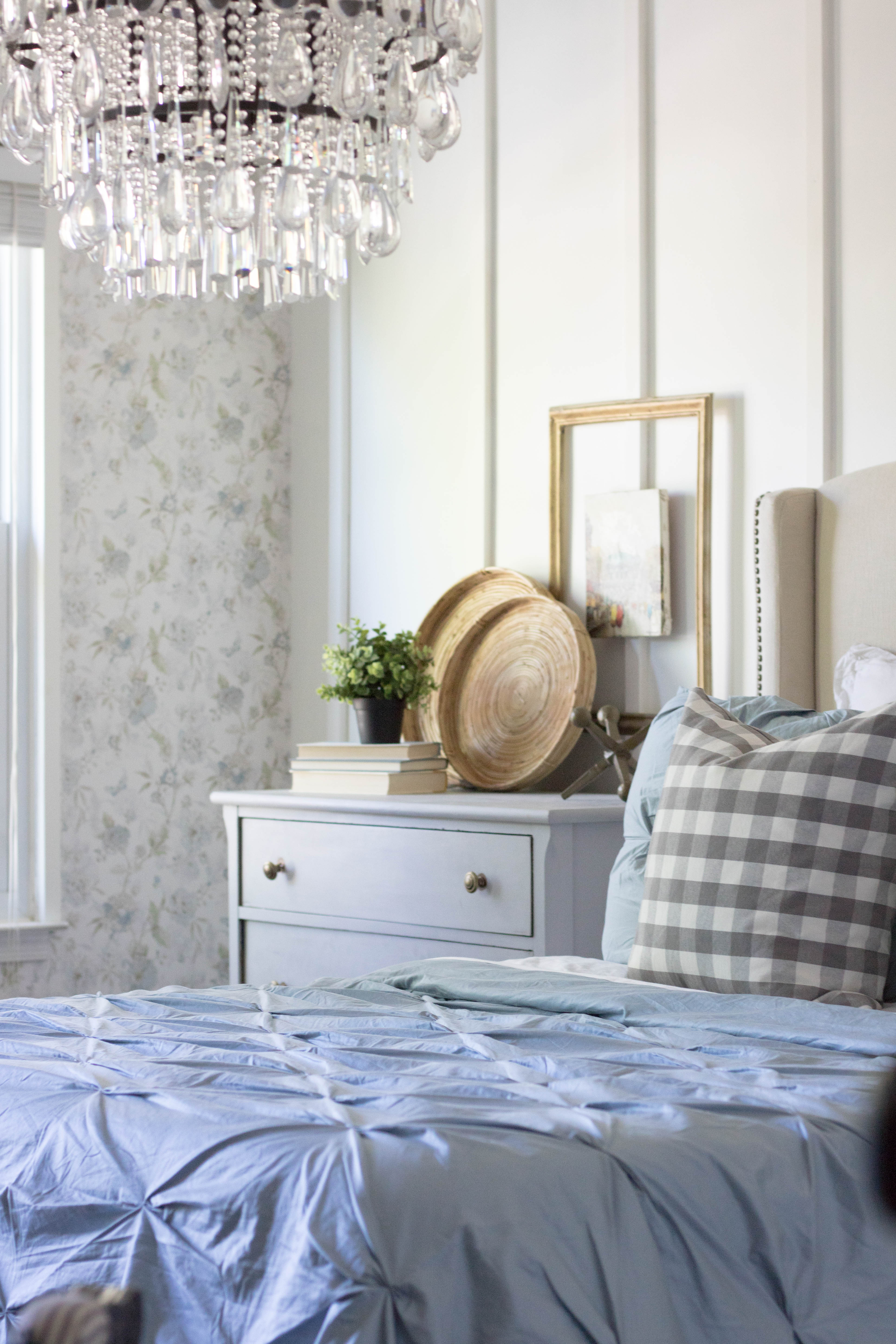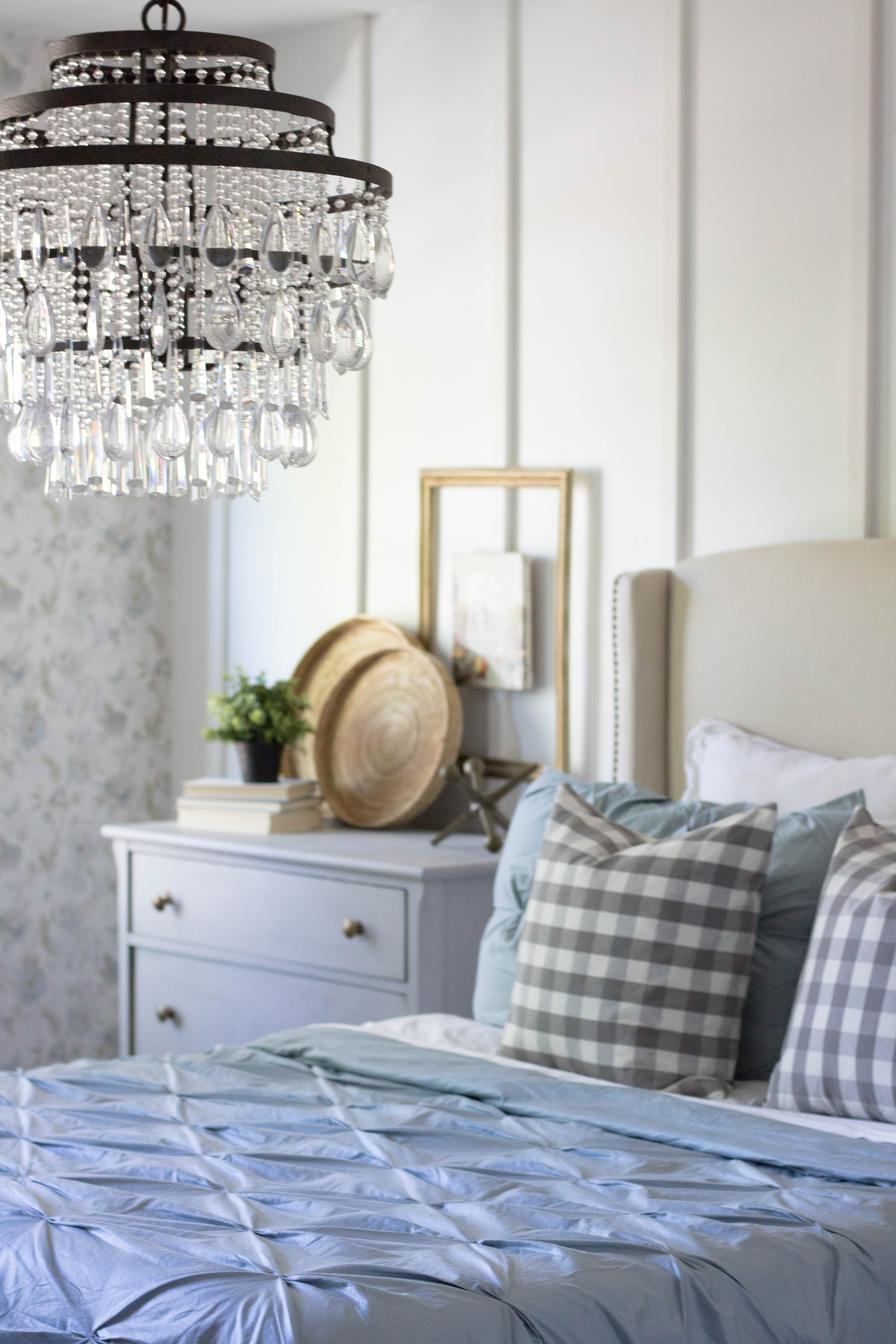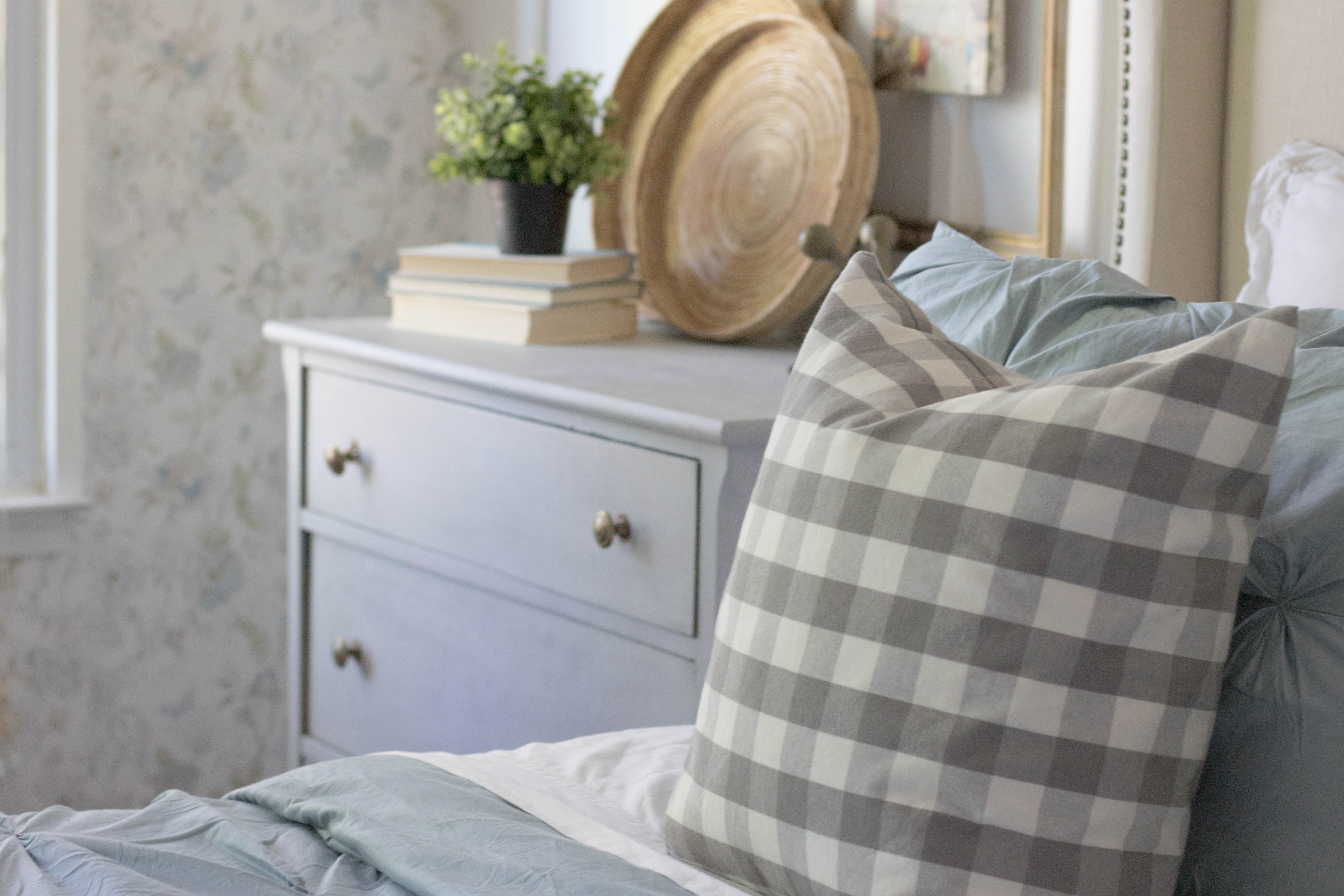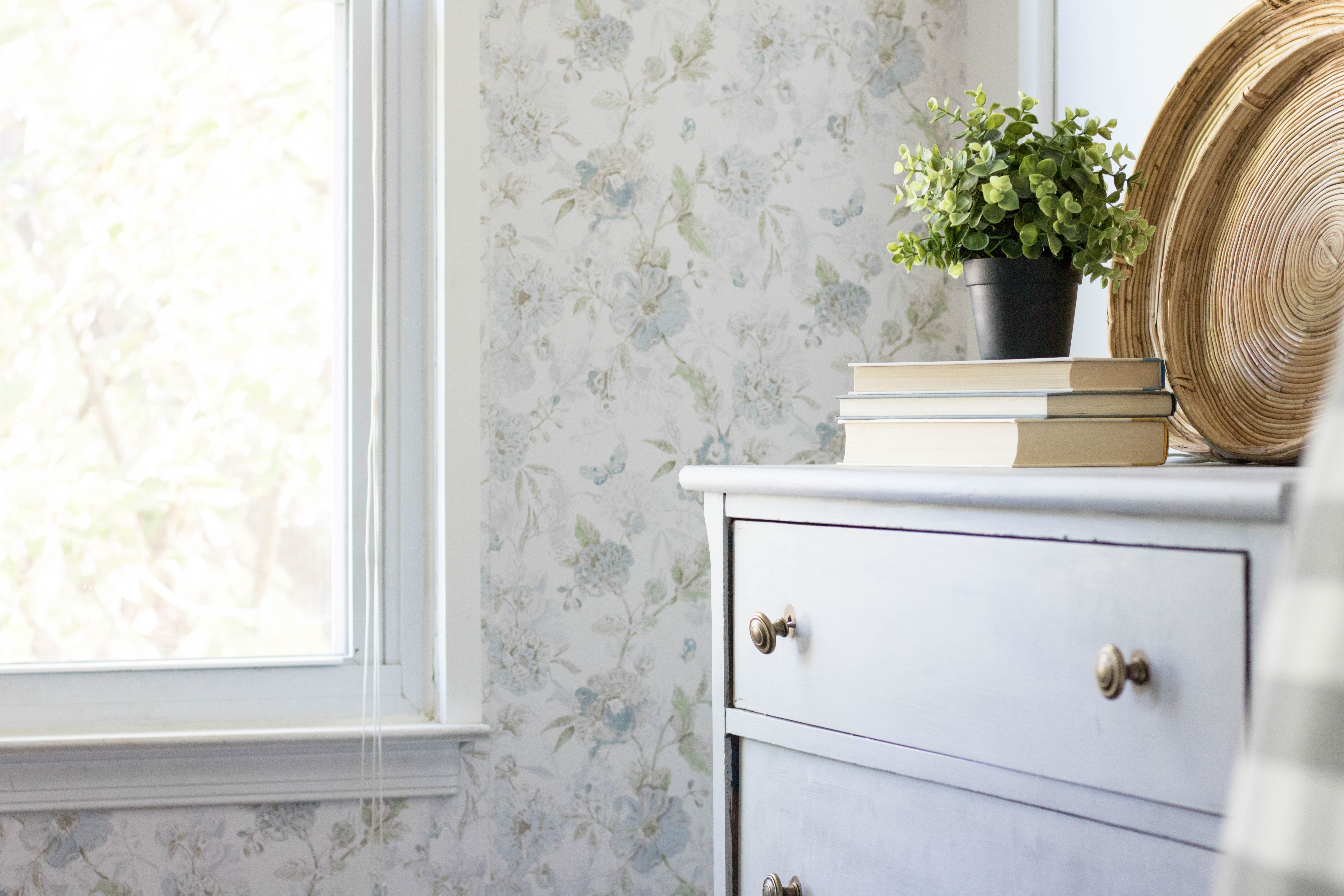 And for this pillows, I am so happy that I found this! It was a great find at a local vintage spot and it really gives french country decor to the space with the buffalo check print.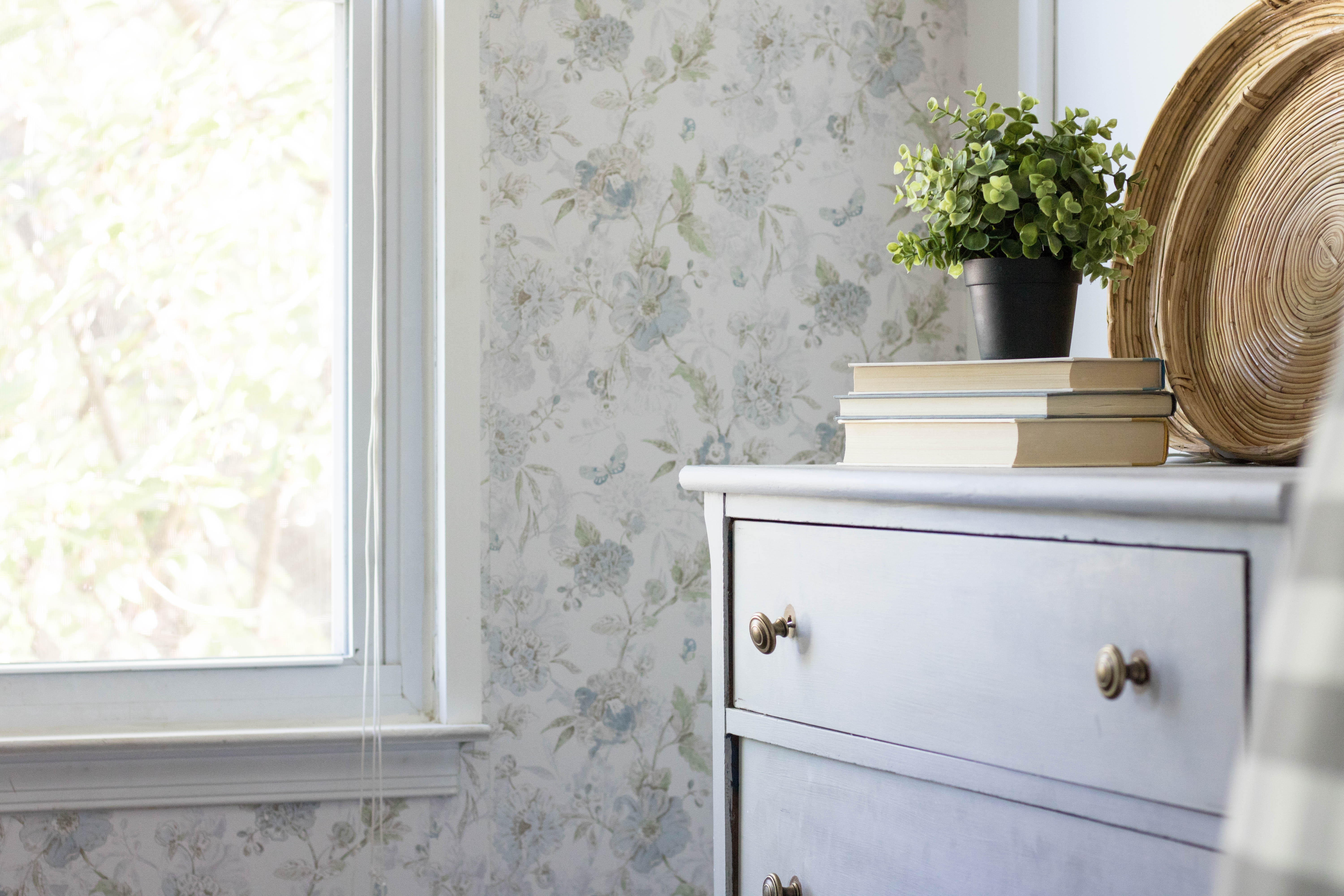 New brass knobs were added to the dressers which made for a more elegant look, then the wooden knobs that were here before.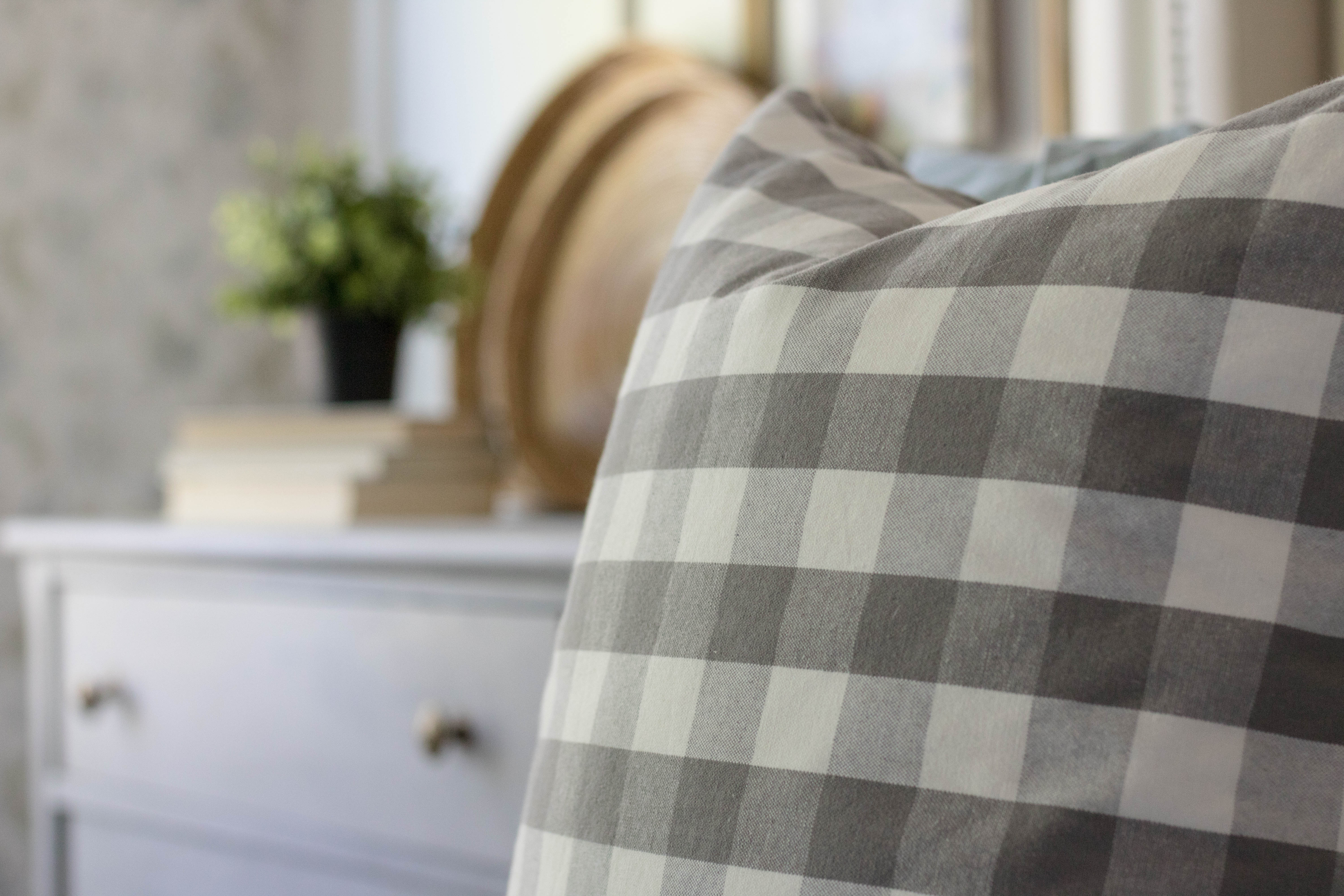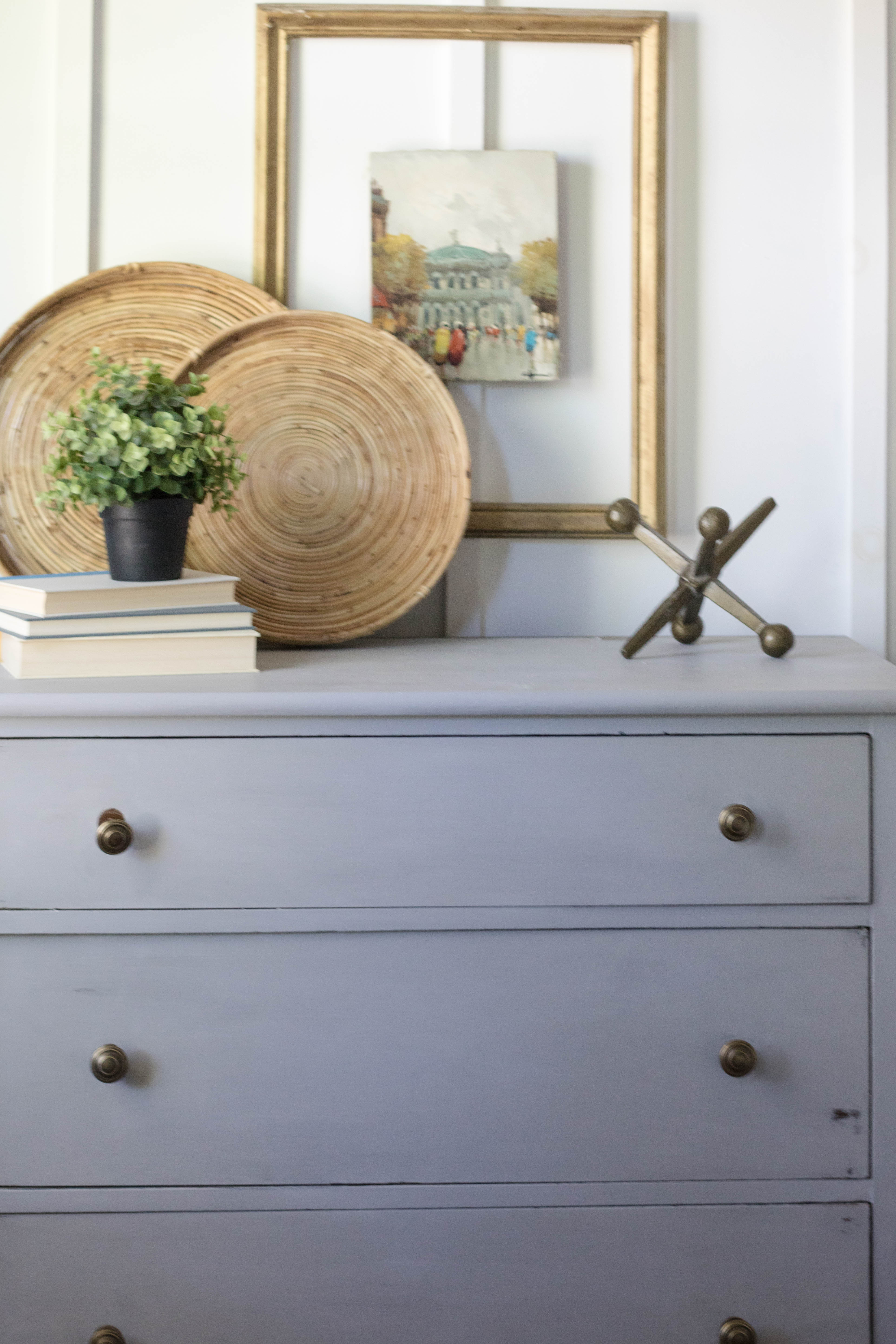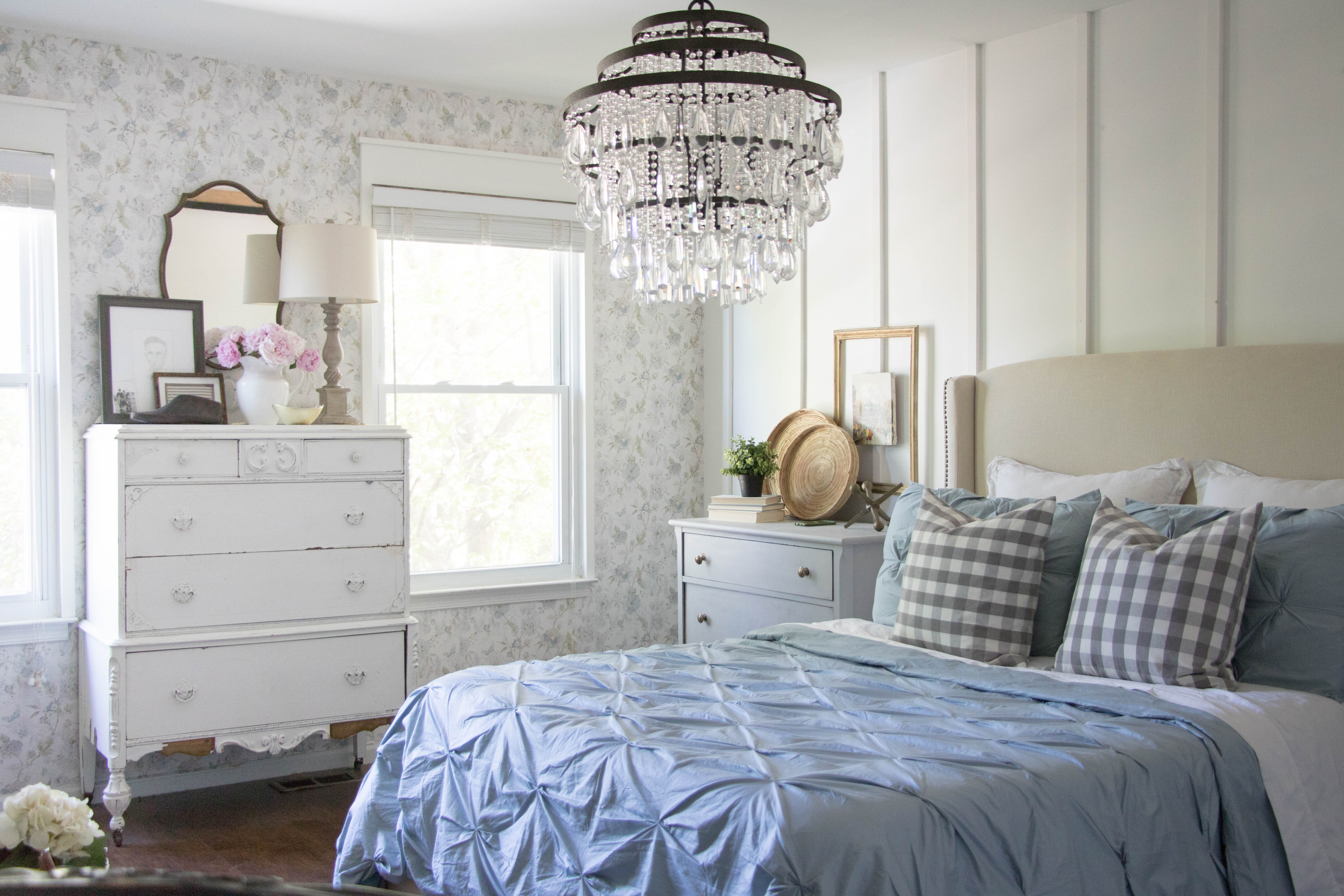 Now, this is what I mean with compromise in the budget. I found this pretty canvas while vintage shopping a few weeks back and had to have it! But My plans were not to hang it…until I ran out of budget money and needed something to fill this wall space. I decided to toss an empty frame around it to keep the symmetry with the other side…and it kind of all worked. I may still change it in the future but sometimes you got to hold off until the budget works.
This vignette is one of my favs. I used what I had, bought a new pitcher with some pretty peonies and it all came together beautifully.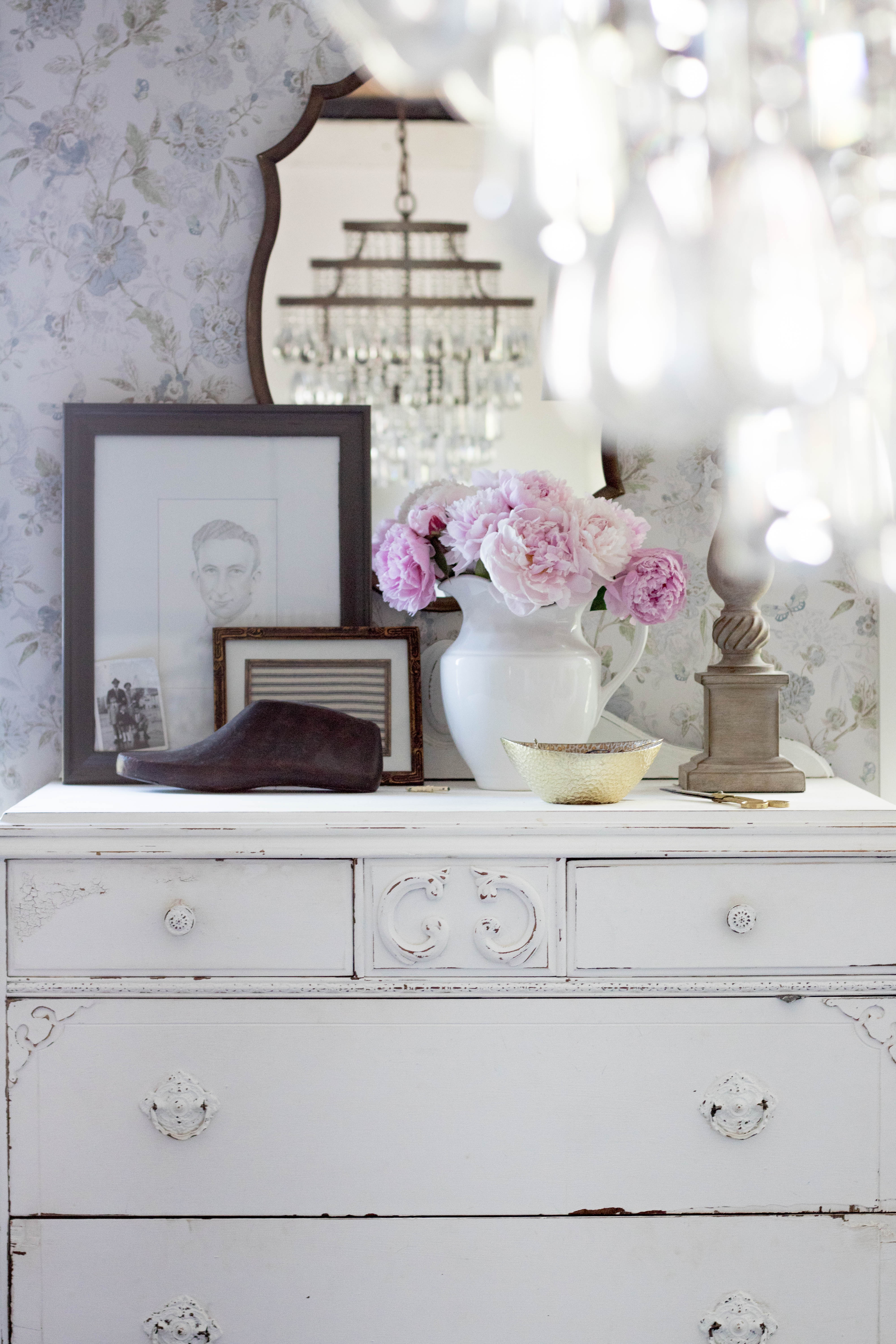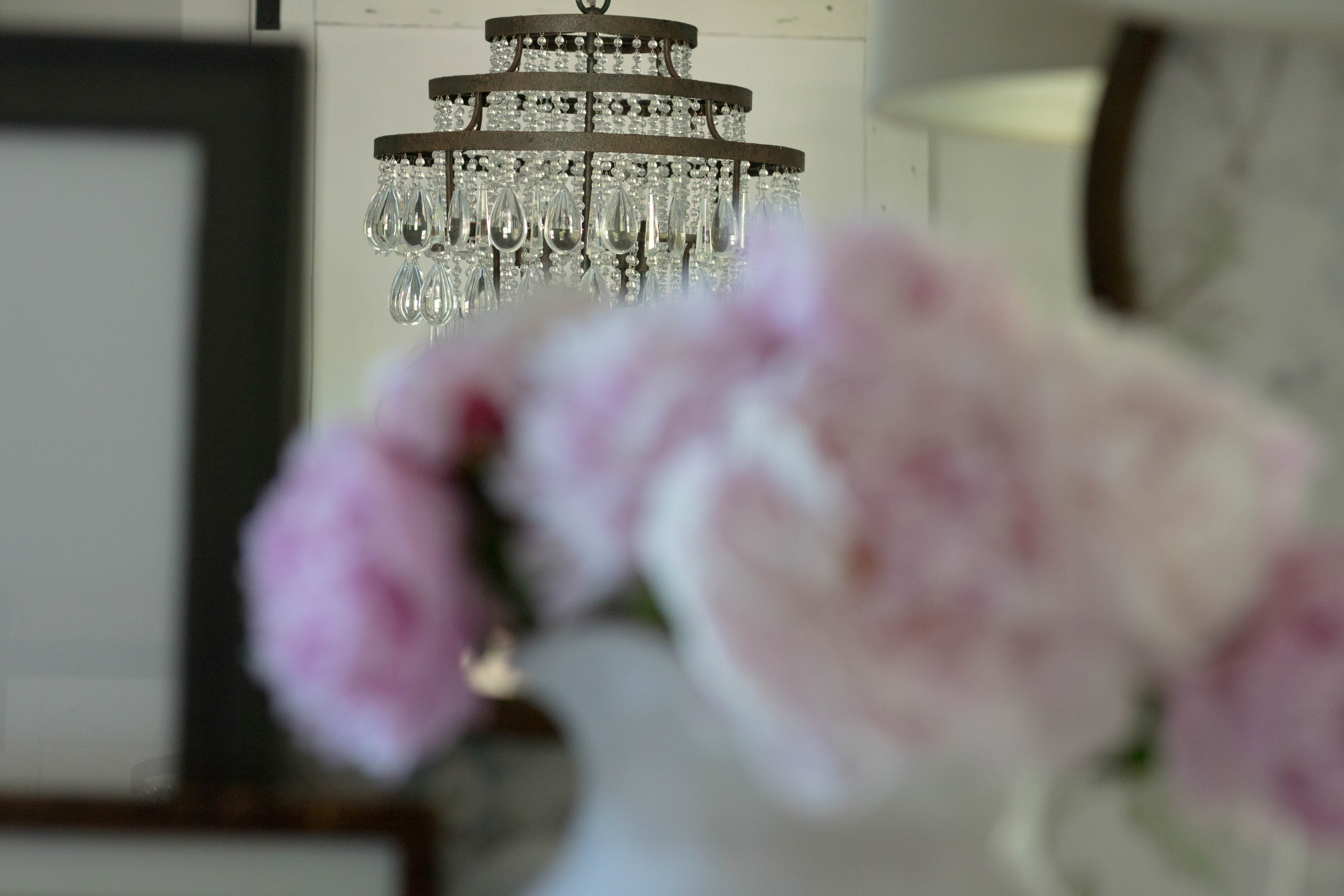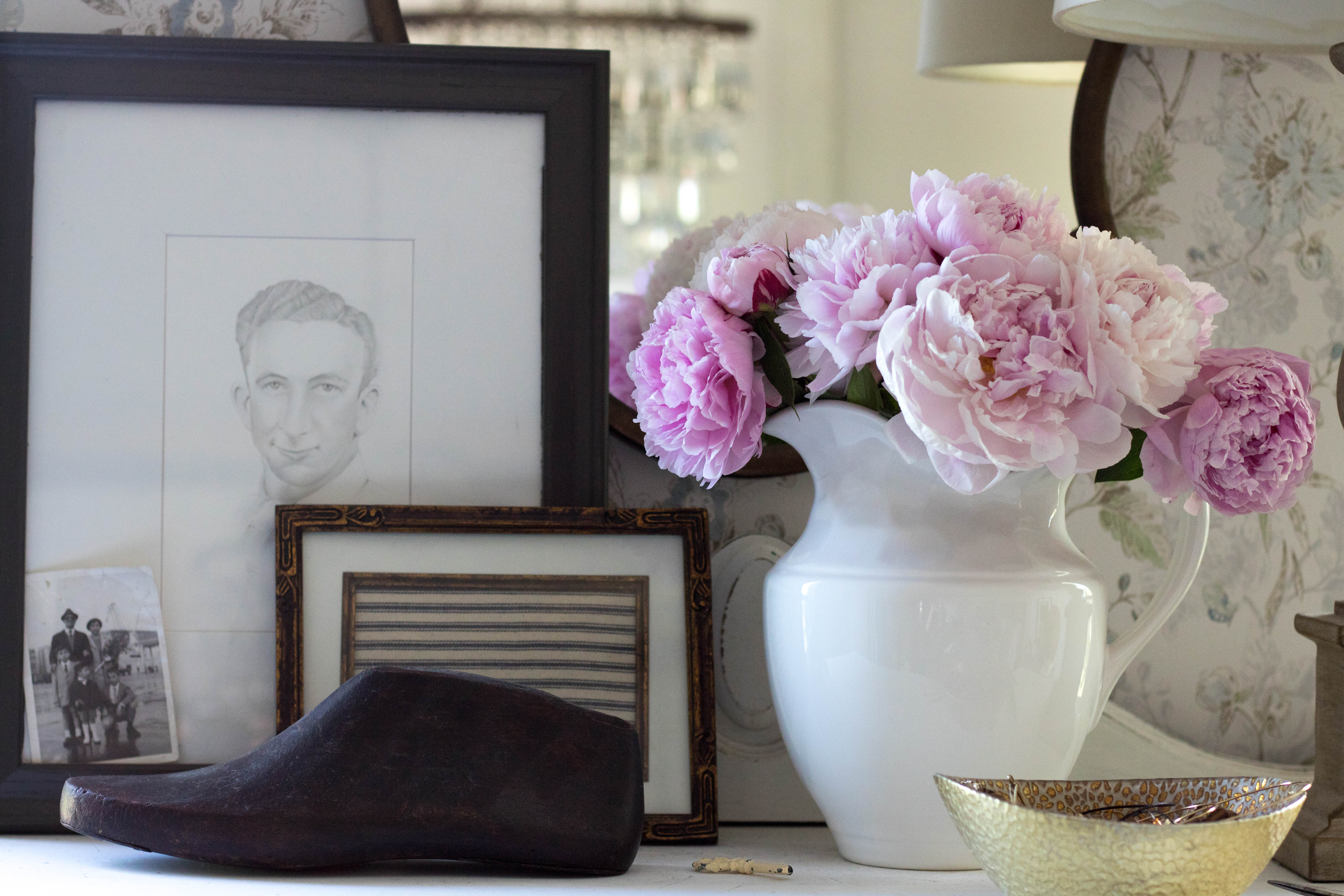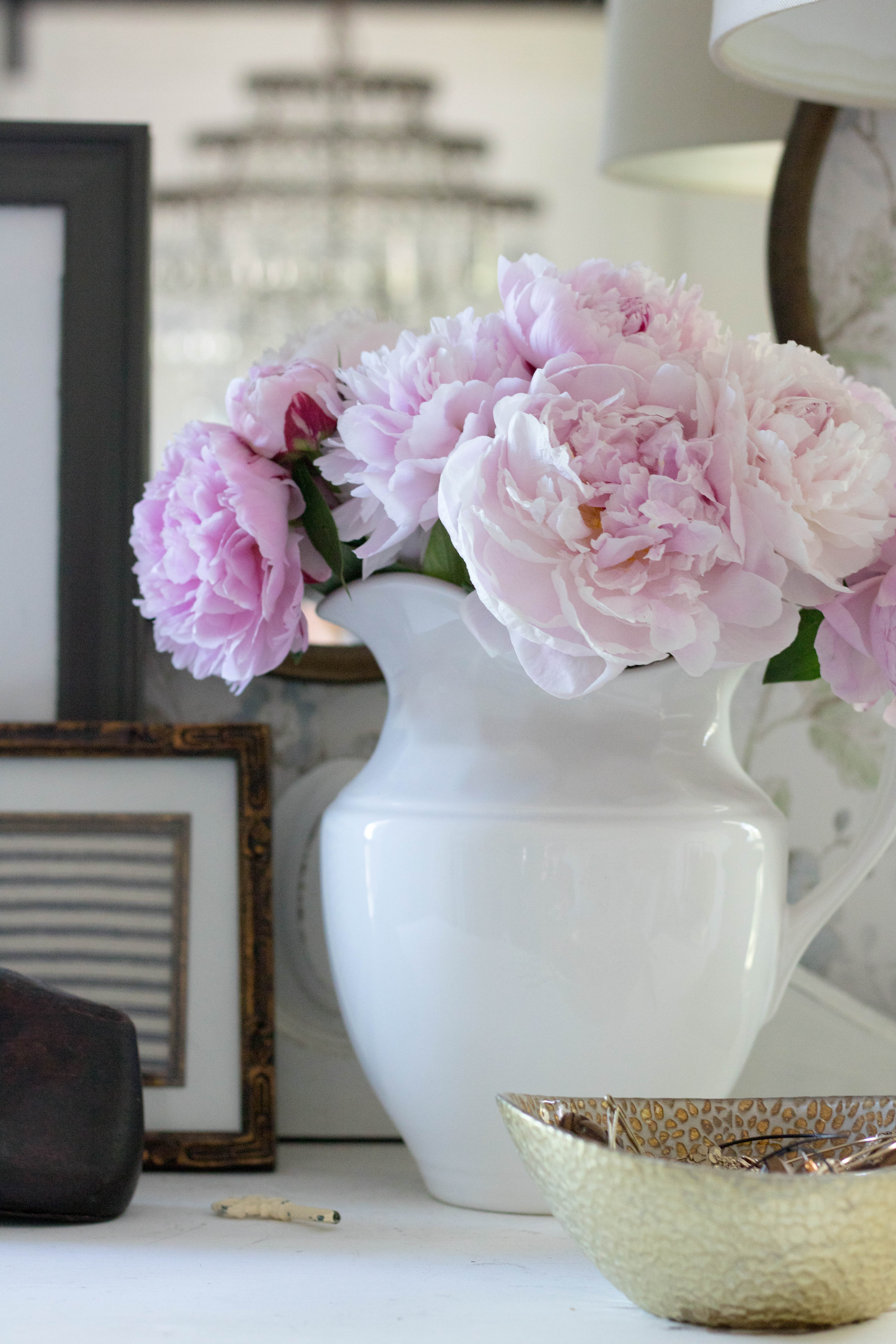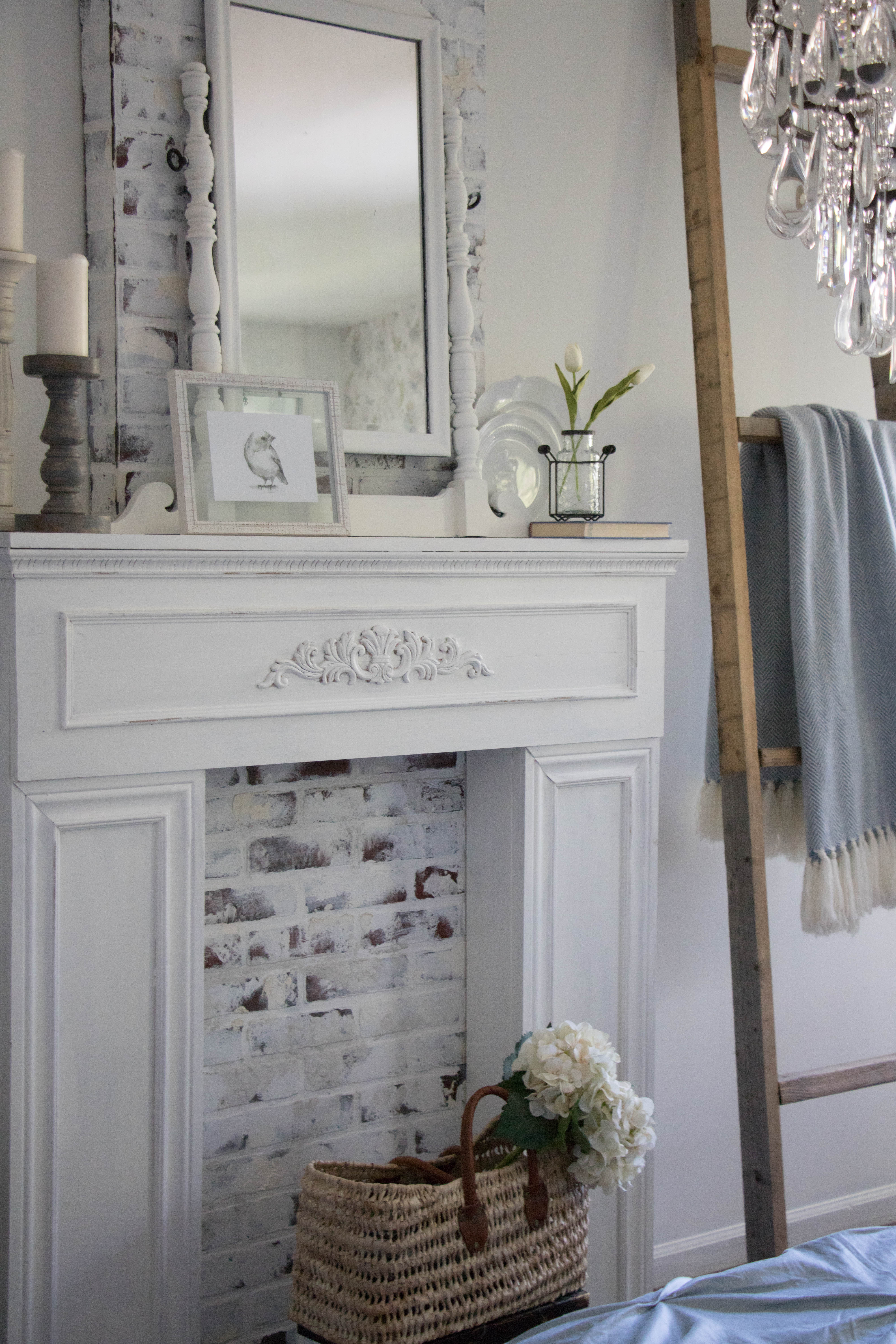 Notice anything different about the mantel??? We added the mirror that was above the dresser and placed it here. I love the drama it brings to the space, but with the monochromatic look it keeps it still soft and not over powering. It looks even better in person, I feel like I could not capture it as well as I wanted to in my photos.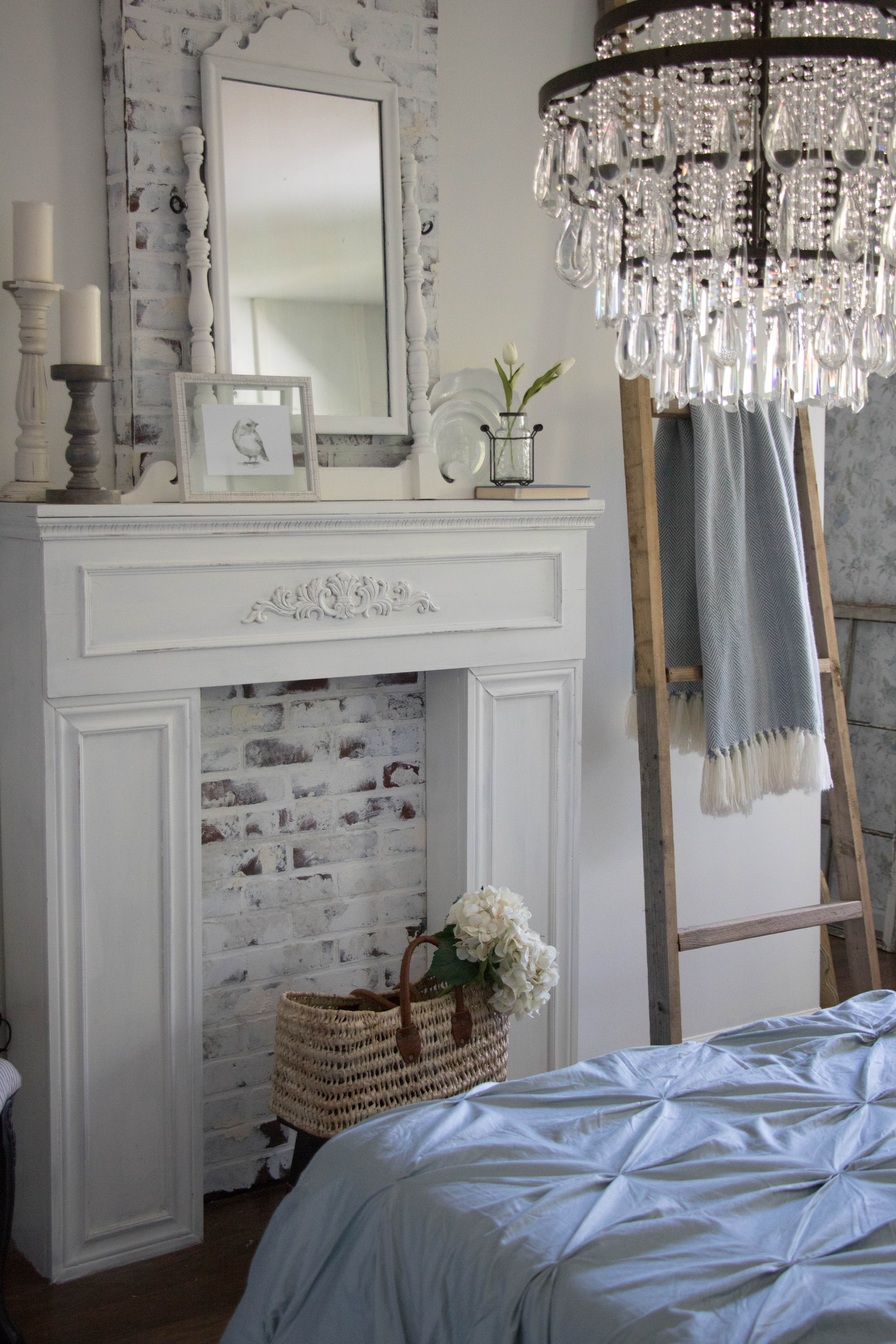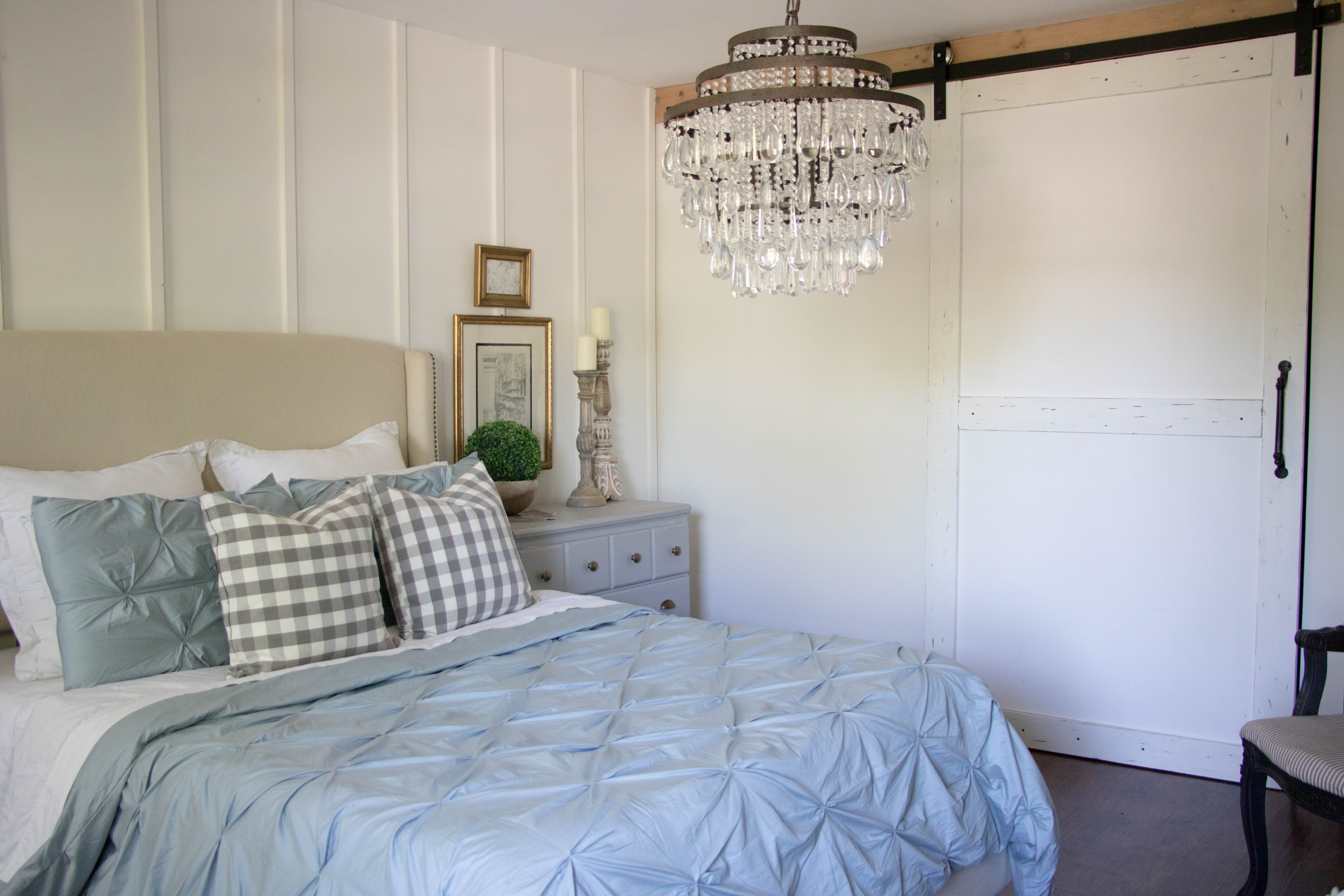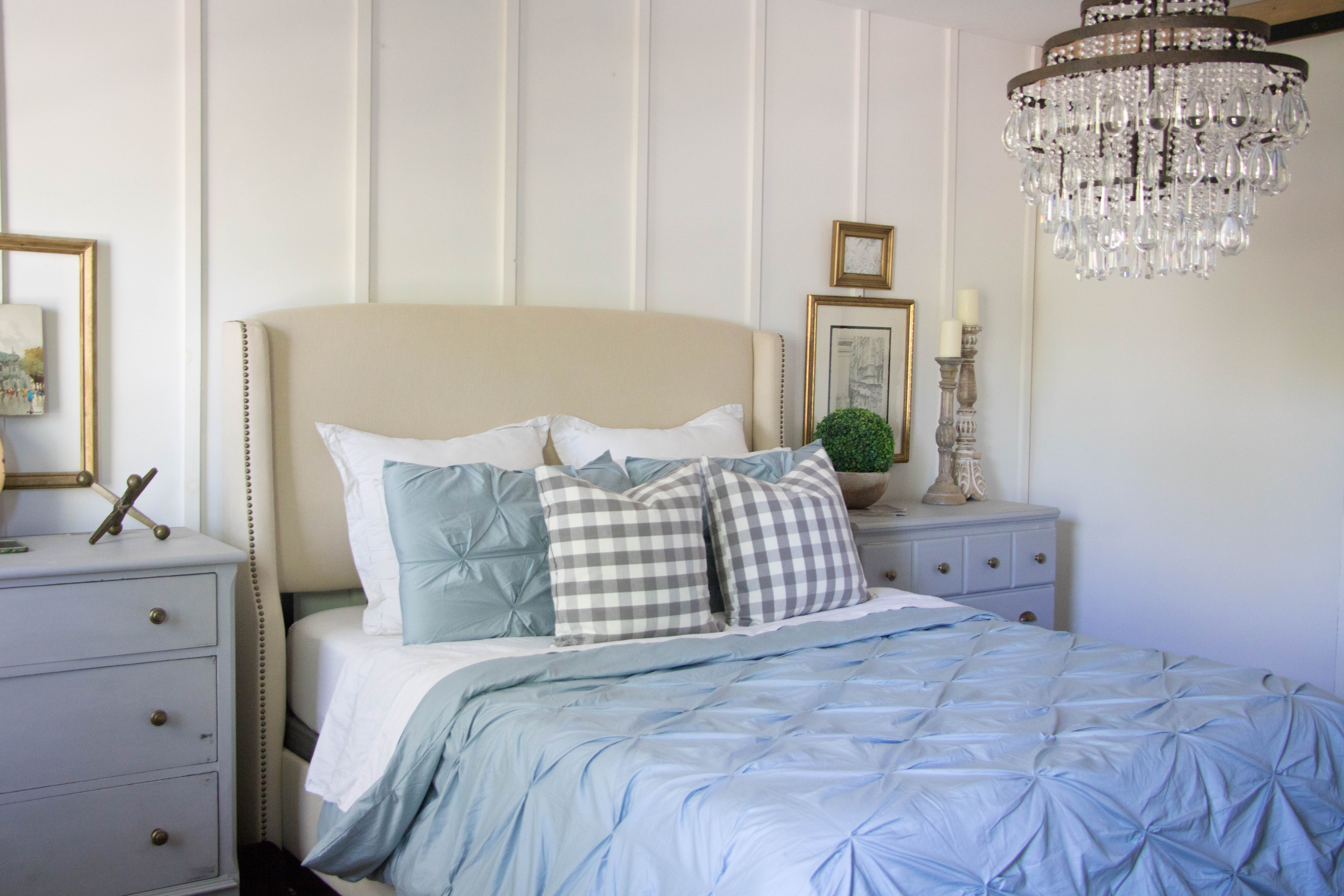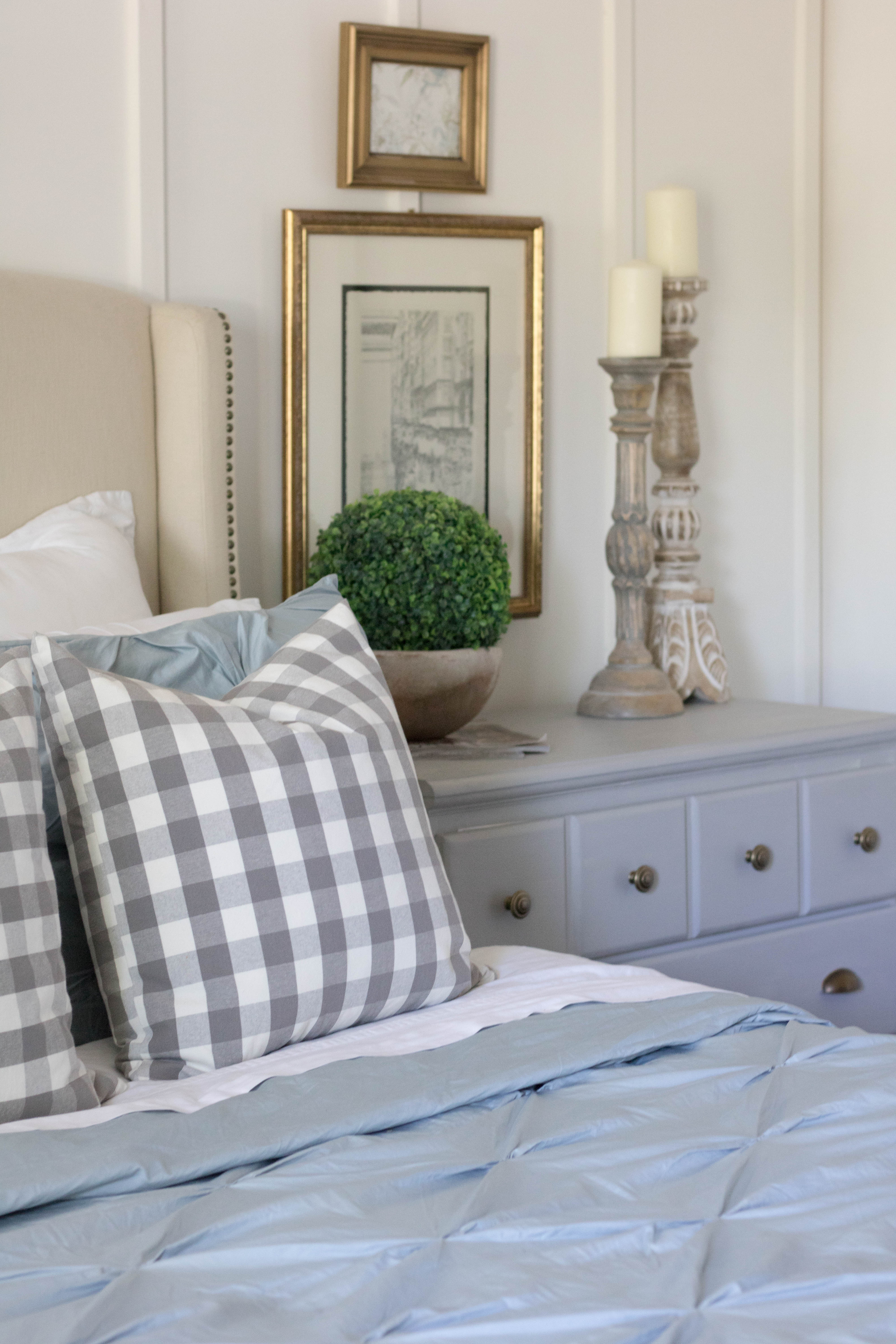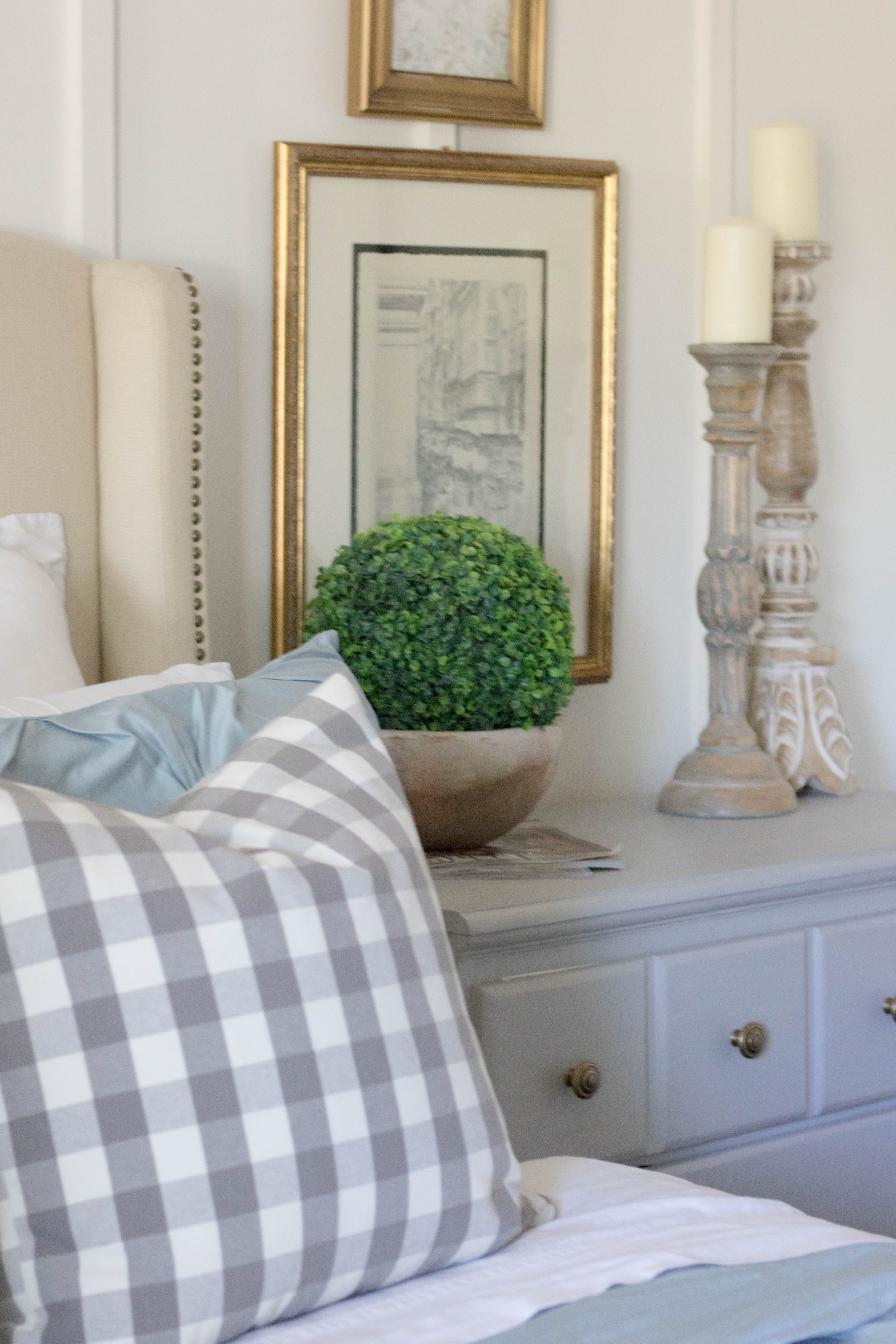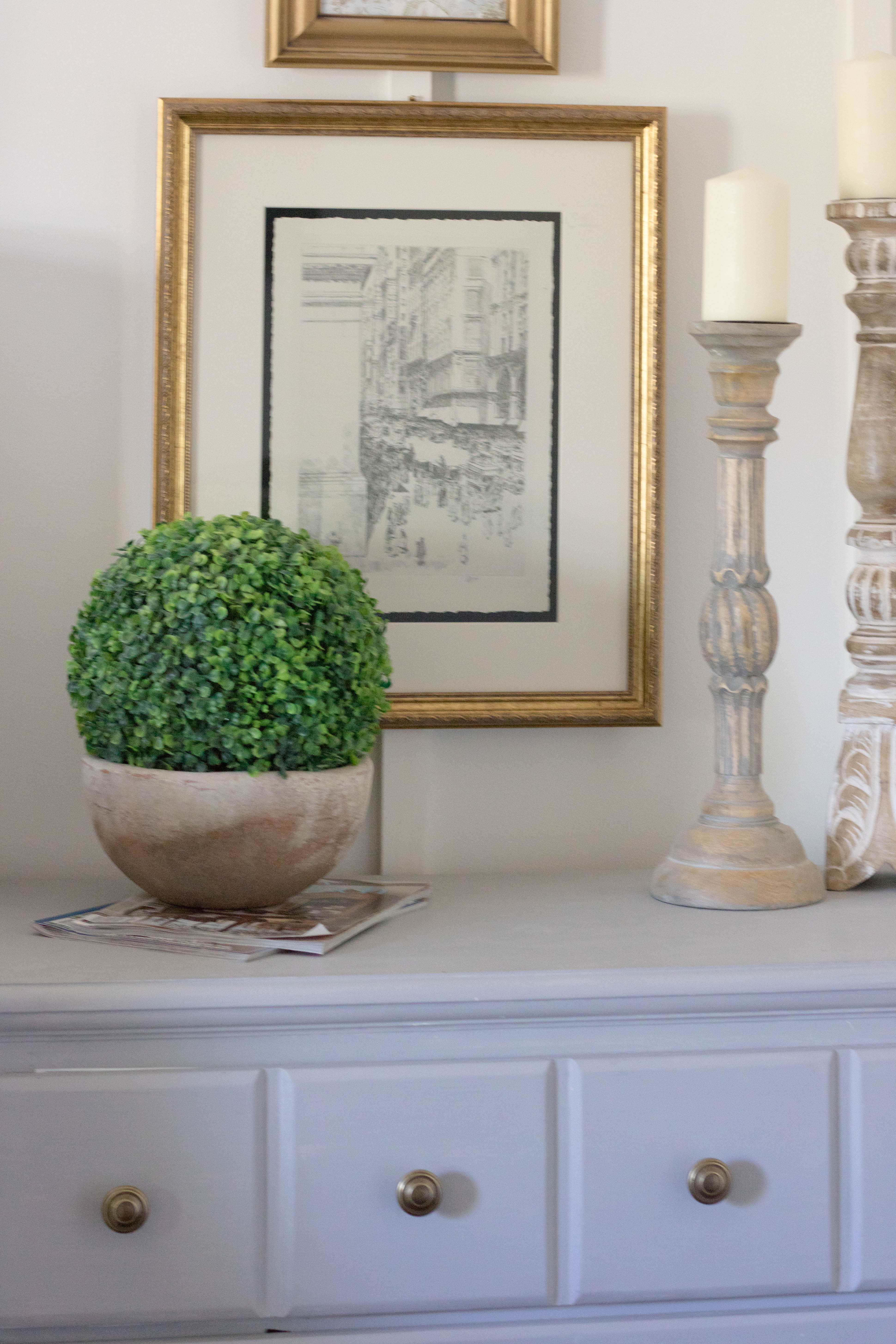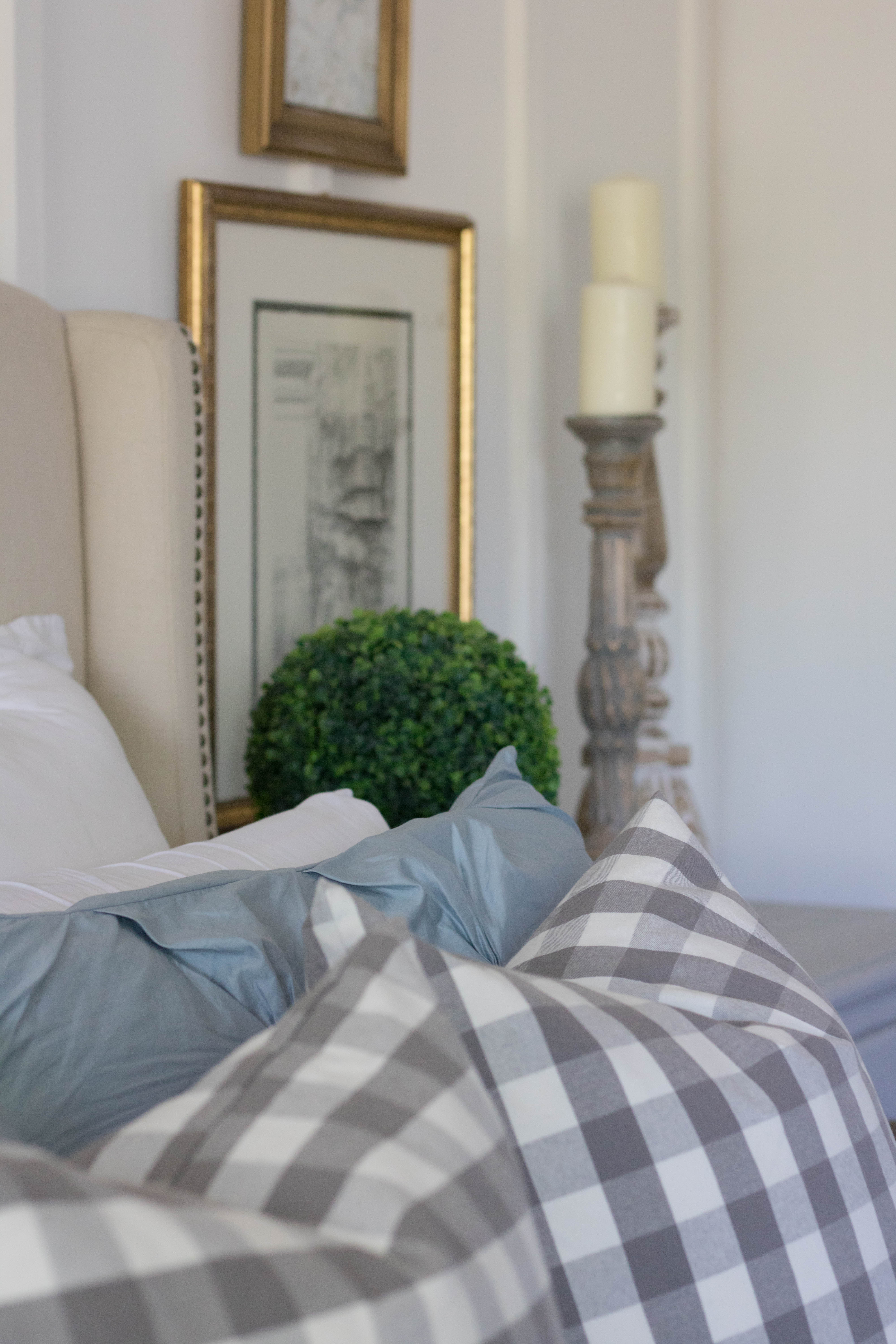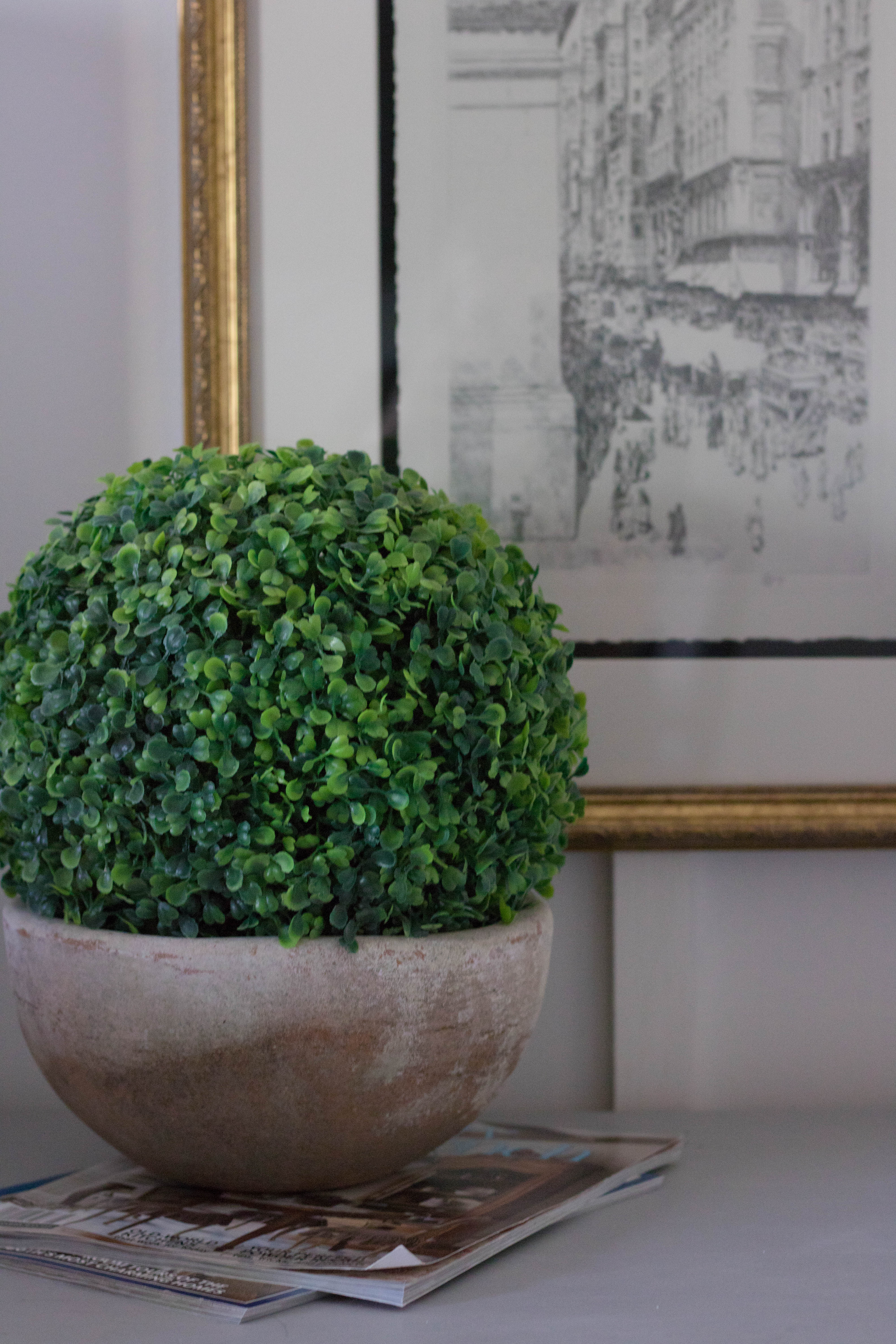 Let's turn that pretty little chandelier on…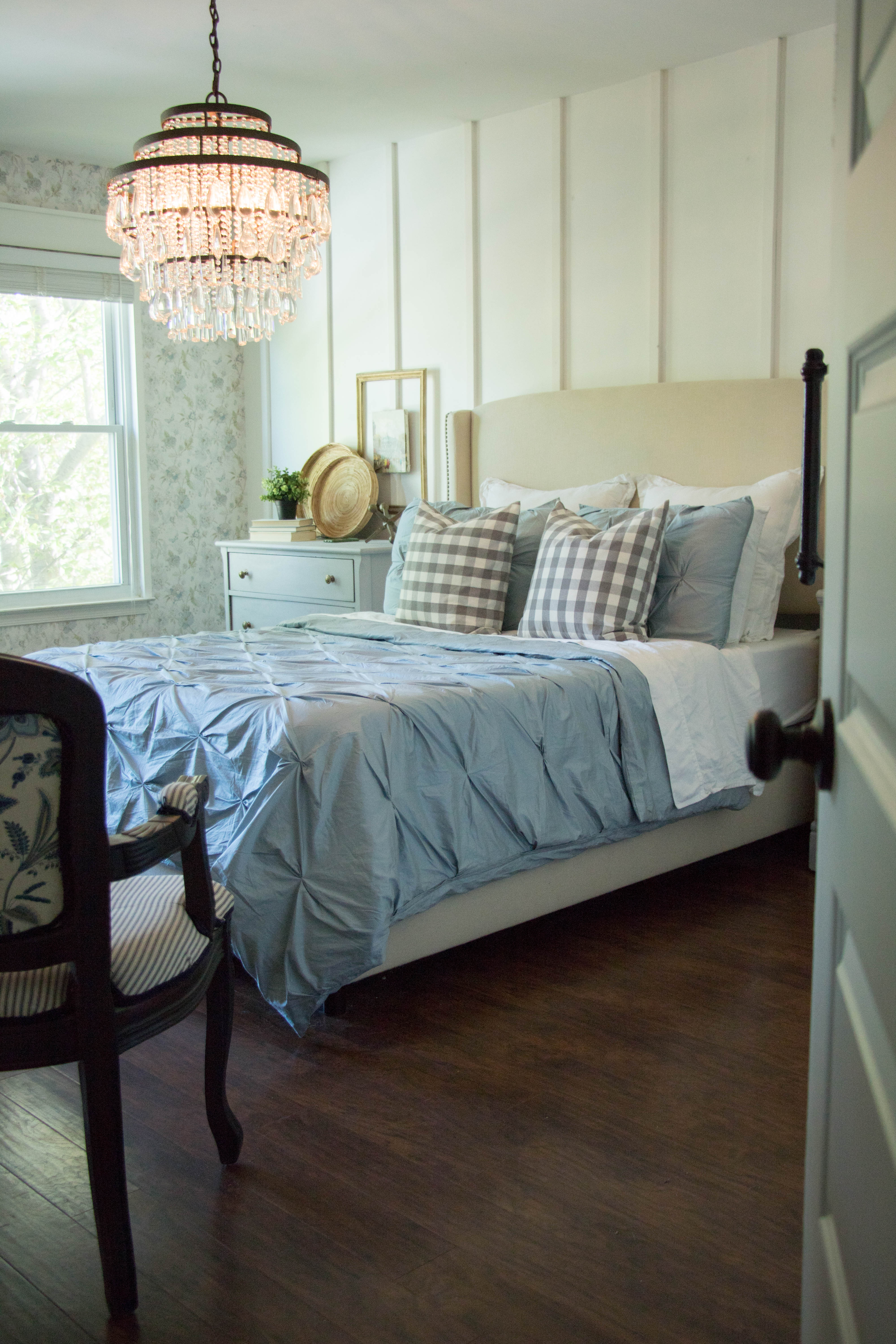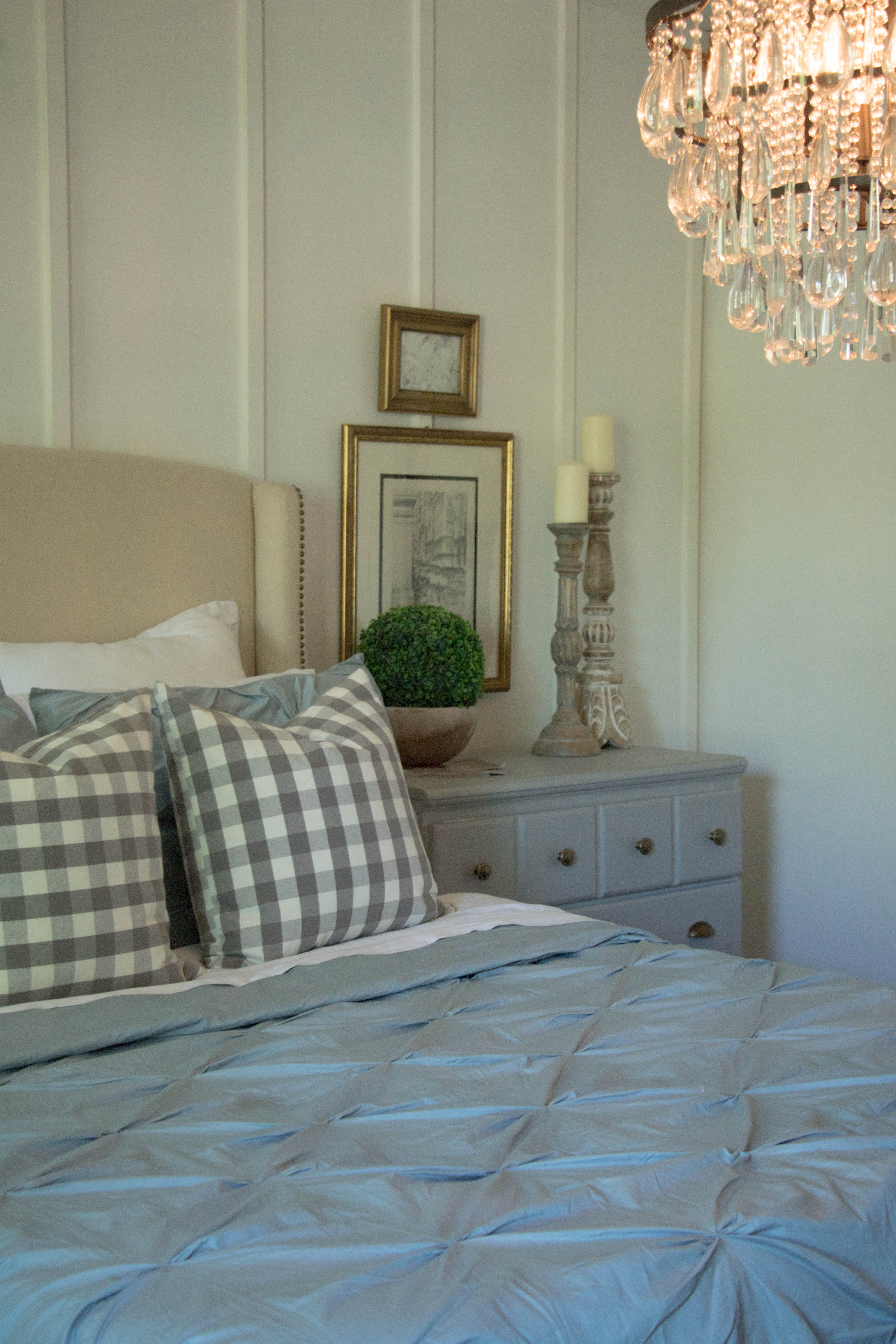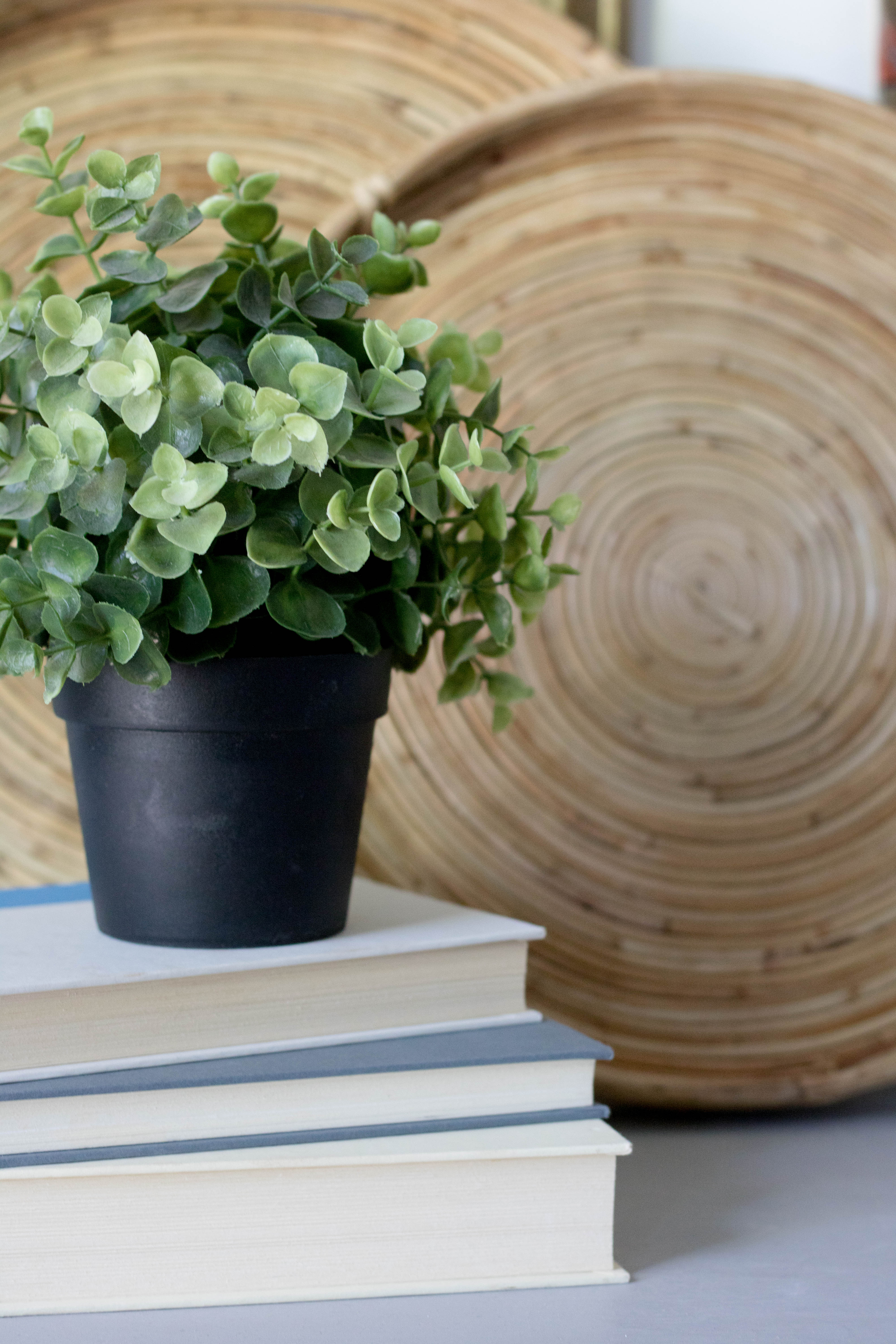 Love for you to Share and PIN!

You guys, I am so happy that you made it here for the reveal! If you're new here and want to see more makeovers, DIY projects, and fun decorating tips…be sure to hit that subscribe button and follow me along on this Decorating Journey!
Source List:
Chandelier: Lamps Plus
Wallpaper: Wayfair
Head Board: Wayfair , similar style
Bedding: Crane and Canopy
Lamps: Burlington Coat Factory
Pillows: Vintage Shop
Woven Baskets: Hobby Lobby
Mirror Above Dresser: Hobby Lobby
Ladder: DIY Project
Barn Door: DIY Project
Barn Door Handle: Magnolia
Thank You to All the Brands That Helped Make this Makeover Possible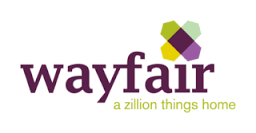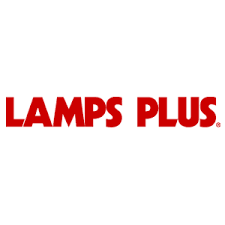 PLEASE STAY A WHILE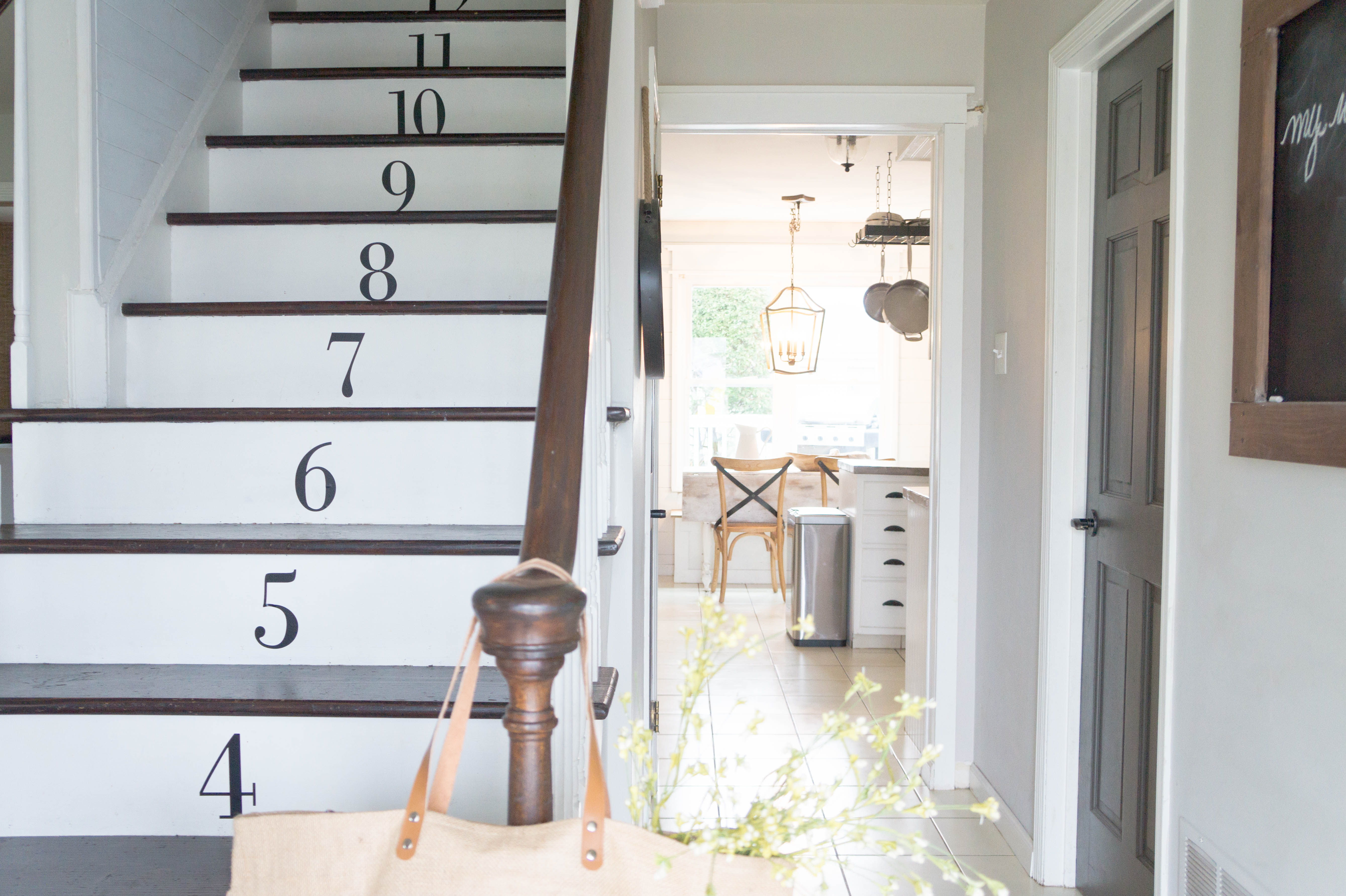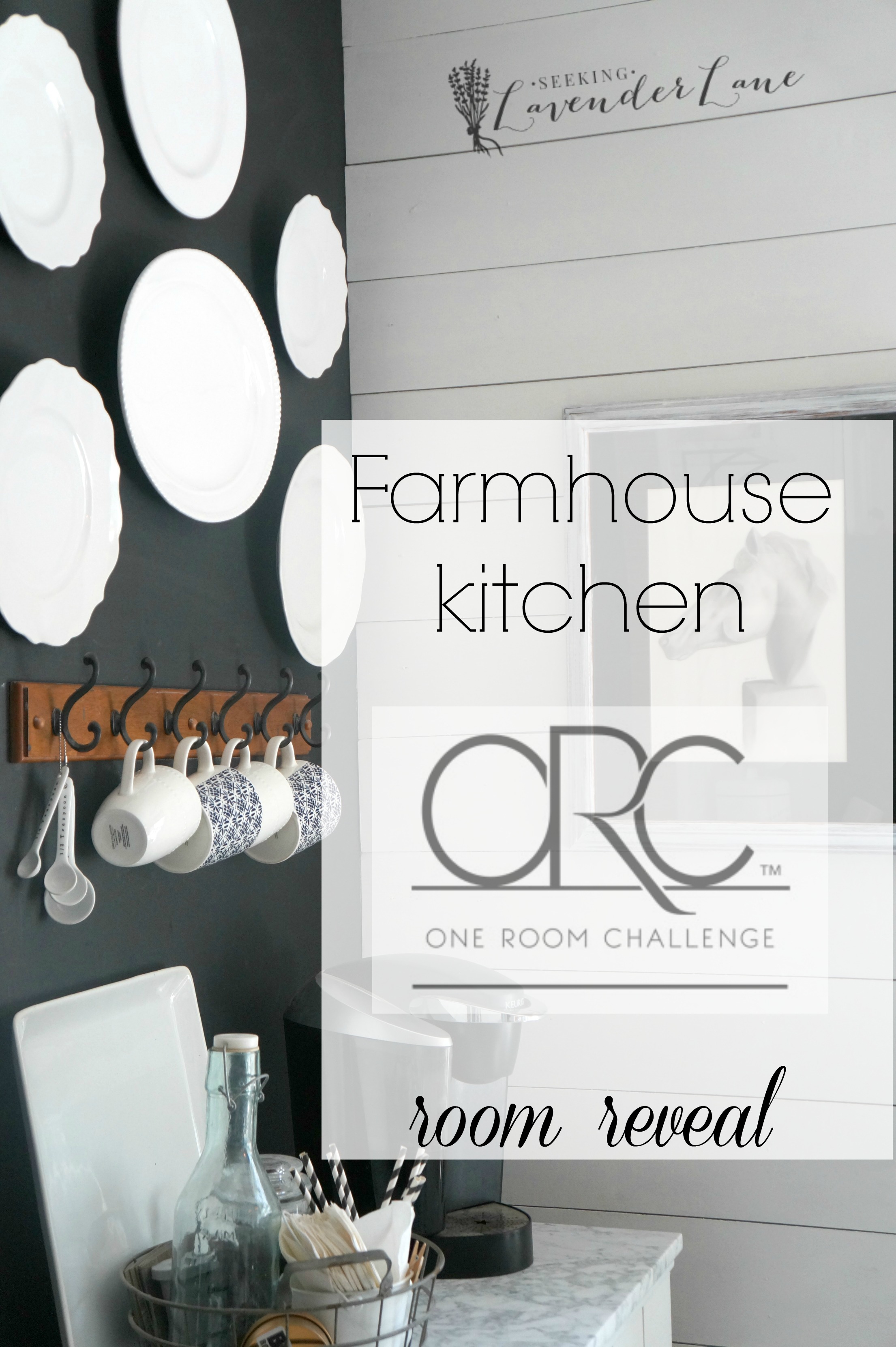 (Visited 3,128 times, 1 visits today)