Budget Decorating: 5 Ways to Save Money on a Room Makeover
I have been thinking a lot lately about how I can be more helpful when it comes to decorating and designing a home or room. I think one of the things most people are taken back with when they come to our house is how many of the projects in our home we did ourselves and how our home looks professionally decorated but all done on a budget. By doing most (not all) projects yourself is one of the biggest ways I to save money with budget decorating. Also, to say we did a lot of it with our own two hands is something we are always so proud of. We love not only being creative with it all but also to be able to save money and not feel guilty that we had to hire a professional or drop a ton of money at a furniture store. Piecing together a room and being able to evolve the space over time has been what saved us money and also take the time to have the room be just what we want it to be. You probably think well, it looks so easy on Pinterest and with all these home bloggers…but I promise you can do it too. There is no secret to creating a space you love while saving money and using a few of your own talents. Just a reminder, I did not go to design school or start out as a handy DIYer..my hubby works a 9-5 office job and only has some knowledge and handy skills from learning from his dad when he was younger. So if you picked up some of those handy skills from Dad and browse a few magazines and Pinterest boards…I promise you can get the look too without spending a whole ton of money.
This post contains affiliate links that I make a small commission from with no added cost to your purchase.
Step 1: Inspiration, When it comes to a room makeover think about what you want it to look like. Find photos of rooms that inspire you and that dream furniture piece that you want…now let's think how we can accomplish that one look or maybe multiple looks in one.
for example, I just found this photo below from Pinterest. I am drooling over it. What's a way to add this look to your project? Find what you like about it and find budget ways to add the look to a space.
1.Shiplap walls-(here's my tutorial for it, it's easy to do and really is a pretty inexpensive project).
2. Brick, adding brick floors may be costly, but maybe adding a brick accent feature with Brick paneling, or buying affordable brick pavers to create a feature would be stunning. If you want to splurge a little then maybe attempt this project yourself. My friend Christina has a great tutorial on how she created a DIY accent wall in her bathroom makeover.
3. Lantern style light fixture. These are everywhere…you no longer have to find something vintage, shop home depot for similar looks.
Step2: Let's start with paint….do not hire a professional. You got this! Just be sure to buy expensive paint…yes I know what you're thinking…didn't she say this post is about saving money? Yes, but the most expensive paint will keep your costs down and time down in the long run since you'll need fewer coats.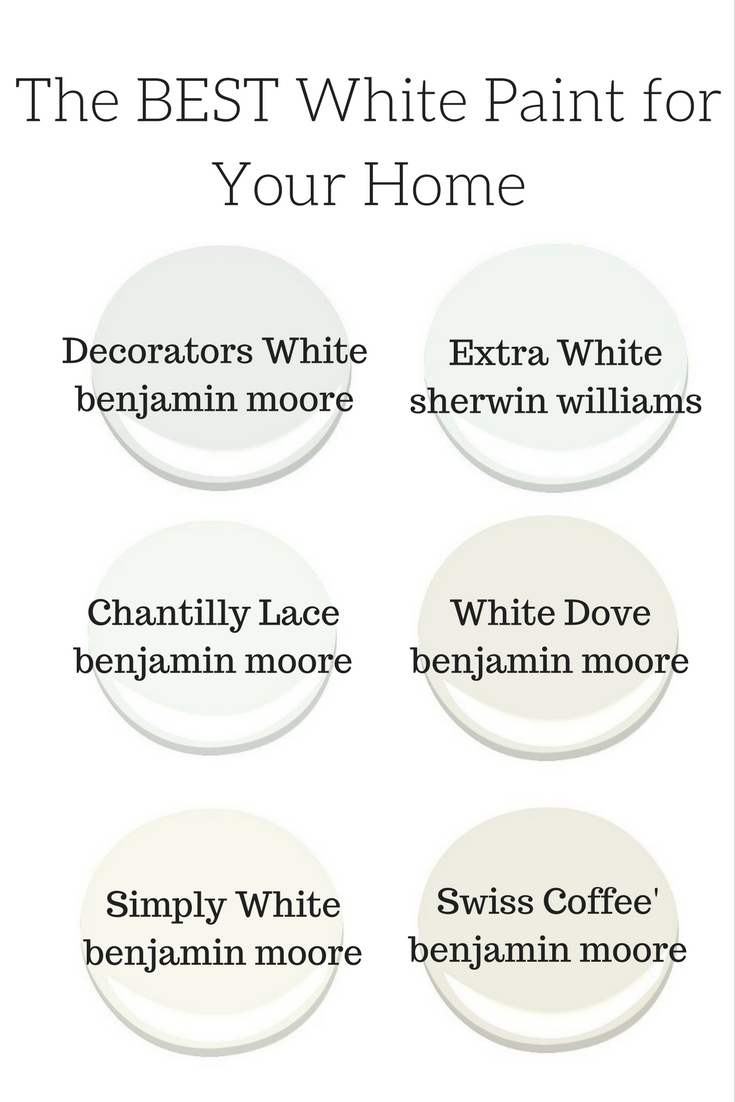 Step 3: Invest in the right tools…don't get all fancy here. You don't need an entire workshop to build furniture and create character in your home. I say have a drill, a nail gun, and hammer, hand sander, and a basic toolkit. The rest you can always borrow or rent! Did you know that stores like Home Depot have a rental department? When we re-did our floors in our living and dining room, we rented a sander for two days. It saved us a ton of money (though it was a headache of a project) we were able to learn how to use it…thanks to Youtube and accomplish the sanding ourselves.
See the before and after of our floors and room makeover-below
Step 4: Furnishing, decide what you can make and what you can make over. Yes, you can buy new…but don't buy everything new. For instance, our Kitchen, I found the perfect Vintage table that I gave new life to with some paint, but I bought new chairs. My bar cart was a dream project that we figured out how to make ourselves and then I ordered a custom marble top since I love marble but couldn't afford to have marble counters. Look on sites like Craiglist and Facebook for used furniture, you would be surprised at what you can find. Don't be afraid to look outside the box here too. I was just talking to a friend the other day and she mentioned that the beautiful pedestal sink she bought was off of Facebook marketplace. Check there first and maybe plan ahead…also if you can't find what you are looking for currently then there's no rush. You can take your time and wait 'til you find the right piece. Maybe use a hand me down piece for a while until the right hutch finds you on craigslist or in that thrift store. When it comes to furnishing think what a coat of paint will look like on it or maybe if it was just sanded down and stained another color. Also, ask yourself does it have the style that you are looking for? I once made this mistake with a buffet that I bought off craigslist. The style was more French provincial and my Dining table was more Farmhouse…I never liked the way the two matched together. Eventually, I sold it and added my painted bookshelves in the space which coordinates much better.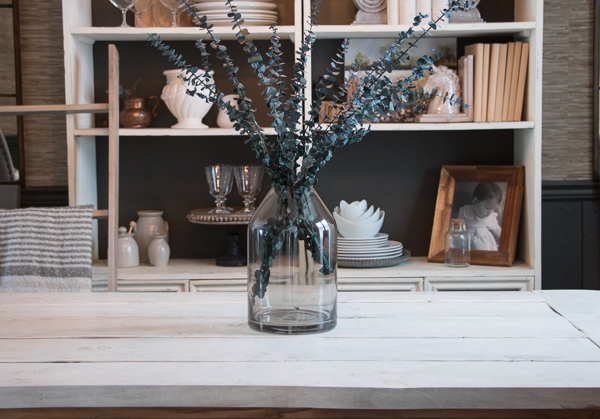 Step 5: Find or make affordable accessories and wall art. You don't have to find expensive and high-end artwork to complete a space. Create your own, find them at thrift shops, or maybe turn something that wasn't initially art into art. Don't forget yard sales…you would be surprised what that ugly piece could look like with a coat of paint. Also, find picture frames this way. I'll be the first to say, that I've spent too much money on pictures frames. If you shop yard sales and flea market and maybe they already have existing artwork that you're not loving don't overlook it, buy it for $1. This could be just the right frame for DIY art or family portrait.
DIY Built in Picture Frame Ledge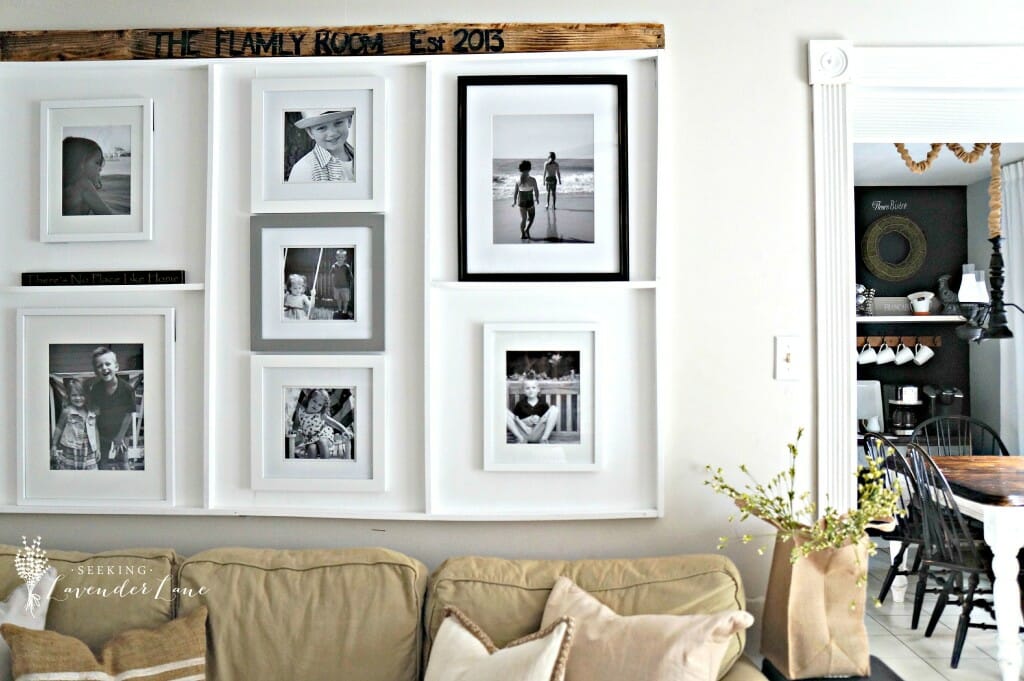 Keep these ideas in your mind as you makeover your new home, or update a room that you neglected for the last 20 years. There are ways to save money and think outside the box when it comes to any of these makeovers.
Please Pin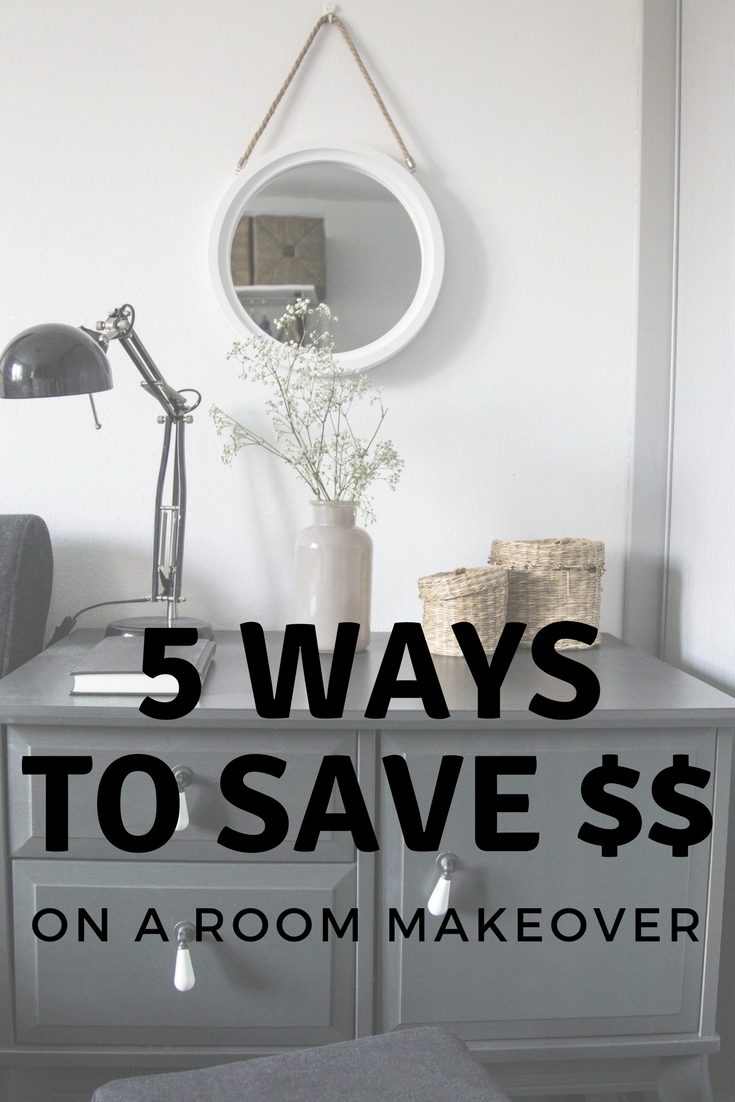 Check out some of our budget-friendly room makeovers below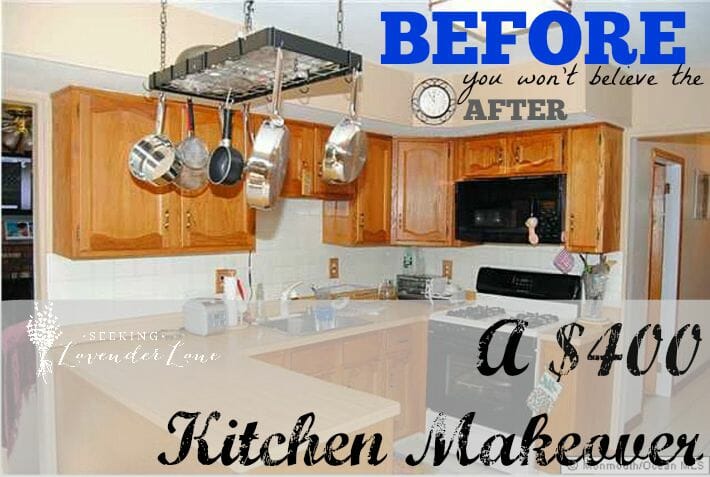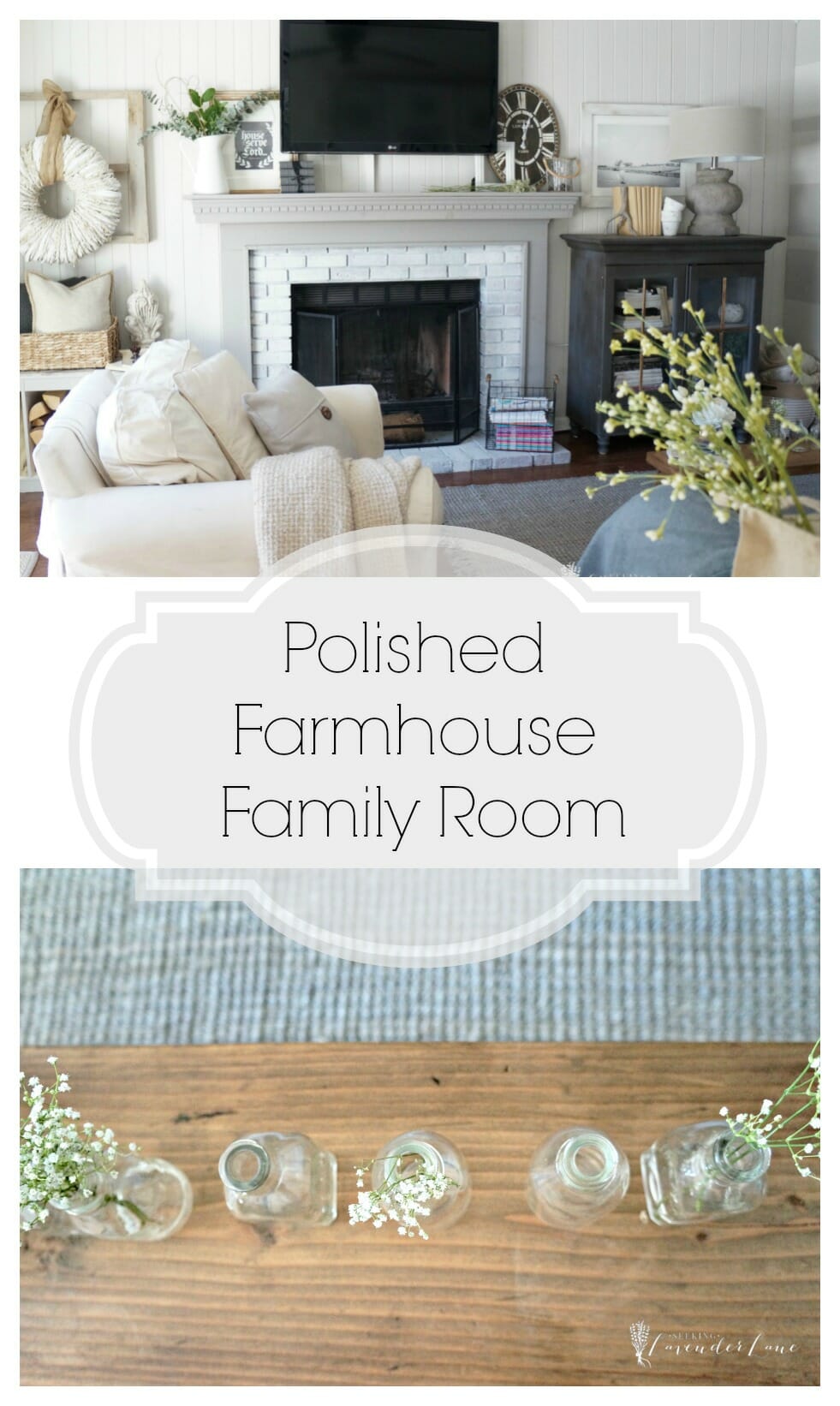 Polished Farmhouse Family Room

French Farmhouse Master Bedroom
More Budget Decorating Ideas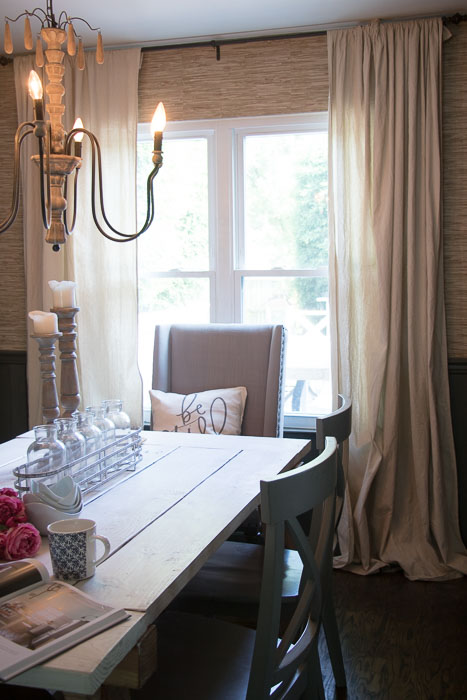 Budget Decorating: Drop Cloth Curtain Tutorial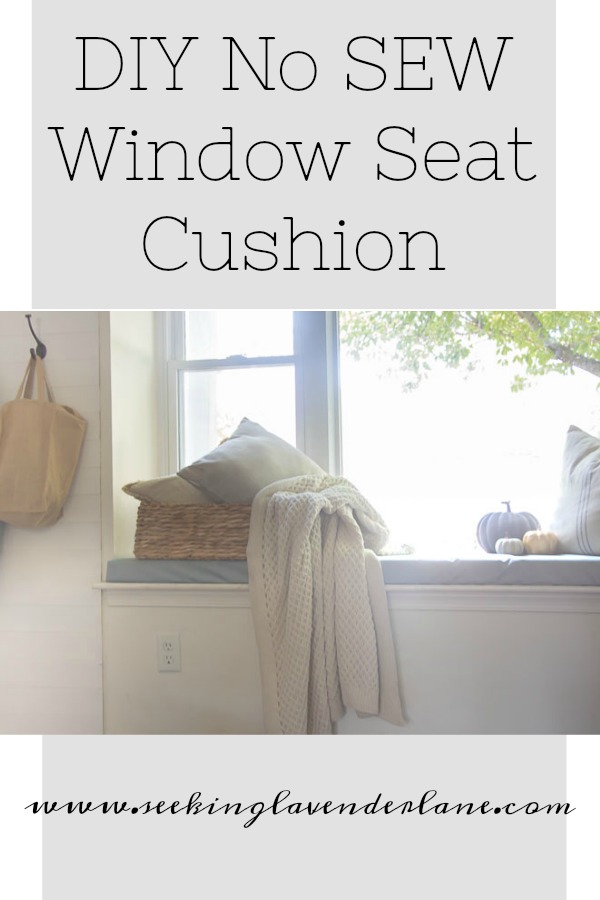 DIY No Sew Window seat cushion